Free Printable Birthday Party Invites Kids
It's time to par-tay! With Just Family Fun's 10 themes of free printable birthday party invites kids collection, you have one less thing to worry about. We'll help you find the theme that your little one is obsessed with.
Themes include:
General
Dinosaur
Animal
Football
Mermaid
Pirate
Princess
Cat
Owl
Unicorn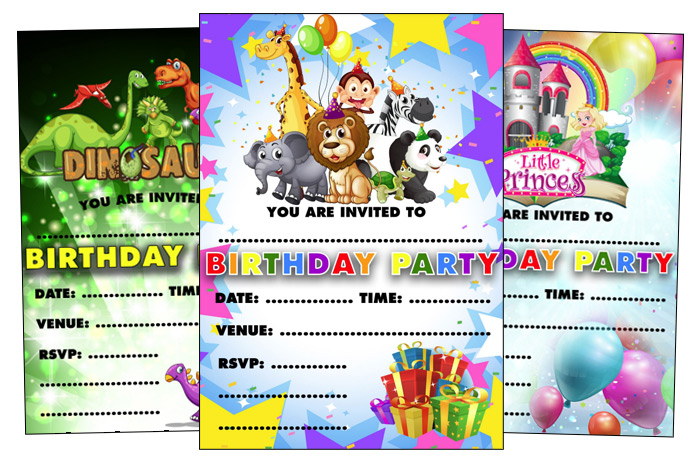 General Printable Party Invitations
We start the party off right with these general party invitations. A great option if you're not having a theme, or if your theme isn't set in stone yet, these free printable kids invitations are a one-size-fits-all answer. These come in two variations, so you can choose whether the darker or the lighter feels better for your little one. Even better, let them choose their favourite version!
Bonus Fun: Get the kids laughing and playing with a big red twist on a classic game. With our free Pin The Nose On The Clown printable, it's easy to get the kids to label their noses and see who gets the closest to the middle of the clown's face!
Bonus Tip: Balloon Pop! Tie a balloon to each child's right foot with a length of string. Play their favourite song, and tell them to dance like no one's watching! Careful though- when the music stops, it's a free-for-all! They need to try to pop each other's balloons while keeping their own safe! Once a balloon pops, that person is out, and the music starts again! The last one standing wins!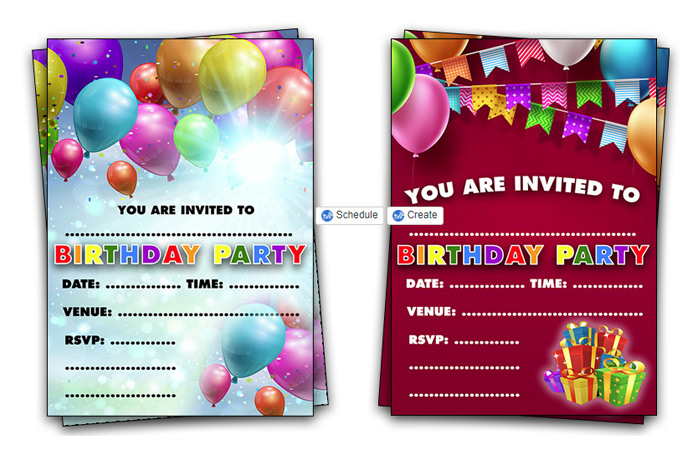 Bonus Fun: Another twist on a classic game, our Pin The Horn On The Unicorn printable game template is the perfect way to get your little ponies to channel their energy into an activity! They can add their names and other designs to their horns, customizing them so they know exactly who got their horn the closest!
Bonus Tip: Make your own unicorn horns! A great arts and crafts activity, as well as a fun keepsake! Using coloured paper and glue, help the little ones roll their paper into a cone and glue it so it won't unravel. Use a pair of scissors so the cone is flat at the bottom, and punch a hole in either side. Use a string to secure the unicorn horn, and you'll have a herd of unicorns, proud of their horns!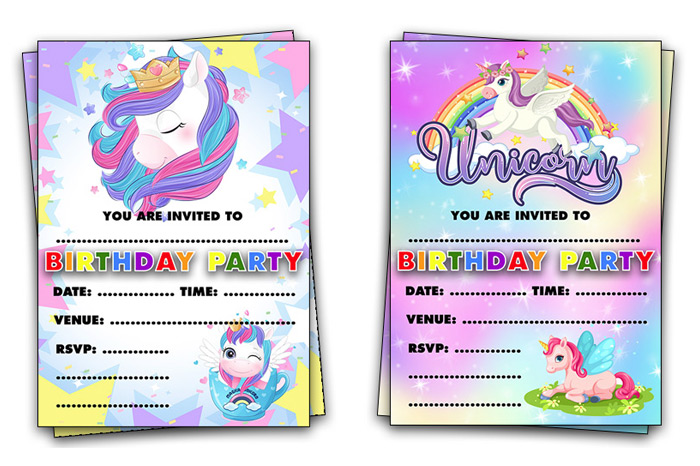 Printable Animal Party Invitations
It's a zoo out there! With these animal party invitations, you can set an easy-to-follow theme for your party. Animals are always a hit, and there are tons of fun activities and party decorations you can use to set the scene. You can even use your child's stuffed animal zoo in their room as props! We like the more pastel version for your itty-bitty little ones because those animals are almost as cute as them. Our second version shows party animals your slightly bigger kids would love to monkey around with!
Bonus Fun: Make your house into the zoo! Head over to our free kids animal face mask templates to make your animal menagerie! Print full-colour templates, or print the black and white so you can make your zoo as colourful as you want!
Bonus Tip: Nothing gets the party hopping faster than a scavenger hunt! This also makes one less chore for you to do- letting kids hunt for their own party favours gives them a sense of accomplishment and means you don't have to make the bags up ahead of time. Print off Just Family Fun's Free Printable Zoo Scavenger Hunt and follow the instructions to have a great activity that'll have the whole zoo partying!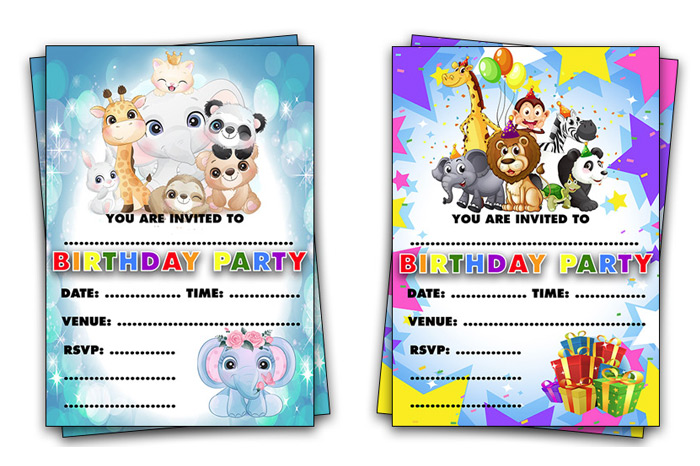 Printable Dinosaur Party Invitations
Go back to the Jurassic with these dinosaur party invitations! Our free dinosaur party invitations are a colourful and exciting way to invite your child's classmates to a dino-bash. These are great free printable birthday party invitations for boys or girls, with two variations so you can choose the one that fits better for your child- cute and pastel, or a dark and fearsome version, these are awesome invitations your kids will love.
Bonus Fun: It's a Cretaceous race! Head over to our 6 Free Printable Dinosaur Word Searches and print off a few for every little velociraptor at the party! The first person to find all the words in their word search wins a little prize! Use all 6 word searches, and have several rounds of this fun game!
Bonus Tip: If word searches aren't their thing, we also have a Dinosaur Bingo Printable Game that gives the kids a chance to stand up and yell BINGO at the top of their lungs! For extra fun, you can invite one child to act like the hint on their bingo card- for example, what do you think a Microraptor sounds like? Can you fly like a pterodactyl, or run like an oviraptor? What does a volcano do?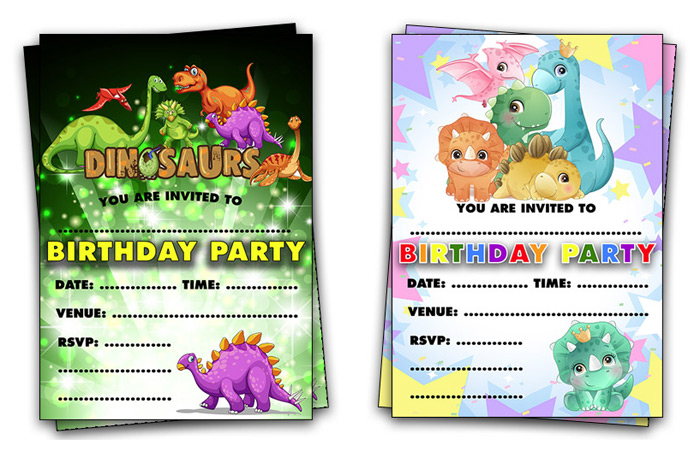 Princess Party Invitations Printable
Hear ye, hear ye! Are you ready for a royal party? With these princess party invitations, you can let all the princesses in your little one's life know that the royal ball of the century will be happening in your kingdom.
Bonus Fun: Everyone knows the story of the princess and the frog. In our version, the princess gets to draw and colour her frog. Using our How to Draw a Frog Step By Step Guide, the princesses can make their frog, and colour it in however they want. Then, you can play a round of Kiss the Frog, a fun variation on pin the tail on the donkey! This game is a great way to marry the high energy of a gaggle of princesses with their love for putting mom's make-up on!
Bonus Tip– Cinderella's Shoe Party! Have everyone take off one shoe and throw it in a huge pile. If there aren't many, feel free to add your own to add to the chaos! Divide into two teams, and go! One person from each team runs to the pile and digs frantically to find their shoe. Once they find it and get it back on, then run back to their team so the next person can be tagged in. The first team to have all their shoes on wins!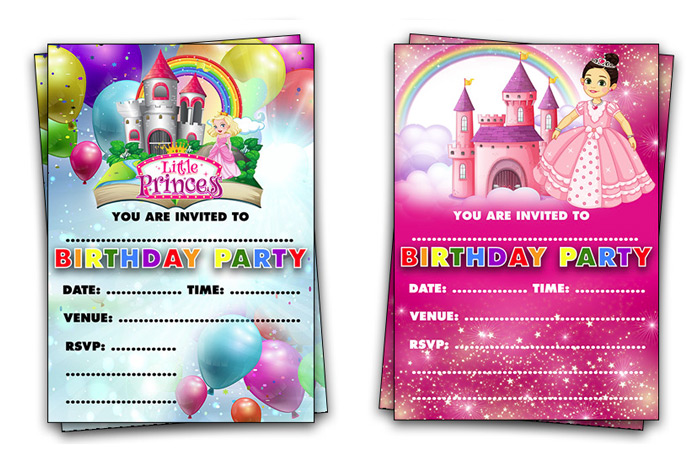 Printable Mermaid Party Invitations
Let's make a splash! Use our mermaid party invitations to invite your friends to a whale of a time! These are great invitations for the little one who watches the Little Mermaid on repeat, and sings "Part of Your World" in their sleep! These children's birthday party invitations come in two colour schemes so your underwater princess can choose their favourite!
Bonus Fun: Bingo! With this best-of-both-worlds Unicorn and Mermaid Bingo Printable, you have a ready-made activity to corral the excited mermaids in your house. No fishnets are needed. Simply follow the instructions included with the bingo template, and you can let kids fill their own party favour bags.
Bonus Tip: Mermaid race! Using a belt or some rope, tie the kids' legs together to give them a mermaid tail. Then, they have to wriggle, flop, and roll their way to the finish line! The first one across doesn't have to live under the sea anymore! For extra fun, find out ahead of time what everyone's favourite colour is, and make the ribbon you use for their mermaid tail their favourite colour! This is an opportunity to customize it to the kids. Add difficulty by making obstacles for them to get over, around, and under!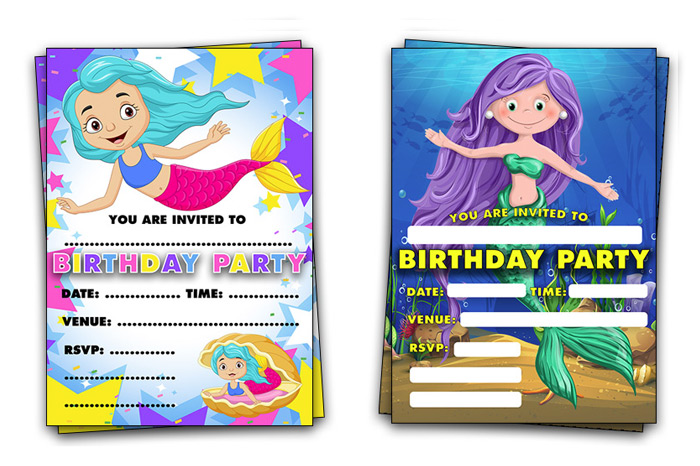 Printable Football Party Invitation
Goal! These football party invitations are the perfect way to get the team together for a friendly game, or a great party. These free printable invitations are fun colours, and they tell your child's classmates that a fun game is going to happen at their birthday party. Everyone can get excited for a fun game of football, guaranteeing plenty of fun for the activities you have planned!
Bonus Fun: Knock 'em down! Let the kids practice their sharp-shooting skills by setting up some empty cans or other things that can be safely knocked over and hit with a football. Divide into two teams, and everyone takes a turn kicking the ball at their targets. The first team to knock down all their targets wins! Another version of this is to blindfold your contest
Bonus Fun: Balloon football! If they thought chasing the black and white ball down the field was tough, wait until they have to run after a balloon! Divide the kids into two teams, and have them play an almost-normal game of football! The floating balloon is harder to hit than a regular balloon, and the kids will have a blast trying to get it down to the goal.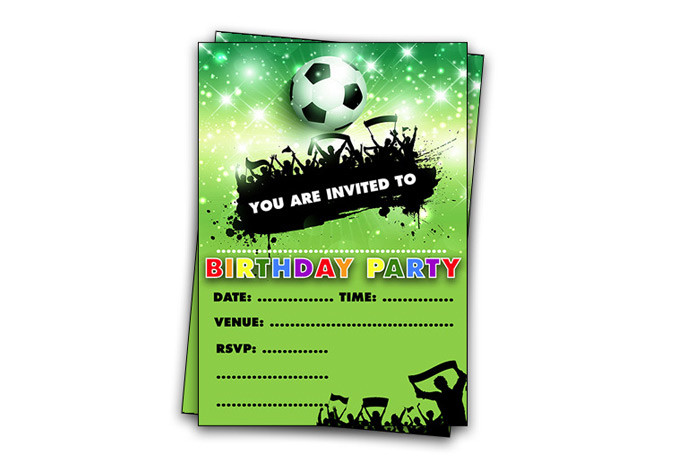 Cat Party Invitation Printable PDF
Meow! These cat party invitations fit your child's personality purr-fectly. For the kid who answers every question with a "meow" in a different tone, these free kids party invitations are a great accompaniment to the best birthday ever!
Bonus Fun: Quick! There's a cat after the mouse! We need two volunteers- a cat and a mouse. Everyone else joins together in a circle around the mouse and joins hands. The cat is outside the circle, and trying to tag the mouse! Those forming the circle have to work together with the mouse to let them in and out of the circle and protect them from the cat! Once the mouse is caught, they become the cat, and we choose a new mouse! Make sure everyone gets a turn!
Bonus Fun: Yarn unravel! This is a great way to incorporate play into party favours. Using ribbon and paper tissue for gift wrapping, wrap a party favour in a few layers of material. Add another favour, then a few more layers of material. Keep going until you have a messy tangled ball full of tissue paper, ribbon, and party favours. For extra difficulty, use tape in between the layers. Give each kitty their ball of yarn, and have them race to get all their prizes free. The first one with all their prizes unwrapped wins!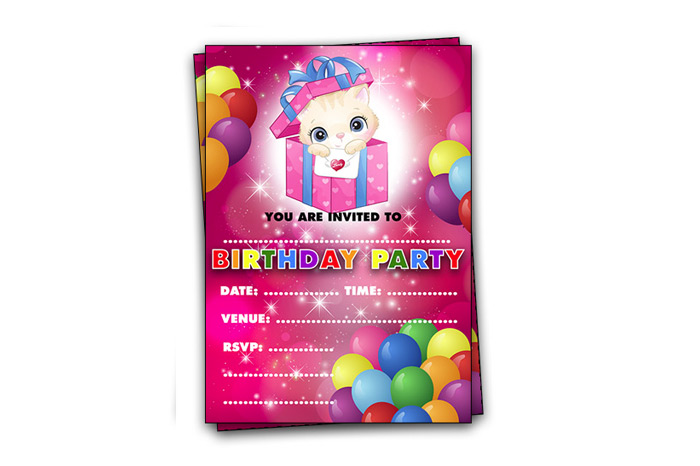 Printable Pirates Party Invitation
Ahoy matey! These pirates party invitations let all the little land-lubbers know to come to a pirate party on the high seas! These free printable birthday party invitations are a simple and classic way to show that there's a treasure island full of fun waiting at your child's birthday.
Bonus Fun: In between swashbuckling and raiding the seven seas, Just Family Fun's Pirate Treasure Scavenger Hunt is a great way to let kids fill their own goody bags! Follow our instructions and clues for an easy-to-set-up super-fun activity to occupy the little ones! Pair this with pirate hats and pirate flags for the ultimate pirate party that won't cost you all your treasure!
Bonus Fun: Cannonball attack! On strips of paper, write one message for each pirate saying "Collect your treasure!" And multiple strips that say "Walk the plank!" Put these strips into black balloons that you then blow up. We want LOTS of black balloons for this game. Your little pirates need to pop those cannonballs, or balloons before they get to their ship. They can step or stomp or sit on them until they get their message! Keep playing until everyone has a chance to win a prize.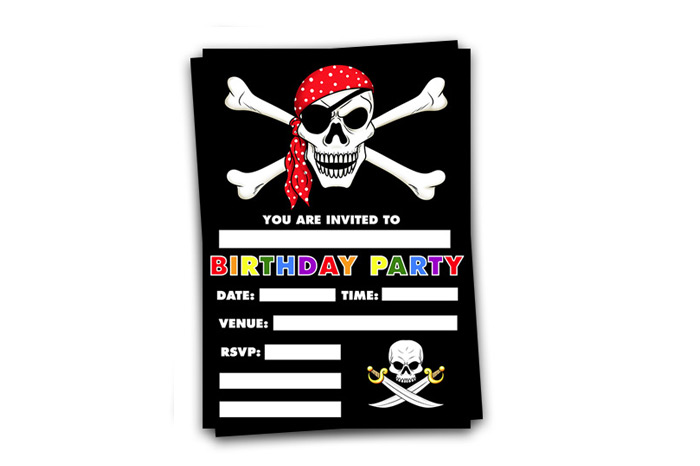 Printable Owl Party Invitation
Hoo is ready to have fun!? These owl party invitations are the perfect sign that your big-eyed night lover is having a birthday, and all their friends should come!
Bonus Fun: Seed relay! In two teams, kids race to fill an empty container with birdseed the fastest! Each team has a full bowl of birdseed and a small cup. When the whistle blows, the team leader fills their cup and runs across to their empty container. Bonus points if they have to do an obstacle course before getting there. We suggest using old milk containers as your empty containers because the small opening makes it extra challenging. After they've emptied their cup into the container, they run back to pass their cup on to the next teammate. Give them a time limit, and at the end, the team with the most birdseed in their milk jug wins!
An alternate of this is to line everyone in each team-up between their full bowl and empty carton. Everyone gets a cup, and they have to pass the birdseed down the line from cup to cup!
Bonus Fun: Light as a feather! Everyone gets their own feather to keep in the air, but they don't get to use their hands! They have to huff and puff and blow to keep their feathers up! The longest one to have a floating feather wins!