If you have a little one at home that is destined for the high seas, we have the perfect printable pirate hat template for you.
These free printable pirate hat outlines are great because they allow your child to be as imaginative as they want. They can play around with their clothes, and top it off with a hat that they cut out and designed themselves.
A free pirate hat outline is a great trick to have up your sleeves for the days where their regular toys just aren't cutting it. Or maybe you want to print one-off, glue it to a piece of cardboard paper, and cut it out after! This makes it extra durable, so you always have an extra pirate hat laying around, just in case.
The best part is that if you have a little pirate that HAS to have blue everything, or needs it to have a rainbow, or who wants to draw a parrot on his hat, Just Family Fun's black and white printable can be coloured as much as they want.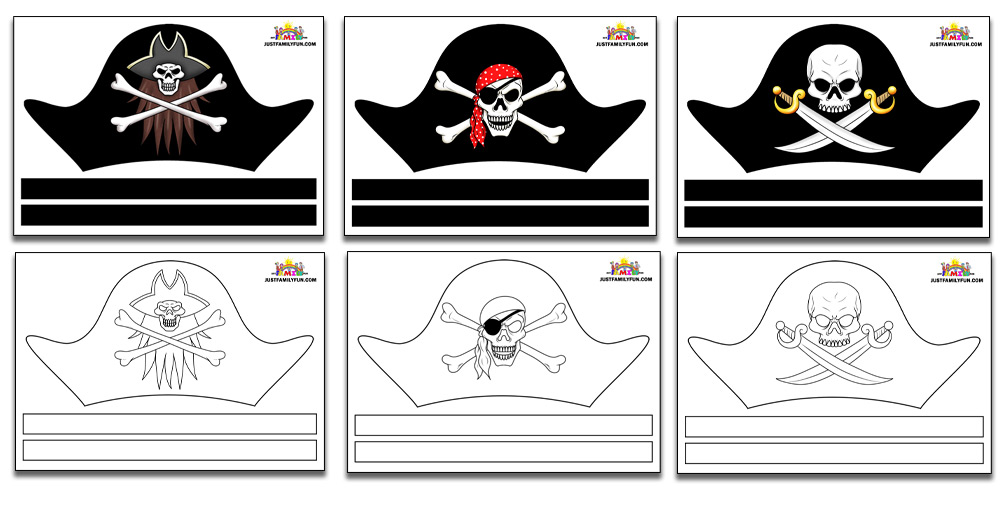 These printable pirate hats come in three varieties:
Skull and crossbones
Classic skull and crossbones
Skull and crossed swords
Skull and Crossbones
This pirate hat cutout is perfect for the daring adventurer. Once you put this hat on, you're ready to command the seven seas! You can choose to print a colour pirate hat picture so its ready made as soon as possible, or you can choose to colour your own. Make it as wild as you want!
Classic skull and crossbones
For our more traditional crew mates, we have a pirate hat drawing with a classic skull and crossbones. A good classic look that has been seen on ships the world over. Our skeletal friend on this hat even has his own colourful kerchief, or you can colour it yourself to make him as fun and crazy as you want.
Skull and crossed swords
Our fanciest pirate hat drawing, this is the perfect cap for a scary swashbuckler who's ready to ship out. This black and white pirate hat can be coloured, but it also looks fierce and fun just as it is.
Inspiration Pirate Fun Activities!
Master of the Seven Seas- With your pirate hat drawing firmly on your head, your trusty stuffed animal on your shoulder, and your cardboard box ship underneath you, you can explore the open ocean. You can use an old cardboard box and decorate it as your pirate ship! Draw a crossbones on it, or maybe with some help cut out some portholes in the side to see other ships sailing by!
Adventurer Extraordinaire– Maybe you're a pirate who explores the islands in the sea. Crawling on the couch because the floor is lava, you can be a pirate who finds new islands, islands full of treasure and fascinating creatures! See how many fun new places you can find in your house or yard!
Island Hop- Jump from island to island! Use pillows as your islands, and see how far you can go between each one!
Make a pirate crew– Make it extra fun by throwing a pirate party, complete with plastic cutlasses and little gummy whales. You can print off a hat for every friend! Colour them together, or have a contest to see who can make theirs the fastest!
Scavenger Hunt– Now that your crew all look like the biggest and baddest pirates on the seven seas, you can go on a pirate scavenger hunt! Divide into two crews and work together to find all the treasure before the other ship's crew can!
Walk the plank– Work together to create a pit of pillows! Bonus points if they're blue, or you can throw a blue blanket on them so they look the sea! Now, take turns walking off the plank into your pit of pillows!
Bread Sticks to the death– Use some breadsticks to see who the best sword fighter is! Have a sword fight with your breadsticks, and the first person whose breadstick is too short to use anymore has to walk the plank!
Have fun with mom and dad– As a pirate captain, you have a super fun hat that you printed off and coloured yourself. Your colourful hat shows you're the boss, and if your dad doesn't like it, you can have a sword fight to see who has to walk the plank!
Treasure Hunt- Ask mom to pick out some treasure for you to find- maybe your favourite toy, or a snack for later! See if she'll hide your treasure all over the house. Now hurry and find it, before your ship sails off! For bonus fun, have dad hide treasure, and race your mom to see who can find the most!
Now that you have a boatload of ideas for pirate fun, go rule the open ocean, and make sure to let us see how much fun you had with our activities! You can also find more masks or hats and scavenger hunts on our website to always have a great day!