Printable Pirate Flag Template
Welcome aboard, young adventurers! Are you ready to embark on an exciting pirate-themed journey? Look no further, because we have just what you need to ignite your imagination and bring the high seas to life.
In this blog post, we'll introduce you to three fabulous printable pirate flag template pdf that will have your little ones setting sail on epic adventures.
Whether you prefer a splash of color or the joy of coloring, these flags are sure to be a hit. So, gather your crew, grab your markers, and let's dive into the world of pirates!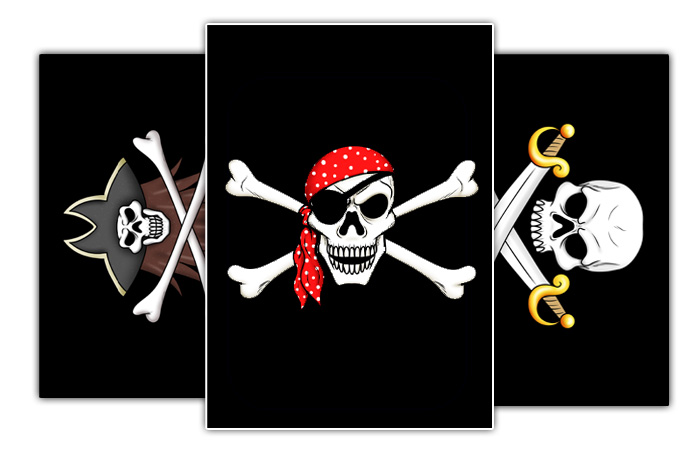 What's Included In Our Printable Pirate Flag Template PDF
Our printable pirate flag collection is designed to capture the essence of the golden age of piracy, with three unique and captivating designs. Each flag comes in two versions: a vibrant, pre-colored option and a black and white version, allowing kids to unleash their artistic talents and personalize their flags. These flags are easy to download and print, making them an ideal activity for a rainy day, a pirate-themed party, or a quiet afternoon at home.
Activities You Can Do with the Printable Pirate Flags:
Decorate Your Ship: Transform your playroom or backyard into a pirate ship by hoisting these eye-catching flags high above the mast. Choose your favorite design, color it in if desired, and attach it to a stick or pole. Your ship will be a sight to behold, ready to sail the seven seas and search for hidden treasure!

Create a Treasure Map: Bring out your inner cartographer and use the black and white version of the flags to create an authentic-looking treasure map. Draw an island, mark an "X" to indicate the treasure's location, and incorporate the flags into the design. Once you've completed your masterpiece, invite your friends on a thrilling treasure hunt, using the map to guide them to the hidden riches.

Dress up as Pirates: What's a pirate adventure without the proper attire? Print out the colorful pirate flags, cut them out, and attach them to headbands or hats to create unique pirate accessories. Transform yourselves into a crew of fierce buccaneers, ready to set sail on daring escapades. Encourage your little pirates to act out their favorite swashbuckling tales and let their imagination run wild!

Host a Pirate Party: Planning a pirate-themed celebration? These printable flags are perfect for adding a touch of pirate charm to your party decorations. Hang them on the walls, drape them over tables, or create a bunting to set the scene. Encourage your guests to color their own flags and use them as personalized party favors or name tags.
With our printable pirate flags, the possibilities for adventure and imaginative play are endless. Whether your little ones dream of sailing the high seas, hunting for treasure, or engaging in daring battles, these flags will transport them to a world of swashbuckling excitement. The combination of pre-colored and black and white versions ensures that kids of all ages can join in the fun, whether they prefer to unleash their creativity through coloring or dive right into the action.
So, gather your young scallywags, download our printable pirate flags, and get ready to set sail on an unforgettable voyage of imagination and discovery. With these flags in hand, a world of pirate adventures awaits. Avast ye, me hearties, and let the fun begin!
Looking for more pirate goodies? We've got you covered! Alongside our awesome printable pirate flags, we have a treasure trove of pirate-themed treats.
Check out our printable pirate hats to complete your little adventurers' pirate outfits. And if that's not enough, we've got something extra to keep the excitement going: printable treasure maps! Get creative and create an authentic treasure hunt experience.
But wait, there's more! Don't miss our pirate scavenger hunt download for an extra dose of pirate fun. It's sure to add excitement and challenge to your swashbuckling adventures. So, come aboard and explore our wide range of printable pirate goodies!