There are some Free Printable Indoor And Outdoor Scavenger Hunt. In the summertime, it can be so much fun to go out into the garden or the local park with your kids and have a little scavenger hunt! Whether you're hiding goodies for them to find or just asking them to bring you back an example of a red flower, scavenger hunts are a great way to spend time with your children in the sunshine, while teaching them about the world around them and getting some outdoor time. Unfortunately, when it's freezing cold and raining outside, and especially with the new lockdown which means we aren't allowed out so much, scavenger hunts aren't quite so much fun as they would be in the summer months. Instead, why don't you take a look at our beautiful new digital scavenger hunts!
These two new printouts feature gorgeous, brightly coloured pictures that all kids will love, along with the names of lots of animals and objects. They're great for kids of all ages since they're so adaptable for your child's reading and speaking level, and you can even laminate them, so you can use them again and again for masses of fun!
Two different designs
Our printable scavenger hunts feature two different lovely designs: a garden scavenger hunt, and a bedroom scavenger hunt. Each design has at least 10 objects on it, so there's lots of opportunity for learning new words and discussing what sorts of things you might find in a bedroom or a garden. Both designs feature simple category labels, which you can use to help your child on their scavenger hunt. For example, the garden design asks your child to find 'Something hard!': you can then help your child look at all the objects on the scavenger hunt and decide which one might feel hard. The bedroom design asks your child to look for 'Something special!', so you can have a conversation with your child about what is special to them. What are their favourite toys? Are mummy and daddy special to them? If they're a little bit older, you can maybe ask them what makes something special.
Both designs are super colourful and engaging for kids, and also have the names of all the objects written beside their gorgeous pictures. You can even use the scavenger hunts in collaboration with some real-world activities: if you're lucky enough to have a garden (and to get a hint of some rare January sunshine!) you can take your kids out and ask them to find you a real-life watering can. Similarly, you can use the bedroom scavenger hunt, and ask your child to find you 'Something round'. This can make the activity a little more physical and engaging for children!
Easy to use
These scavenger hunts are super easy to use. There is room below each category to write the name of an object, and each object has a tick-box beside it, so that when your child has used it, you can tick it off! You can either print off several of these scavenger hunts, or instead laminate just a couple, and use them over and over again with a board pen, for lots of fun!
Great for home learning
We at Just Family Fun know that so many parents are having to help their children with home learning at the moment. If being a parent wasn't hard enough, we now have to take on the incredibly difficult role of a primary school teacher! Resources like this can make that very tricky task a little easier. These scavenger hunts are perfect for home learning and children of all ages: depending on how old your kids are, you can adapt the tasks you can do with these scavenger hunts to keep your children interested and enthusiastic about schoolwork. Below are a few ideas for different age categories!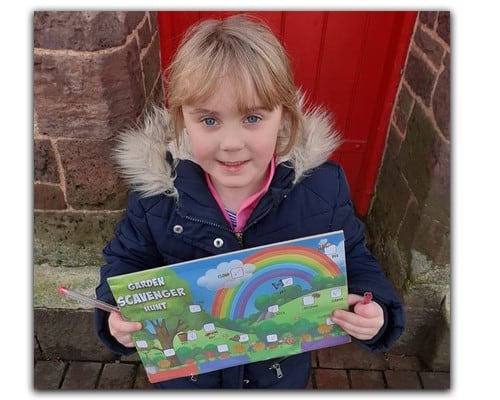 If your child is learning to talk, the simple words, colours, and pictures on these scavenger hunts will help them repeat basic sounds, in order to pick up more complicated words like 'gadget' or 'watering can'!
If your child cannot read or write yet, ask them to point to something that they think might be soft or shiny, hard or round; alternatively, you can ask them to point to the bed or the leaf in the illustration, to help them with learning words they might not know yet.
If your child is learning to read, try helping them sound out the super simple words on these scavenger hunts! None of them are complicated and most of them will be words your children will already know, such as 'spider', 'toy', 'tree' and 'teddy bear'. You can encourage your child to read with you, sounding out each of the words to help them learn!
If your child is learning to write, help them fill in the categories with the correct words and encourage them to spell them correctly and read them out to you later so you know they've got them right.
If your child has trouble with maths, try using these scavenger hunts to help them count all the objects without losing track and the good thing is all are Free Printable Indoor And Outdoor Scavenger Hunt
If your child is a bit older, maybe try timing them to see how fast they can find something for each category! Slightly older children love a challenge, and they'll have so much fun hunting and filling in before the time runs out.
If your child is more grown-up, use these as a support for other, more complicated activities. For example, you might want to have a conversation about what other kinds of insects there are, or to teach a biology lesson about how important bees are for plants. You might want to ask them to think about what books or comics they like to read, or maybe even draw their own picture.
As you can see, the possibilities for these scavenger hunts are really endless! Children will love the fun designs, and there are plenty of easy activities for you to do as a parent. Download our templates for free above, and make sure you have fun and stay safe!