6 Free Printable Happy Birthday Signs
If you're looking for some free printable happy birthday signs to celebrate a birthday in style, then look no further!  Our bright and cheerful free birthday printable decorations are perfect if you don't want to spend lots of money on something that won't be used for very long.
You can simply print the happy birthday signs that you need, then recycle them after the celebrations are over.
No time to pop to the shops but need to decorate for someone's birthday in a hurry? Don't worry, just print off one of these bright and cheerful designs and you will have an instant happy birthday sign printable to display in your home, office or classroom.
Our colourful happy birthday signs free printables are a fantastic way to let someone you care about know that you've remembered their special day, whether it's your children, co-workers or friends.
Finding free printable birthday decorations for adults can be a struggle, but our eye-catching, free printable birthday party signs are just as suitable for grown-ups as they are for the youngsters in your family.
Decorating for a birthday is an exciting way to create a fun atmosphere, and we have six fantastic designs of free birthday signs to print out below to help you decorate your home ready to entertain your family and friends.
We've also included six happy birthday signs colouring pages, so you can get the kids involved with colouring in their own printable happy birthday posters in whichever colours they choose.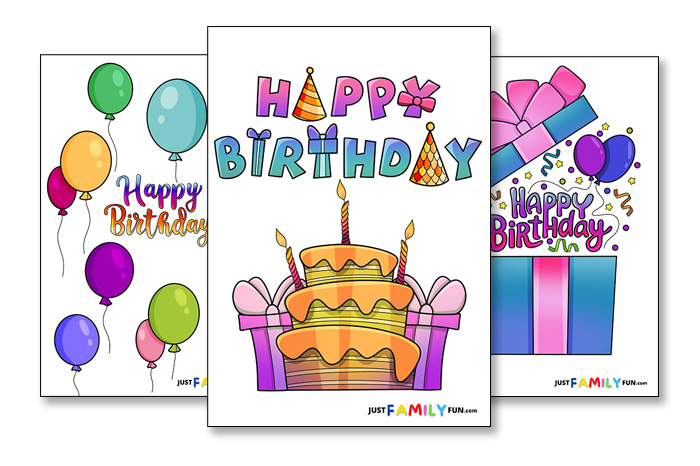 How to Use Our Happy Birthday Signs Free Printables
It's easy to use our Happy Birthday signs free printables to brighten up your home – you just need a computer and a printer. Simply download the free happy birthday sign printable pdf of your choice then print it out onto A4 white paper.
Place your birthday signs around your house, office or even in the car ready to surprise the birthday boy or girl! You could even place a happy birthday sign outdoors – if it's raining, place your sign inside a clear plastic wallet first to keep it dry then pin onto a tree or stick it onto the front door.
6 Colorful Free Printable Happy Birthday Signs
Get ready to party with our colorful printable happy birthday signs! We've got six stunning designs to choose from, so whether you're looking for 50th birthday printable decorations, a free printable happy 1st birthday banner or free birthday signs suitable for any other age, we've got you covered. The cheerful rainbow colours are perfect for fitting in with any birthday theme, whether your party is for a boy or a girl.
Choose from one of our six free printable happy birthday signs including:
A fun happy birthday sign with the words "Happy Birthday" surrounded by lots of different colored balloons.
A birthday sign printable of a big, three-tier birthday cake and candles – because everyone loves a cake on their birthday!
A multi-colored birthday free printable where the word "birthday" has been cleverly turned into candles.
A happy birthday printable sign with the words "Happy Birthday " bursting out of a present box.
A fantastic birthday signs printable saying "Happy Birthday" with lots of confetti, like an exploding piñata.
A simple birthday sign to print with bunting, a huge bunch of bright star and heart-shaped balloons and of course the important message, "Happy Birthday".
6 Happy Birthday Signs Coloring Pages
If you want to create your own unique birthday signs, download and print our happy birthday Signs Coloring Pages and ask the children to get creative!
Homemade happy birthday signs will give your celebrations a truly personal touch, and are bound to be popular with friends and family who will appreciate the extra effort that has gone into making them. Younger children will love being given a happy birthday sign to color that they can then proudly hang in the house ready for a family member or friend to see.
We've got six brilliant designs of birthday printouts to choose from, packed full of balloons, birthday cakes, streamers, bunting and lots more. The fun part of colouring in your own free printable birthday decorations is that you can choose your own colour scheme or just let your imagination go wild to create your own personalized happy birthday signs.
To start making your homemade happy birthday signs, click under the design of your choice then print onto white A4 paper. Then choose your colouring materials such as felt-tip markers, coloured pencils or crayons. The kids can have fun expressing themselves whilst they create a masterpiece ready to decorate the house for the birthday celebrations.
Some more ideas for your personalized happy birthday signs: 
If you've got a theme for your birthday party, you can color in the happy birthday signs to match. For example, choose different shades of pink for a Barbie doll themed party, or red, black and white for a pirate party. If the birthday boy or girl has a favourite sports team, you could choose those colours instead.
You don't have to be limited to crayons, pens or pencils. Watercolor paints would look great, and you can also stick on sequins, glitter, or any other craft materials to make your birthday banners sparkle!
Encourage the kids to try different textures and patterns on their design, such as dots or zig zags – the brighter and bolder the better!
Is the birthday for a 5 year old, 21 year old or even 100 year old? You can add their age onto your design (inside a balloon perhaps)?
Make a group activity: Ask all the family to have a go at their own homemade happy birthday sign, creating a lovely social atmosphere ready for a birthday party. You'll also end up with a lovely selection of unique birthday signs that you can display together or around the house.
6 Happy Birthday Signs Coloring Pages
Now you've decorated your home ready for a birthday party, you'll need some games for everyone to enjoy.  We've got some fabulous Free Birthday Bingo Printable Cards , perfect for getting your party started and getting everyone involved with the fun.