The current UK lockdown means that for most children, birthday parties are on hold right now, or at least they're not what they used to be, and a lot of children are feeling disappointed. Parents are looking for new and inventive ways to make the birthday experience special so that children will still have a memorable time. It's up to us to think creatively about this because birthdays should still be celebratory, even without a communal game of pin-the-tail-on-the-donkey or playing 'Just Dance' with all the children from their class. Sometimes having to think outside of the box can make something even better.
Getting children more involved in making birthday cards which they can deliver themselves or send to their friends is a great way to achieve this. It can help them avoid any feelings that they're missing out on the usual birthday festivities during the pandemic. Children love to do kind things for other people and making a birthday card can feel so much more personal than buying one from the supermarket.
In fact, getting stuck into making individual birthday cards and gifts can make celebrating birthdays feel much more magical than they usually do. Your children will enjoy this so much that it could become a trend you'll have to continue after lockdown ends!
Preparing for birthdays can be challenging if you are self-isolating or shielding at home right now, too. It's hard to get young children involved in shopping for cards and gifts when you're supposed to limit your time in the supermarket and shop without them as much as possible. So making something from scratch at home is an easy way to overcome this problem.
With that in mind, I'm launching a new section of my website for birthday cards that you can download and print for FREE. These are high-quality jpeg images which can be printed up to A4 size without loss of resolution. They can be printed directly onto photo paper or plain cardstock to create a birthday card with a unique and personal feel.
These cards offer a range of designs that will appeal to children of any gender, with a selection of images that can be seen as girl-popular, boy-popular and gender-neutral. Each card bears a simple 'Happy Birthday' greeting on the front, making them appropriate to give to anyone. Younger children will especially love these fun and cheerful designs but you can even give them to Granny and Grandpa, or the lady who lives on the corner with the little fluffy dog.
6 Different Designs to Choose From
Avery & the Unicorn Printable Birthday Card
This joyful design has an image of a smiling child in a pink party dress, wearing a small gold crown, indicating that she is the Birthday Princess herself and we've called her Avery. She has her arms around the neck of a cute, white unicorn with a rainbow-patterned mane. Behind, a rainbow spreads into the sky and starlight twinkles all around them. The overall colour palette is of pinks, purples and turquoise. The feeling is one of make-believe and dreams coming true. This unicorn has come to create an enchanted birthday for whoever receives this card. Did you know that unicorns are supposed to have magical healing powers? This is obviously what we need to fight the pandemic – more unicorns!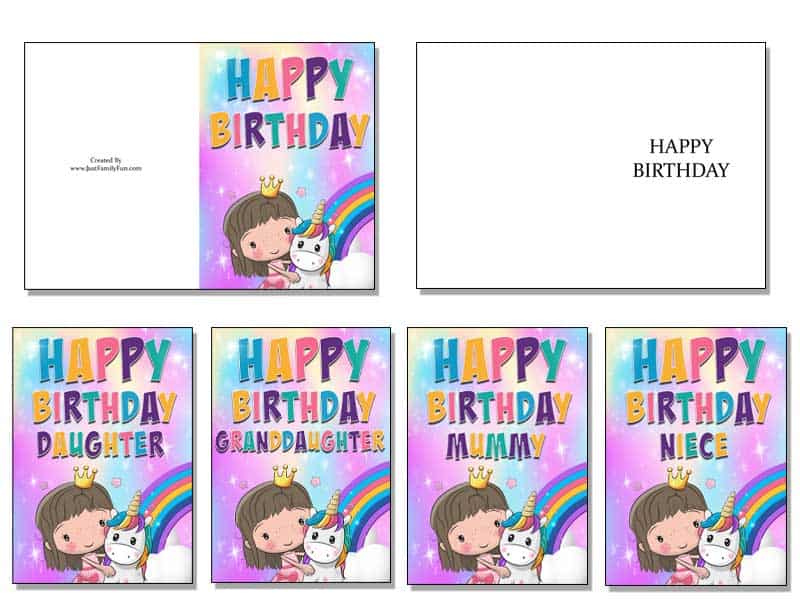 Happy Birthday l Daughter l Niece l Mummy l Granddaughter l
Billy the Bear Printable Birthday Card
This design shows an adorable teddy bear with a rather bashful and charming grin. His name could be Billy, or Bobby, or Buster. What do you think? He's as cute as a button and will undoubtedly appeal to the young, and not-so-young, at heart (because you're never too old to cuddle up with a comforting bear). Our Billy looks particularly cuddly, with a soft squidgy tummy and oversized feet that surely indicate his propensity for getting into trouble. No doubt he needs lots of love and hugs when he's been told off for upsetting another plate of biscuits or treading jam into the living room carpet again! He's not a naughty boy, he's just clumsy sometimes.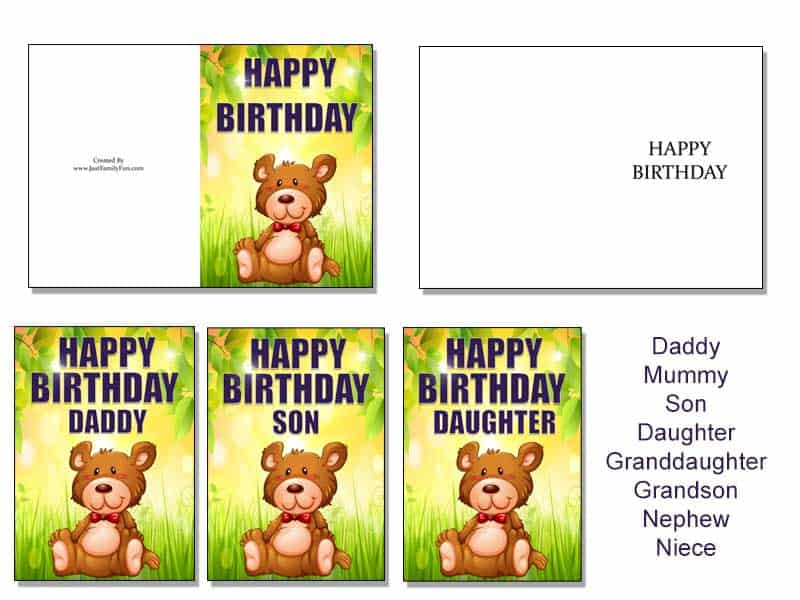 Happy Birthday l Daddy l Son l Daughter l Niece l Nephew l Mummy l Granddaughter l Grandson
Fairies of the Forest Printable Birthday Card
This delightful design is for anyone who believes in those tiny winged-beings who live in the Fairytale Forest. This pair of fairies are clearly full of mischief and magic. The whole image simply sparkles with fairydust. Alette, the nature fairy on the left, is a small creature with leaf-like wings and a dress made from slices of dried orange. Calida, the fairy on the right, is a butterfly-like being with beautifully-delicate purple wings and a dress that finishes in cute little tendrils. Did you know that it's considered bad luck to call these fair folk "fairies"? They will take great offence at being called such a thing and visit your kitchen to cause mayhem by spilling the sugar and eating the heart of your loaf of bread. A fairy will never tell you their name, as it gives you the power to call them to do your bidding. If you wish to appease the fairies, leave milk and sweet cakes out for them at night and then they will leave you alone.
Happy Birthday l Daughter l Niece l Mummy l Grandchild l Sister
Pearl the Pirate and Captain Jock Printable Birthday Card
Ahoy, me hearties! What a scurvy bunch of knaves we have here. This jolly design is made for those who dream of scandalous adventures on the high seas. Together, Pearl the Mermaid and Captian Jock (who is the nicer brother of Captian Hook) sail their little schooner far and wide with the able assistance of their shark and jellyfish crew. We know for a fact that the jellyfish are very silly and Chester the Shark never does as he's told. While they look like a cheerful group of friends, there's bound to be trouble abroad when they set out to plunder and pillage in search of gold and jewels to fill their coffers. Their greed for sparkly things knows no bounds! To find out how to talk like a pirate, go to our Pirate Scavenger Hunt page, for a full list of fun piratey words you can use.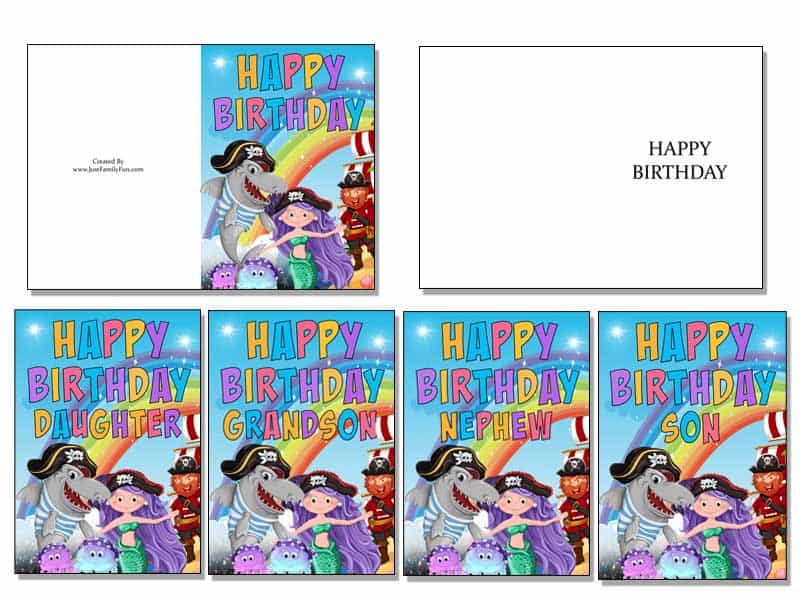 Happy Birthday l Son l Daughter l Grandson l Nephew
Mason the Spaceman Printable Birthday Card
This design shows our intrepid spaceman, Mason, on a mission to the Moon and Mars. Mason's rocketship took two days to reach the Moon and now he is making his first solo spacewalk into the mysterious unknown. He grins with glee at the incredible nature of this adventure – something experienced by so few human beings before him. Only 24 astronauts have ever travelled beyond low Earth orbit and of those men, only twelve have actually walked on the moon. Mason has been training for this mission for two years, practising the spacewalk with underwater exercises that helped his body prepare for experiencing weightlessness and learning to hold his breath for up to 3 minutes in case of problems with his breathing apparatus. He is eagerly hoping to meet space aliens when he reaches Mars. We think Mason is very brave and wish him a safe journey back to Earth when his mission is complete.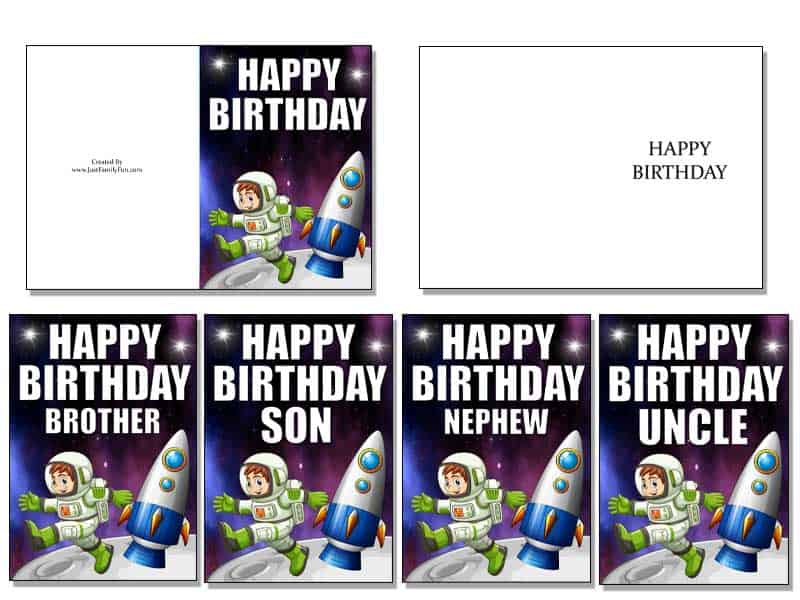 Happy Birthday l Son l Nephew l Uncle l Brother l Grandson l Daddy l
Football Superstars Printable Birthday Card
This design shows a huge floodlit stadium, filled from ground to sky with spectators who have gathered for an immensely important football match: the World Cup Final. The tension in the stadium is palpable. This is the game that everyone has been waiting for and we're down to the final minutes of the game with the top strikers of both teams coming toe to toe to see who has the greatest skill and the toughest mettle to make this match count. These players are the elite of the footballing world. They've trained for years, under the world's best coaches, playing for some of the finest teams we've ever known. Personally, my money is on the birthday boy to score the winning goal. As the ball flies past the keeper, into the corner of the net, the stadium erupts in a giant victory roar. Our boy is lifted onto the shoulders of his teammates and paraded around the pitch as the conquering hero that he really is. It's all over now and he can bathe in the feelings of pride and satisfaction that this glorious win creates. What a wonderful way to celebrate a birthday!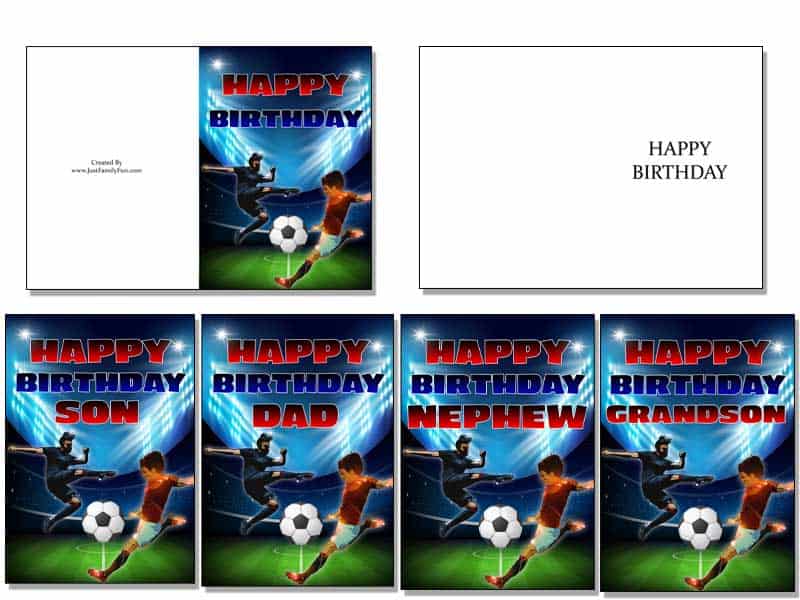 Happy Birthday l Dad l Son l Nephew l Grandson l Uncle l Daddy
Printing these designs and making them into cards is a fun activity that will keep children occupied for hours. Telling stories about the characters in each design, as we have done, is a great way to spark their imaginations and fill them with delight.
These are an easy starting point to making birthdays feel special and momentous. Download our printable birthday card templates for free above, and get the whole family involved in the creation and giving of these personal and unique cards. Check out our other printable games for more activities. Have fun and stay safe!