Our twist on a classic, Pin the Nose on the Clown is a fantastic birthday party game! It's free to download HERE and easy to print. You can have it set up and ready to play in just a few minutes.
Did you know Pin the Tail on the Donkey was invented over 100 years ago? In 1899. It became so popular because it's fun for all ages. It's also one of those brilliant games where the playing of it is so funny that it doesn't matter who wins. Much less traumatic than pass the parcel!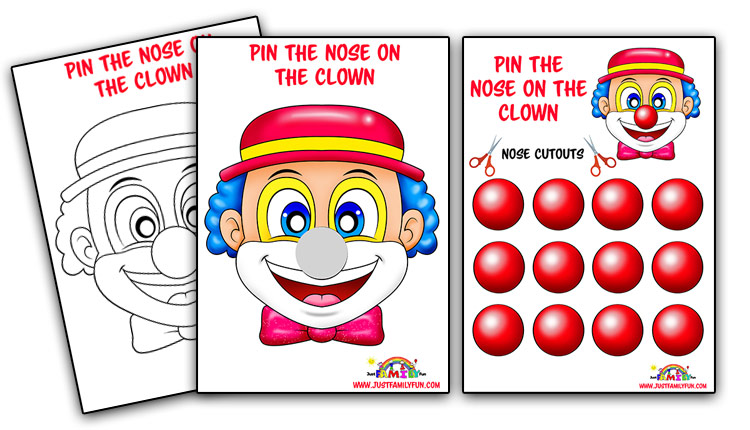 What you'll need to play pin the nose on the clown
Our Pin the Nose on the Clown pdf –

DOWNLOAD HERE

A printer, lots of libraries offer printing if you don't have one at home.
Scissors.
A pen
Something sticky – blutack, sellotape, double-sided sticky tape or pins would work.
A blindfold – You could use a tie, scarf or our printable kid's masks.
Top Tip – stick with the theme and have a clown outfit ready for the player. A rainbow wig, red nose and giant blackout clown shades would be perfect!
How to Set Up the Game
Download our Pin the Nose on the Clown party game

HERE

.
Print the Clown and the noses.
Cut out a nose for each party guest. Let them write their name on their nose to make it easier to find the winner.
Choose your nose sticking method and attach one to each nose.
Hang your clown face on a wall or door at child height. If you are using pins make sure you have picked a spot that won't be damaged, like a corkboard.
How to Play Pin the Nose on the Clown
Players take it in turns to try to stick their nose as close to the grey circle as possible. The catch is that they must be blindfolded and disorientated before they try.
Blindfold player one. Youngest goes first.
Make sure they are holding their nose.
Spin them around. Make sure there is nothing around that they could trip over.
Let them find their way to the clown and try to stick their nose as close as possible to the grey circle.
Top Tip – Get your camera ready to record. This game is always sure to create some hilarious memories and the players will love to see their nose pinning attempts.
Let all of the other players have their turn.
Find the closest nose and declare them the winner!
Don't let the kids have all the fun. Pin the Nose on the Clown can be enjoyed by everyone. There is nothing more hilarious for kids than watching their grown-up stumbling about and ending up attaching the nose to his hat!
You don't have to wait for a party to enjoy this great game. It's free, easy to set up and so much fun! Use it on a rainy day indoors and play as a family. Just don't let on that they have been practicing when they go to their next party!
DOWNLOAD PIN THE NOSE ON THE CLOWN NOW
Did you love Playing Pin the Nose on the Clown?
We have lots more great, free, printable games to play. Have fun searching for animals with our Free Printable Picture Farm Scavenger Hunt. Another exciting game that can be played at parties is Bingo. We have a whole range of Downloadable Fun Free Printable Bingo Cards to suit lots of party themes. Or get a great competition going with our Free Printable Emoji Quizzes with Answers.