Looking for a fun and educational activity to entertain the kids? Try our Farm Scavenger Hunt. It's free, downloadable and printable. There are lots of ways to play and opportunities to learn.
Kids are excited by the thrill of a scavenger hunt, especially when searching for themes that they know and love. We provide words as well as pictures. This makes the hunt accessible for very young children and helps older children practice their reading and spelling.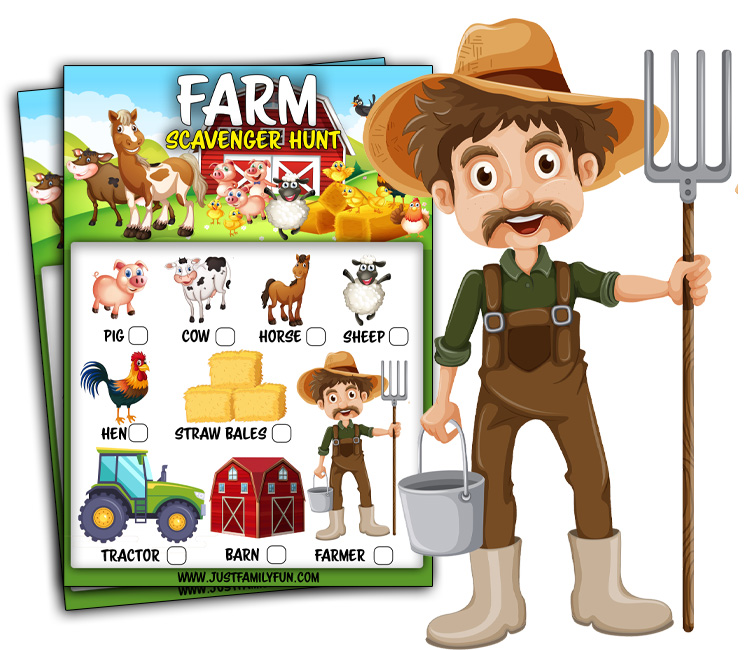 Playing at Home?
Print both templates of our Farm Scavenger Hunt.
Cut the images out of the cutout page.
Hide them around your home or garden.
Give the second printed sheet to your child and have them hunt for the images, ticking them off as they find them.
Tip #1 – Increase the fun. If you have any toys that match the items on the Farm Scavenger hunt, why not hide them instead? Your children will love hunting for them and playing with them afterwards.
Tip #2 – Increase the learning. Instead of hiding pictures or toys, write the words on slips of paper. Older children will develop their word recognition as they identify the items to tick off their lists.
Older children may also enjoy the challenge of a time limit or the promise of a prize. Additionally, they could pair up with a younger child, to build their teamwork skills and have a fantastic bonding experience.
Walking in your Local Area?
Get the kids some exercise and fresh air by inspiring them to go on a fun walk, with a scavenger hunt. If you think that your kids will be able to spot pigs, cows, sheep, tractors etc. in your local area then print a copy before you go and turn an ordinary walk into a thrilling hunt. A great idea is to keep a few copies in the car, if you happen to stop in a good hunting location the kids can tick extra items off their lists.
Visiting a real farm?
Print a copy of our Farm Scavenger Hunt before you go and have a fantastic time ticking the items off as you find them. Perhaps have a competition to see who can complete their list fastest.
Learning Opportunities
Our Farm Scavenger hunt can be used for animal recognition, word recognition and even counting. Have your children use multiple ticks or tally marks as they find items from their lists. When the hunt is finished, they can add them up to see how many they found or who spotted the most.
Play again and again
You can laminate our Farm Scavenger hunt and use a dry-erase marker to play time and time again. Repetition of the keywords will aid recognition and help younger children to succeed at the game. Your children may also love re-hiding the animals for you or their siblings to find.
Love our Farm Scavenger Hunt?
If you and your children had a brilliant time with our Farm Scavenger hunt and would enjoy a new challenge or topic then try our 'Indoor and Outdoor Scavenger Hunts'. Search for items in your child's garden and bedroom. A great way to get kids outside, or keep them warm and dry on rainy days.