There is nothing more fulfilling than spreading kindness and love to each other, it makes others smile and also makes you feel good. We have three perfect word searches of kindness for you to print at home and spread the love with your family.
What makes these kindness word searches special, is that not only do they have a great feel factor, but your kids can extend their vocabulary and learn some new words of kindness, where they can spread the love outside of your home. These word searches are great activities to print off, making it a cosy indoor family activity or something fun and solo to do at home.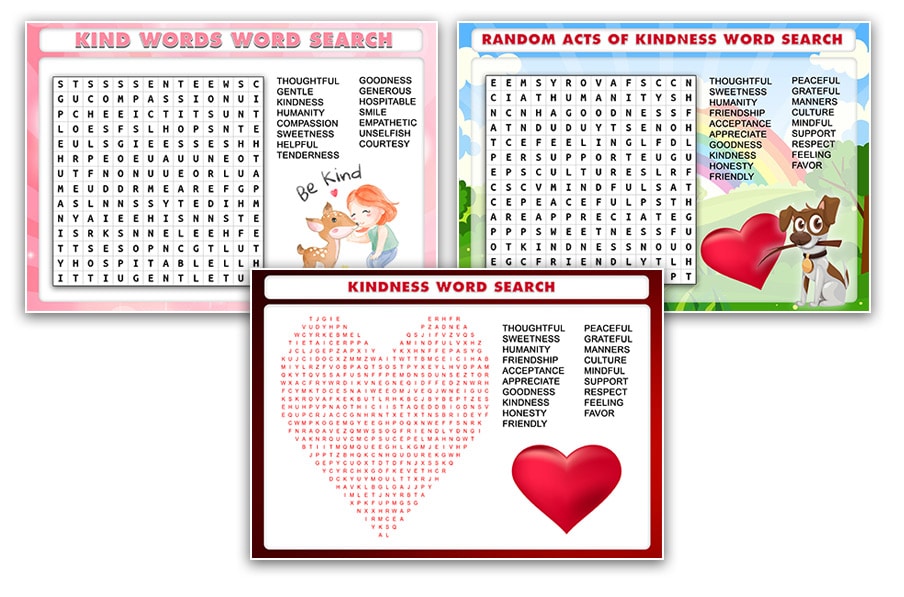 So, if you are ready for the feel-good factor, continue reading for how to print off and get started with our word search of kindness. Don't forget to take a look at our super fun Spongebob word search

How to print and use our Kindness Word Search
Our kindness word search comes in three different styles, all with answer sheets and you can print off as many as you need. They also make great party bag favours or classroom activities.
Print off any design or all three on plain paper.
Grab some pens, pencils, or crayons.
Taking a look at the list of words on the right, these are the words you need to look for. Start off by picking any kindness word and look for it in grid. Once you have found that word, circle it with your pen and cross it off the list.
One you have found all of the words on the list; your word search of kindness is complete!
If you are looking for ways to make it fun and challenging, here are some of our favourite ways to make our kindness word search interesting:
Set a timer and see how long it takes you to find each word. If you are doing this as a group activity, time each person and the person with the best time wins!
If you are looking for extra learning or study time with the kids to help with reading and spelling, once they have found a word, help them to read it out and spell it by reciting it back. This is a great learning activity for the brain that will help increase their writing and reading skill.
Make a kindness card! Take some card, any colour and glue an empty word search of kindness on the front. Write inside to and from, allowing the recipient to fill in their very own kindness word search.
Don't forget to check out some of our amazing other free printables when you have finished our word search. We have lots of fun crafts and games for you and your family.


Free fun printable spelling game
Free printable games & puzzles
Windy weather word search