Who lives in a pineapple under the sea? Spongebob! If free activities, games, and puzzles aren't already enough fun, then this Spongebob word search will add to the excitement. This word search comes in colour and black & white with both an answer sheet, featuring fourteen Spongebob characters to find on the list.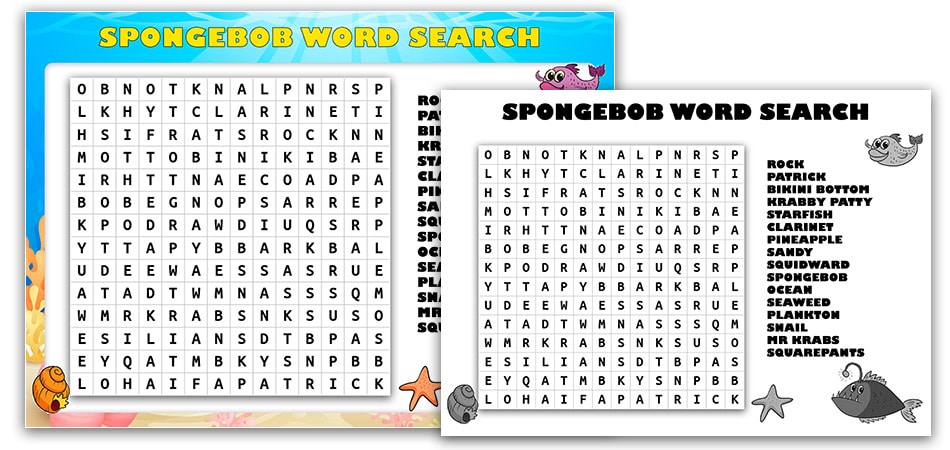 Doing word searches regularly is a great way for kids to improve on language skills, spelling and increase vocabulary. By spending just a few minutes a day either helping them or as a solo activity, this Spongebob word search will increase a lot of skills whilst having fun.
How To Use Our free Spongebob Word search
Print off the word search, choose from colour or black and white
Have some pens, pencils, or crayons at hand.
The list of words on the right are words that you need to look for in the puzzle. Pick one word at a time and search for it in the box
When you have found the word, circle it with your pen and pencil. Don't forget to cross It off on the list!
Repeat until all words are found, then your word search is complete.
Want to make it more fun and challenging?
Against the clock! Set a countdown timer and see if you can find all the words just before the timer runs out.
As a group, using the against the clock rule, see who finds the most words within the time set.
Don't forget… have fun!
DOWNLOAD COLOUR SPONGEBOB WORD SEARCH
COLOUR ANSWER SHEET

DOWNLOAD BLACK & WHITE WORD SEARCH
BLACK & WHITE ANSWER SHEET
All done? Why not try out some more of our free games and activities like our Free printable paper cut out characters or Animal Bingo.