Download 20 Free Printable Paper Cut Out Characters
Free Printable Paper Cut Out Characters. A child's favorite craft is always coloring in and building new things. They can now combine these activities from the comfort of your own home without paying a penny.
We previously Cut out printable crafts for kids, Christmas characters which can be found HERE. Now, we have created over 20 more characters from animals to monsters that can be downloaded, but the trick is they come with all the body parts separate, so your children get the joy of sticking them together.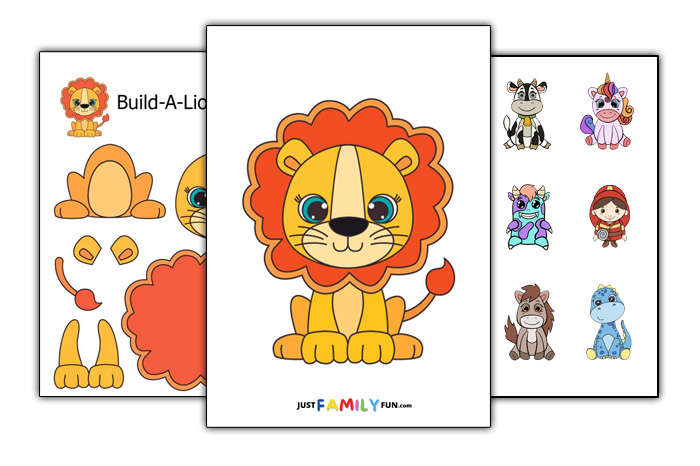 This is an activity my daughter cannot get enough of and I am sure you will find the same thing. All you will need is a printer, some glue, and a pack of coloring pens. Are you ready for Free Printable Arts And Crafts Worksheets?
Getting Started – Download Your Paper Cut Out Characters
The process could not be simpler and only requires a little bit of adult help, then the kids will be off and running and than Kids can use the paper cut out characters.
First of all, download one (or all!) of our characters below and print them off. The higher quality printer paper you can use, the better the finished character, but it looks great on any paper. Download your paper cut out characters below.
We've provided two options for each character, one that is bright and colorful, the other is an outline version that means you can color it in for an extra activity.
Once you've printed them off, it's time to start cutting out the parts of the different characters. Many children will be happy doing this themselves and it's a good learning exercise, but you can cut them out yourself if you prefer especially if you have younger children who haven't had practice holding scissors yet.
Now your children can start to glue the character together. No help needed at this point, but it will be fun to see exactly where they put all the different arms, legs, and hats! Remember, your children have vivid imaginations.
If you are planning to print off the outline version for them to color in, it's best to do the coloring before the gluing process begins. Whilst we have shown you typical colors you might use for each part, the children don't need to follow this.
The key is to give your children the freedom to create the character they want. Help make it special for them.
Now let's look at the variety of choices we've got available for you!
Discover a collection of 15 enjoyable cut and glue character templates awaiting you below. Download your desired character by simply clicking the download button located beneath it.
Astronaut Cut & Glue Character Template
Colour in your astronaut in all the bright colours you have, so you can see them when they are floating around in space. Cut out his arms, legs and helmet and glue them together to create your own friend to send to the moon and stars.
Cat Cut & Glue Character Template
Who wouldn't want their own furry friend? This little kitten comes with its own bow for you to design. Cut out its legs, arm, tummy, tails and ears. This one has a few parts to stick together, so make sure you have got them all before you start gluing.
Cow Cut & Glue Character Template
Are goooooo ready for a cow? Your cow doesn't have to be the traditional black and white colors. A pink and purple cow has also been very popular. Glue the ears, horn, and bell to the cow's arms, legs, and tail. Once all finished don't forget to give your new friend a name.
Dinosaur Cut & Glue Character Template
Yes, you have the chance to build your own dinosaur. We promise that these ones don't bite. This dinosaur is sitting nicely for you to build. Remember to attach its spikes to the back and colour the polka dots in different colours to make your dino the brightest creature on the block.
Doctor Cut & Glue Character Template
It's time to build your own doctor to look after all your bumps and bruises. What kind of doctor does yours do in the hospital? Do they work on children, mummies and daddies or your nanny and grandad? Don't forget to attach the stethoscope to the head and the thermometer to the pocket and you are good to go.
Dog Cut & Glue Character Template
We have created every child's dream for this cut-out. Everyone wants their own puppy. This dog has the biggest most adorable eyes. Add a name to the collar for your furry friend once you have finished building it. Stick the paws to the body and put the tail behind and finish with the head, eyes and ears, then viola you have own your pet.
Elephant Cut & Glue Character Template
How cool is it to have your very own zoo pet? This is one of the popular animals in our collection that be used to create an animal collage. Stick the legs to the body (and remember that the longer legs go at the front of the body) then glue the ears and the trunk to the face to complete the animal. Now, we know that elephants are grey, but let try to make this one as different as possible – why not try gold and pink or silver and blue. Little one love things that sparkly.
Fairy Cut & Glue Character Template
Never listen to what mummy and daddy say. Fairies are real and there is one who has visited you to colour in and build. She is one of the easier cut-outs to complete. Glue the wings to the dress and attach the head. Once you have coloured her in, you can start deciding what magical powers she has.
Fireman Cut & Glue Character Template
We have a fireman to save the day that comes with their own hose and helmet. Firefighters all around the world have different coloured uniforms. Some are red. Some are blue, and some are yellow. So which colour will you pick for your own firefighter?
Horse Cut & Glue Character Template
Neigh….we take to the stables to meet your own stallion. This horse is rearing to get built. Figure out which part is the bushy mane and which part is the tail and glue them to the head and body. Once that is done attach its legs so it is free to gallop.
Lion Cut & Glue Character Template
This lion will sure to be the coolest character in the jungle. Glue the big, furry orange mane to the face, glue the legs to the body and you are good to go.
Monster Cut & Glue Character Template
We promise this monster won't be scary monster. It is super friendly. Glue together all the parts and colour it to how you imagine this friendly creature in your head. Once complete show off your creation on your window sill to frighten off any other monsters who want to hide underneath the bed.
Nurse Cut & Glue Character Template
We could not give you a doctor cut-out without having a nurse character too. This nurse will help your little one when they are not feeling well. Colour in her red hair and make sure she has got the best designed uniform for the hospital. If you haven't tried done the doctor character make sure you give that a go too!
Pig Cut & Glue Character Template
Next up is a popular farm animal – the pig. This little piggie has left the farm to join the clan of characters. Attach the nose to the face so it can make the oink oink noise. Then glue together the ears once that is done, put the body together. Don't forget the bow.
Pirate Cut & Glue Character Template
Ahoy-matey. Climb aboard this pirate's ship to go on a wicked adventure. You could even say that this is the coolest character in the collection. Build the scavenger by gluing together all of the clothes and don't forget the sword. This pirate has been on many travels around the world so let your child's imagine go wild.
Policeman Cut & Glue Character Template
'Ello 'Ello 'Ello, what do we have here? We have a policeman to help keep your children out of trouble. I used this character on my daughter and told her that the policeman is only watching when she behaves badly. Glue on all the parts to the top – badge, tie and belt. Put the hat on the head. Try to get your child to draw some extra badges if they are feeling super creative.
Rabbit Cut & Glue Character Template
This rabbit reminds my daughter of the Easter Bunny and she thinks she is getting chocolate each time she sees it. Figure out where the paws go and which ear is for what side and then glue on the tuft of fur at the top of the head and you have your own pet rabbit.
Robot Cut & Glue Character Template
Beep-beep bop bop. We have a character that has arrived from the future. Glue together the round metal body and the spanner-like arms, then put the bottom part and go wild colouring your own robot in. Robots are very good at building and making items, so what can your robot do?
Teddy Cut & Glue Character Template
This cute teddy is ready for you to cuddle. This one is my daughter's favourite as she loves teddy bear tea parties. Attach the nose, eyes and ears to the face which can then be glued to the body. Give your teddy bear a name.
Unicorn Cut & Glue Character Template
Building characters would not be complete without your own unicorn. Your unicorn can be best friends with the fairy. Attach the mane and the horn to the head and then stick together the body and legs. It is important that you have as many colours as possible in the unicorn's mane to give it its magical powers.
Zebra Cut & Glue Character Template
We have another animal who has left the zoo. Put together the luscious mane to the back of the neck and ears to the body and don't forget the tail. We know that this animal is traditionally black and white, but we challenge you to get as creative as you can. Make a herd of orange, yellow and green zebras.
In conclusion, these Free Printable Paper Cut Out Characters offer a fantastic and cost-effective craft activity for children. Combining coloring and building, these characters provide endless fun and creativity right from the comfort of your own home.

With over 20 different options available, from animals to monsters, children can enjoy the process of sticking the body parts together to create their unique characters. Whether it's an astronaut exploring space, a cute kitten with a customizable bow, or a friendly dinosaur with colorful polka dots, there's something for every child's imagination.
If you enjoyed our Cut and Glue Characters, you might also like to try out our Christmas Cut and Glue Characters. And if you're looking for even more options, head over to SimpleMomProject.com where you can download their Monkey Cut and Glue template. There's a whole world of creative possibilities waiting for you!