Christmas Printable Crafts-Free Character Templates
Make Your Own Christmas Characters . All children love building new characters and they also love coloring them in.
You can now combine these two favorite activities with Christmas, for the perfect little treat for your children. On this page, you'll find 4 amazing Christmas characters that can be downloaded, but the trick is they come with all the body parts separate, so your children get the joy of sticking them together.
It's an activity my daughter absolutely loves doing and I'm sure you'll find the same. And all you need is a printer, some glue and potentially a couple of coloring pens.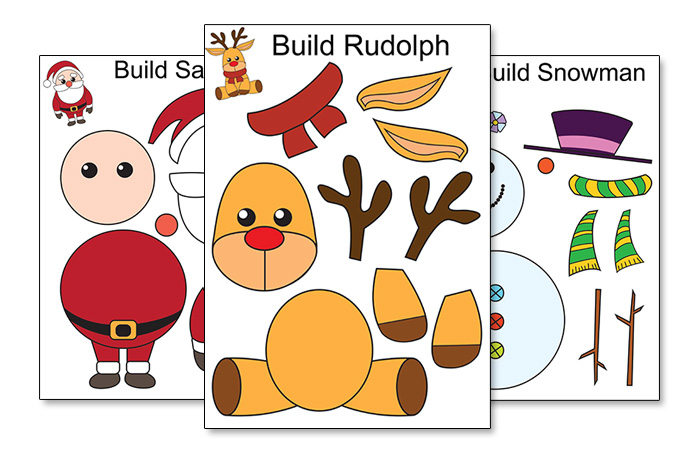 Getting Started - Download Your Characters
The process could not be simpler and only requires a little bit of adult help, then the kids will be off and running.
First of all, download one (or all!) of our Christmas characters below and print them off. The higher quality printer paper you can use, the better the finished character, but it looks great on any paper.

We've provided two options for each character, one that is bright and colourful, the other is an outline version that means you can colour it in for an extra activity.
Once you've printed them off, it's time to start cutting out the parts of the different characters. Many children will be happy doing this themselves and it's a good learning exercise, but you ca n cut them out yourself if you prefer.
Now your children can start to glue the character together. No help needed at this point, but it will be fun to see exactly where they put all the different arms, legs and hats! Remember, your children have vivid imaginations, so who knows what version of a snowman they might dream up…
If you are planning to print off the outline version for them to colour in, it's best to do the colouring before the glueing process begins. Whilst we've shown you typical colours you might use for each part, the children don't need to follow this, maybe they want Santa to have a purple beard this year. I have personally experienced a pink-nosed Reindeer, which really does break from tradition!
The key is to give your children the freedom to create the character they want. Help make it special for them.
Other Fun Characters To Explore
If you had fun with our "Make Your Own Christmas Character" worksheets, you'll probably enjoy our other "Build Your Own Characters" worksheets. We've got a collection of 20 vibrant designs, including unicorns, dinosaurs, policemen, cats, dogs, and much more. Check them out here!
And if you're on the hunt for more Christmas characters, make sure to visit this website: https://www.thepurplepumpkinblog.co.uk/ for even more options. Happy character building!