If you're looking for some quick, simple and easy craft ideas this Easter our free Easter bunny outlines will be just what you are looking for. These printable easter bunnies are brilliant for a range of arts and craft activities. 
The cute bunny seems a strange thing to associate with Easter. There is no mention of it in the bible but when I read the Times, it finally made sense. it's thought that the bunny rabbit idea stems from the pagan festival, Eostre – the goddess of fertility whose animal symbol was a bunny. 
We've included three different outlines, a bunny face template, a cute fluffy-tailed rabbit and an adorable bunny holding an easter egg.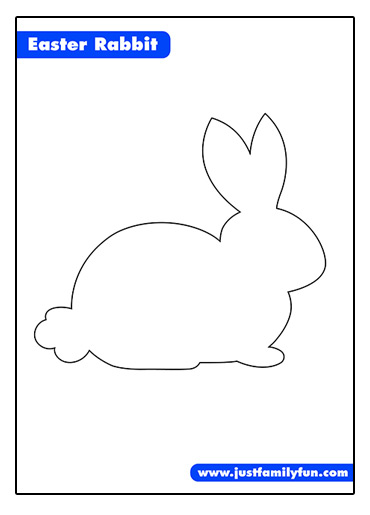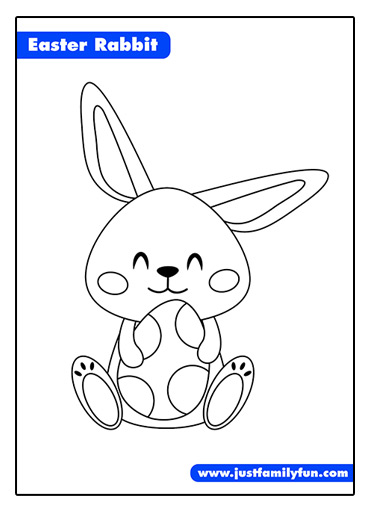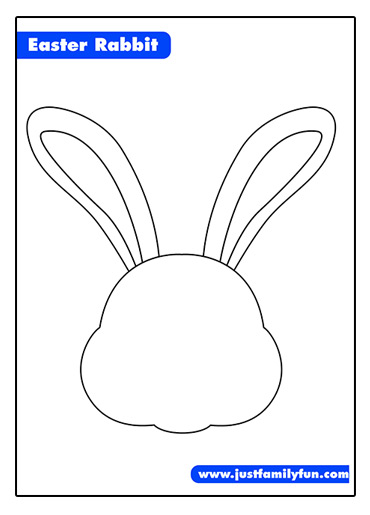 What Can Our Easter Bunny Outline Be Used For?
These free Easter bunny outlines are perfect for so many Easter activities. 
Whether you need a printable bunny for colouring and sticking on easter bonnets, bunting or baskets;  a bunny face template for cakes and cards; or you're looking for a bunny stencil for painting on clothes, windows or walls. These templates will be just the thing you need.
Here are just a couple of ideas to get you started. 
Pin The Tail on the Bunny
Print the bunny template, your child will love colouring it in. Let them colour it in whatever colour they want or stick small squares of coloured pieces of tissue paper all over it. 
Then cut it out, or let your child practise their scissors skills. 
Next, stick the pretty bunny on some cardboard. Maybe the empty cereal box that you used for the chocolate rice crispy buns. 
Pin it up on the fridge or the back of the door.
Grab a cotton wool ball or a pom-pom. Attach some double-sided sticky tape to it. 
Take turns to blindfold each other and try and pin the tail on the bunny. 
Your child will love to keep coming back to this simple easter bunny activity. 
You could also learn to draw a carrot with our fun guide and play blindfolded feed the bunny. Or use it to stick on the card in our next craft idea. 
Cotton Ball Easter Bunny Face Cards
A soft and cuddly idea that is simple and easy for your child to do. It makes the perfect card to give to a grandparent, teacher or neighbour.  
Print out the bunny head template, let your little one cut it out. Stick it onto a blank card (or some coloured cardboard folded in half). 
Apply glue all over the face and let your child cover the face in cotton wool balls. 
Use pipe cleaners for whiskers and a coloured pom-pom for a nose. Kids always love using googly eyes so this is a good time to use them for the rabbit's eyes. 
Let them stick pink tissue paper over the ears. 
Write Happy Easter Inside the card and hand-deliver the really cute 3D easter bunny face card to the deserving recipient.
Conclusion
There is no end of ideas you can use the Easter Bunny template for this year.  You could even use it at Halloween as a rabbit pumpkin stencil. 
Here's a random fact for you. Not all countries celebrate Easter with a bunny, some associate other types of animals like foxes or cuckoo birds. 
Other great easter activities below