With our free printable Easter word scramble, you can give your child a fun activity that helps with their reading, writing, spatial awareness, and deductive skills. It's also a lot of fun!
Easter is the time for searching! Looking for chocolates in your Easter basket, eggs in the field, and presents behind trees. Keep your eyes peeled so you can see Peter Rabbit's fluffy cottontail! It's also a time for dressing up in your nicest church clothes and seeing your friends and family for mass. Eating turkey and having fun painting eggs.
We have a fun activity for you to add to your Easter eggs! With our free printable Easter word scramble, you can search out all the letters, and decide what order they should go in. Find the words hidden in their own scrambled letters!
We've included some fun Easter activities the whole family can do. Add these onto your word scramble for a super fun day!
Helpful Hint- If you're having trouble with a word, write the letters out again on the back of the page. Look at the letters as you write them down. Does anything look familiar? Now write the letters backwards. How about now, does it look like anything?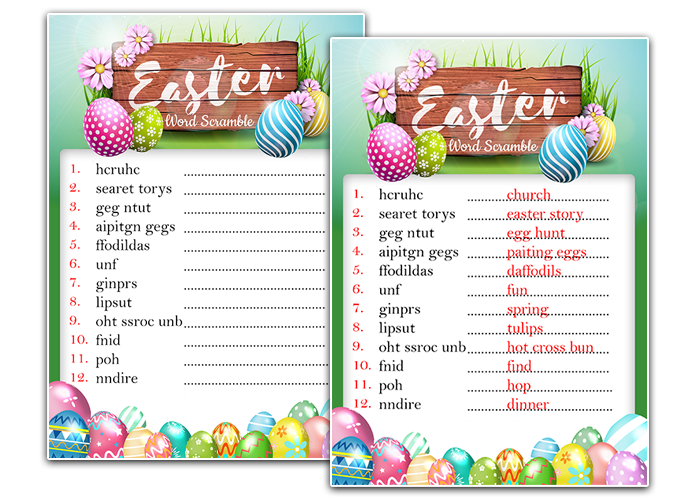 More Bonus Easter Fun
Scrambled Easter Egg Race
For this game, we're going to challenge everyone to a race! Print off a copy of the word scramble for everyone who wants to play. Once you all have a sheet and a pencil:
Get ready,
Get set,
GO!
The first one to unscramble all the words wins!
Easter Activities
Come see our downloadable Easter learning activities book for 68 pages of fun! Trace along with the gnomes, find the egg that looks different from the others. There are hours of fun activities to do while the Easter bunny finishes hiding his eggs for you to find!
Bunny Ears!
Dress up like the star of Easter! Get your favourite bunny ears, or make your own with pipe cleaners!
Pipe Cleaner Bunny Ears
For this activity you'll need:
Pipe Cleaner
Scissors
Cotton Balls and Glue (Optional)
First, let's make our ears!
Take two pipe cleaners and twist the ends together to make one really long pipe cleaner.
Make two long U's on either side of your pipe cleaner. These are your ears. Leave some space between the ears, and make sure you leave room at the end of the pipe cleaner too.
Second, we'll make the headband!
How big is your head? Do you need two pipe cleaners, or maybe three?
Start by twisting two pipe cleaners together to make one. Use this one to measure your head. Do the ends touch? You'll need some overlap so you can twist them together. Add as many pipe cleaners as you need to make a headband that sits comfortably on your head.
Time to put it all together!
Put your bunny ears on top of your headband. Twist the free ends of the bunny ears around the headband to secure the ears.
For extra stability, you can use a short piece of pipe cleaner to stick the middle of the bunny ears to the headband.
For extra-fluffy fun, glue the cotton balls to the pipe cleaner to make yourself a fuzzy bunny!
Easter Animal Face Masks
Want an easier way to dress up? Go to our Animal Face Mask Templates, and pick your favourite Easter animals. We suggest the sheep, chicken, or the old classic rabbit. Print these free printable templates off, and make yourself part of the barnyard fun. They come pre-coloured so all you need is scissors and glue, or in black and white so you can choose your own colours.
Now that you've found all the words in your word scramble, can you find them around you? Look for eggs, or a cross, or a basket! See how many you can find, and then challenge a friend or a parent to find more!
Scavenger Hunt
Flower Power
What are your favourite flowers to see spring back to life at Easter? Draw your favourite flower. Make sure to make it bright and colourful like a real flower. Or, if your favourite flower isn't real, what does it look like? What colour is it? How many petals does it have?
Where is your favourite flower? Is there one in your garden? Do you have to go to a special place to see it? Can you find your favourite flower around you right now?
For extra bonus fun, print off some of Just Family Fun's free printable flower colouring pages. Is your favourite flower there?
What's your mom's favourite flower? What about your dad or grandma? Colour their favourite flowers for them and give them to them as an Easter present.
Make Your Own!
Now you've found all the words, and it's your turn to show how good you are at word scrambles! Choose your ten favourite things about Easter- is it the meal, or mass, or spending time with your family- and mix the letters up! Try to make it hard, so it doesn't look like a word anymore. Now give it to your friends, or your family, and see how long it takes them to solve it!
Learn About Easter
What is the meaning of Easter? Why do we gather and celebrate it? Ask an adult who's not busy if they'll tell you what Easter is all about. What's the story? Why do we decorate and hide eggs? How can you celebrate it better?
Make your own Easter word scramble with the words you learned about Easter!
Easter is a fun time of year when things are growing again. The snow is melting, the flowers are blooming, and here comes a bunny hopping along. With this Easter word scramble, you can have extra fun finding things. For more word search fun, visit our activities page. As always, show us how much fun you had with the Easter bunny.
Other fun Easter activities.