Who hides in the bakery at Christmas?
A mince spy!
Just one example from our huge range of Printable Christmas Cracker Jokes! One of the most fun parts about Christmas Day is pulling the Christmas crackers, and we have created a brand-new set of jokes to make your Christmas as enjoyable as possible.
What's Included In Our Printable Christmas Cracker Jokes?
You can find our free, printable Christmas Cracker jokes as a downloadable pdf. All you need to do is print and cut them out, to then start using and lifting the festive spirit! There are lots of sheets to print out, and you can choose which ones you want depending on which jokes you think will get the biggest laughs with your family.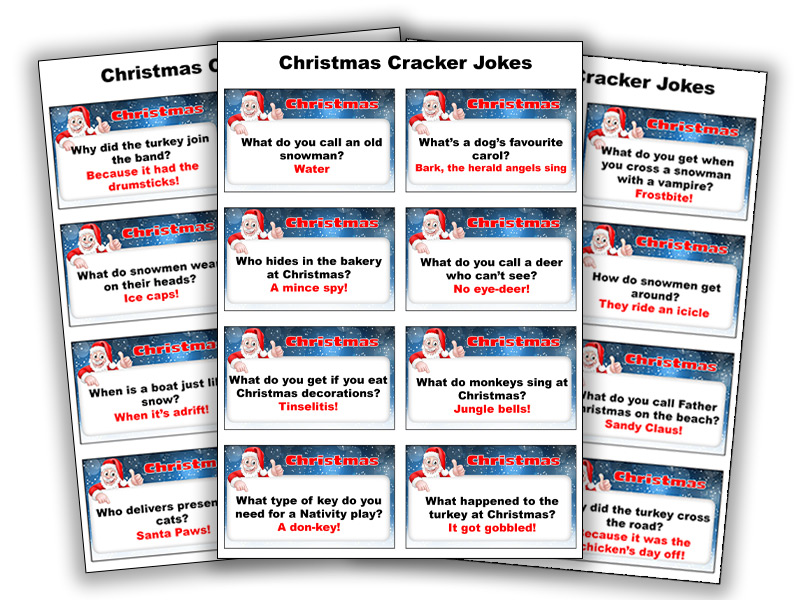 Top Tip: Glue two jokes to each other, so everyone can tell two jokes each from their cracker!
How to Use the Jokes
There are lots of different ways that you can use these jokes with your friends and family. Here are a few ideas to get you started:
Homemade Christmas Crackers

: Simply cut out the jokes and put them in your crackers. When you pull the cracker, the joke will pop out and you can all read your jokes to each other!

Advent Calendar

: Get a head start on the laughs and create a homemade Advent Calendar! Put one of the jokes on each day leading up to Christmas, and you can enjoy the festive humour for over three weeks before the big day.

Joke Hunt

: Why not play a game on Christmas Day and see where you can hide the jokes around your home? Let your family search in festive places like under the tree, or in a stocking.
Top Tip: Lay out a few jokes in different places during the day, to make each moment a little more Christmassy and fun! Some good ideas include the dinner table to enjoy some laughs while you eat your meal, dangling from the Christmas tree to enjoy while you open your presents, and you can even keep some with you to tell as you go on a festive walk!
Keep the Fun Going…
Once you and your family have used all the jokes, see if you can come up with some of your own! Try out a new pun or clever wit, and test them out on your family. Most number of laughs wins!
Did you Enjoy our Printable Christmas Cracker Jokes?
We have a huge range of activities for all of the family on our page. Explore our site to discover colouring pages, reading activities, and spelling practices for your younger children. To get into the Christmas spirit, why not try out our Christmas Scavenger Hunt?