The Christmas Season is finally upon us, and it's time for you and your child to get excited and start celebrating! There's no better way to kick-off the festivities than with our exciting Christmas Scavenger Hunt Printable Game, suited to all young children. Enjoy searching for festive items around the home, by using our game to entertain your child in these colder and snowy months.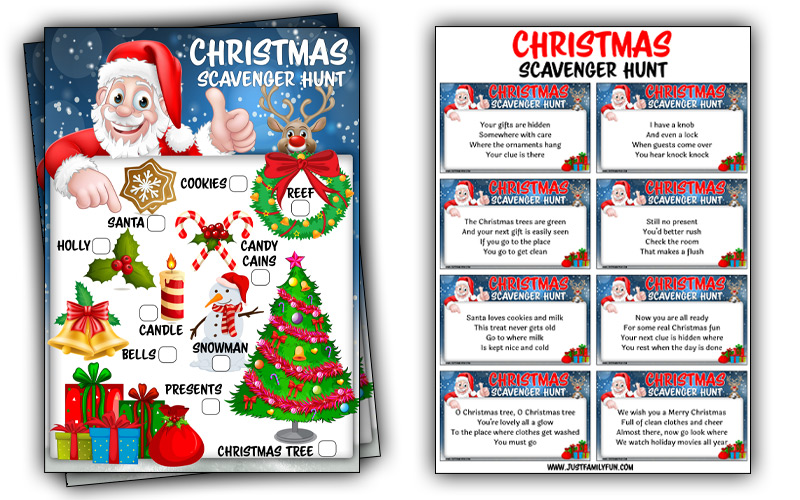 What's Included in our Christmas Scavenger Hunt Printable Game?
Our Christmas Scavenger Hunt is suitable for both reading-age children and toddlers, with its exciting images for even the youngest elves! You'll be able to search for festive items including Golden Bells, beautiful Reefs, and happy Snowmen within our pack, all while the children can practice their reading and image recognition.
Ways to Play
Picture Scavenger Hunt

: Perfect for younger scavengers, you can print out an extra copy of our Christmas Scavenger Hunt Printable Game, and cut out the images. You can then scatter these around your home and let the hunting begin! Make sure they have their own copy of the game to tick off the images as they find them.

Word Scavenger Hunt

: Designed to encourage reading and vocabulary, this game lets your child recognise the words and associate them with objects. Cut out the words and hide them around your home, and watch them get excited to find them and tick them off their list!

Object Scavenger Hunt

: Once you have your decorations up, it's time to search for the real objects! Your child can start to search for these objects as real decorations around the home, allowing them to recognise the differences between our images and the real version. Make sure they know to only point at the objects and not to try and pull down the Christmas Tree!

Out and About

: How many items can your child spot around your neighbourhood? Why not take them on a familiar walk, and see how many of these objects they can spot. Your child can count how many items they see, and have a final score! Try doing this a few times throughout December and see if the number changes as you get closer to Christmas.
Top Tip: To get your child in the festive mood, play some familiar Christmas music and let them put up a decoration after finding each item! This will motivate them to play the game and get them in the Christmas spirit!
Christmas Scavenger Hunt Clues
Christmas is full of rhyming music and beautiful poems, which is why we have created a fun set of festive clues to hide around your house. These clues suit both the younger children, who will enjoy working as a team to solve them, and they will suit the older children who will love the challenge! Each clue leads to a new location in your home, where you can hide the images or the words.
Top Tip: You can even hide decorations in some of the locations for them to put up!
Blank Christmas Treasure Hunt
There are so many fun Christmas traditions and rhymes, so why not use our template to come up with your own festive clues! You can personalise the clues to suit your child and make the hunt as long as you would like. This is a great way to re-use the game, and keep on playing again and again!
Top Tip: Let your child write their own clues, and play the game in reverse where you are the seeker! This will allow your child to be really creative, and feel really proud after leading a whole game.
Clue Ideas for every age:
A picture of the next location
The name of the next hiding spot e.g. the shower
An anagram of the next location e.g. esrohw
A simple clue e.g. a place to get clean
A festive riddle, just like ours!
Top Tip: you could introduce a 'warmer' or 'colder' method to guide your child as they get closer to the hiding spot!
Fun New Scavenger Hunt Rules
You can adapt this activity however you would like, to suit your child. Here are a few ideas of what you can do to make the game even more exciting:
Festive Song – Everyone playing can only sing to communicate! The more festive the style of song, the better.
Build the Snowman – Hide a piece of snowman clothing alongside each clue or image, such as a carrot, buttons, or a scarf. When they finish the hunt, they can put the items on a real snowman!
Time Challenge – Set a timer for 5, 10 or even 20 minutes, and see how quickly your child can find everything! This works really well if you are doing the game multiple times, as they can see if they improve their time.
Bauble Hunt – With each image or word, you can also place a bauble. Then your child can place the bauble on your tree with every step!
Keep the Fun Going…
Once your child has found all the items, you can then play lots of games with the images or words! You could challenge them to write a festive song, a story, or a poem from the images. They also might like to create a Christmas card using the images and send out to one of their friends or family members!
Did You and Your Child Love Our Free Printable Christmas Scavenger Hunt Game?
We have loads of activities for you and your child to get involved with. Take a look at our packs and see what else you can get excited for Christmas with! You and your child could have a go at practice puzzles, colouring pages, number and letter recognition, printable Christmas cracker jokes all while enjoying yourselves in the festivities.