Are you looking for some spooky Halloween activities for kids? You have come to the right place! Our free, printable Halloween activity sheets are so much fun and they will support your child's problem solving and fine motor development too! They are interactive, colourful and varied to keep your little one engaged and excited to learn more.
What's included in our Printable Halloween Activities pack?
Spooky Character Puzzle – Page 1
Your child will love practicing their cutting and sticking with this cute and spooky, four-piece puzzle. If your child is developing their scissor skills they could cut the page in half, along the dotted line. Children who have mastered cutting straight lines could be challenged by cutting out the individual pieces. Once you have the pieces cut out, jumble them up and let your child try to piece it back together. Finally, they can get sticky, gluing them in the right place.
Top Tip – Get your little person moving by hiding the puzzle pieces around the room. They can hunt for them on their own or you can give them clues to help.
Scissor Skills – Learning to use scissors can be tricky for little ones. Have a look at our age guide, below, to get an idea of the kinds of things your child may be able to do with their scissors. It's important to remember that all children develop skills at different rates, this is only a guide.
Age 2 – They may be able to open and close the scissors and make one 'snip' at a time. It is best to practice this skill on something soft, like playdough, first. When they have mastered the snipping action they can move on to paper. They'll enjoy snipping, one snip at a time, all along the edge of the page.
Age 3 – They may start snipping in a short, continuous line. Let them practice on the dotted line but you may need to finish it.
Age 4 – They may be able to cut the piece of paper in half. They may also develop more control over the hand holding the paper, allowing them to turn it and cut curved lines.
Age 5 – They may now be able to cut out more complex shapes, like the puzzle pieces.
Halloween Number Puzzle – Vampire (Pages 2 and 3) and Pumpkin (Pages 4 and 5)
These fun Halloween printable puzzles will help your child with their number recognition from 1 to 11 and create fantastic pictures to display as decorations. Set up the puzzles by cutting out the puzzle strips on the cut-out pages. Again, your child may like to help with this. Let them match the numbers on the cut-outs to the numbers on the puzzle page and glue them down. If the numbers have been matched correctly, the spooky picture will be complete! Start with the Vampire for the numbers 1 to 5 and then challenge your little one with the Pumpkin for the numbers 6 to 11.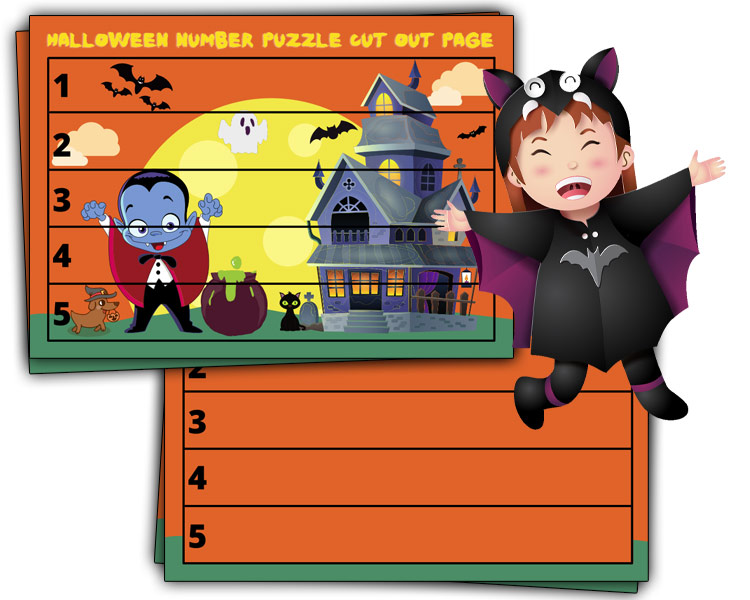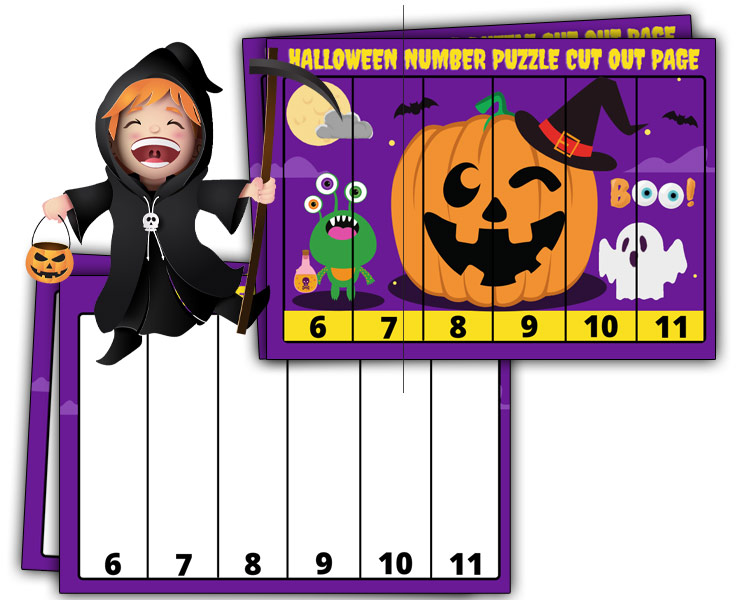 Top Tip – Have more fun with numbers by asking your child to count the ghosts, bats or eyes.
If they need more practice with counting and number recognition, give our Free Printable Maths for Reception Worksheets a try. They will have fun number matching, tracing numbers and counting cats and dogs.
Halloween Letter Puzzle – Pages 6 and 7
Time for your little puzzle-solvers to practice their recognition of the letters A to L. Just like before, cut out the puzzle pieces from the cut-out sheet on page 6 and mix them up. Now they can match the letters in the corners of each piece to the puzzle grid on page 7 and rebuild the colourful Halloween scene.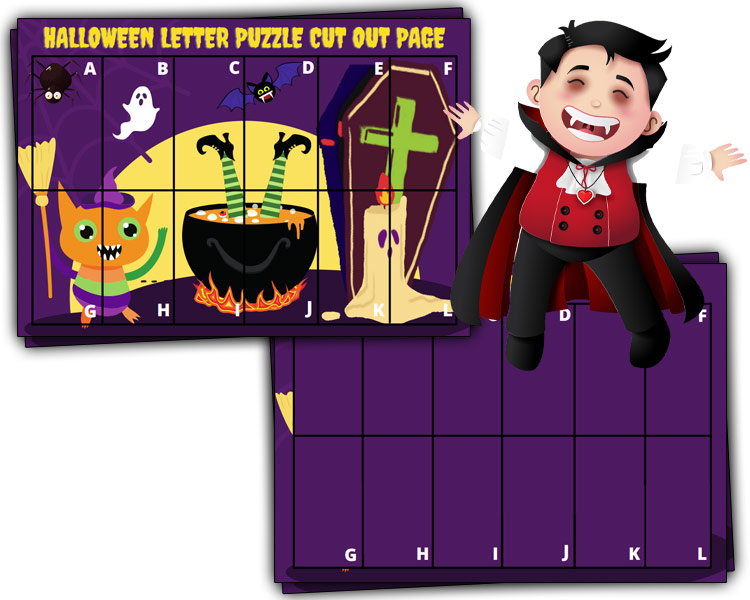 Extend the learning
Say each letter aloud as they match it to their puzzle sheet. Remember, most schools will start by teaching the phonic sound before the name of the letter. These are the sounds we make when we pronounce the letter in a word e.g. a = ah and e = eh. To listen to the correct way to pronounce the phonemes click here.
Ask your child to pronounce the letters as they match them.
Ask your child to spot things in the picture beginning with letters you pick. E.g. C – they may spot a cauldron or candle. Let them have fun quizzing you too!
If you are looking for more activities to practice letters, try our free, printable Trace the Alphabet worksheets. There are upper and lower case letters to trace, pictures to colour and spot the letter activities.
Complete the Puzzle – Pages 8 and 9
This time, your child is matching the pictures to complete the colourful Halloween characters. Use the cut-outs on page 8 and name the characters as your child puts them back together. Why not turn it into a game? Turn the cut-outs face down and get a stopwatch ready on your phone or other device. Time each player to see how long it takes to put all of the pictures back together. The fastest picture fixer wins!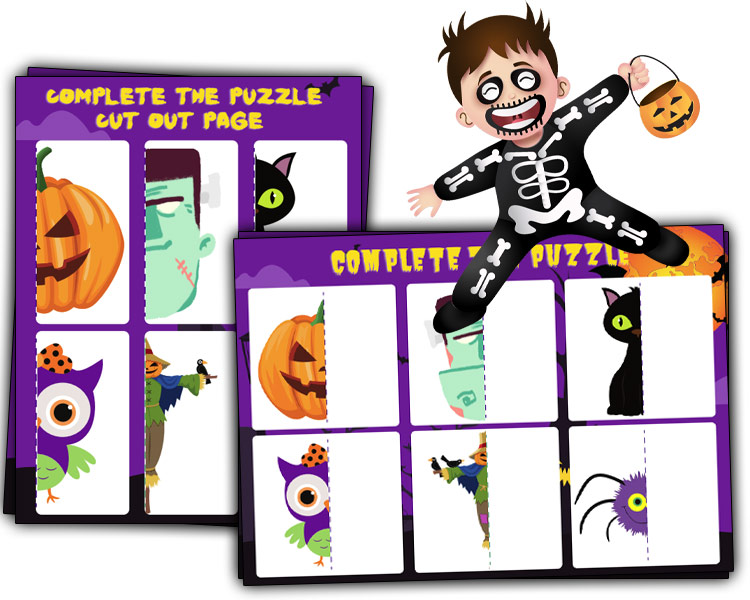 Extend the Learning
Let your child show off their creativity and practice pen control by completing the pictures themselves with pens or crayons.
Frankenstein's Face Puzzle – Pages 8 and 10
Use the cut-outs on page 8 to recreate the monster's face by gluing them onto page 10. Let your child have fun with it. Do they want to make an exact copy or play around and give him some crazy expressions? Talk about how moving the eyebrows can change his emotions. Can your child make him sad, cross or surprised? Have some fun using your own eyebrows to show different emotions too. Be ready to take some photos of their funny faces!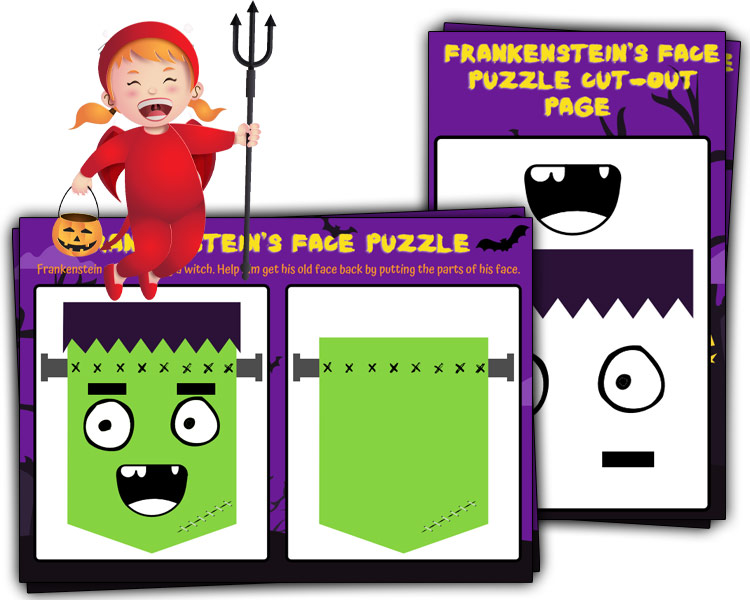 Did you and your child enjoy our printable Halloween Activities?
Have more spooky fun with our Free Printable Halloween Colouring Pages. Or, if your child is fascinated by dinosaurs, we have more puzzles for kids in our Free Printable Dinosaur Worksheets pack.
By Laura Davies