Free Printable trace the alphabet worksheet for kids. Do you have a child that is ready to start writing? Are you a little sceptical about where to start?
No need to worry! Here at JustFamilyFun, we've got your back. All you need are these Alphabet Tracing Sheets that are super easy to download (& FREE!). Whether you want them for immediate use or sometime in the future, they are straightforward to use and completely fun for your early learner.
Practice really does make perfect. Before you know it, you will be watching your child write their name for the first time or even their favourite food. Whatever the weather, your child will be writing their upper and lower cases with ease. We want to make the journey of learning easy for you and your little one – it is a fun activity, not a chore!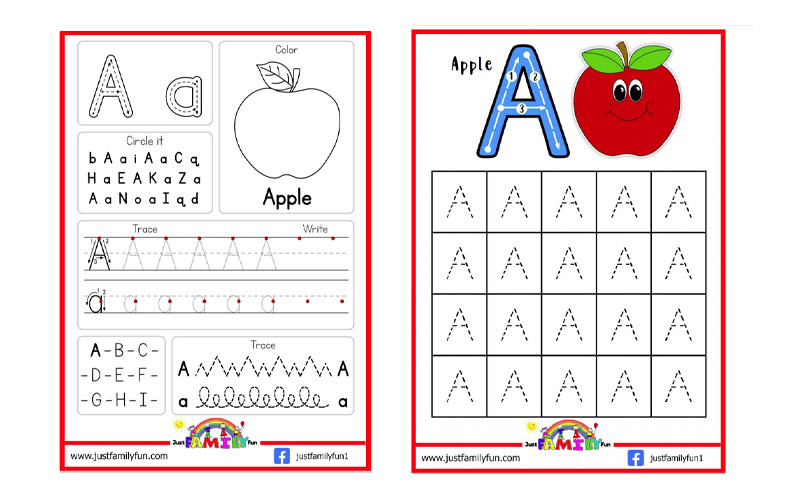 How to use our trace the alphabet worksheet
Download these sheets, a letter of your choice & print it off. Your child will be an expert in no time. Each exercise sheet provides multiple opportunities for your child to trace, color and a 1-2-3 guide on how to write each letter. We all know how stressful it can be when learning something new, so there is nothing better than some added activities that can make their journey a smooth ride.
How will they learn?
Your child will be learning letter formation through a dot-to-dot sequence. Each worksheet is presented with lots of colours and images relating to the letter. Colour is proven to play a significant role in learning – it is concluded that colour can capture one's attention levels which results in stimulating a better memory. Our tracing sheets provide the opportunity for your child to colour in what they see. An elephant, a monkey or a lemon; there are many colours involved to make this a fast and effective process for your child.
The next big step
One of the most rewarding things as a parent is being able to watch your child grow, to see the consistency in their efforts, and be by their side throughout their accomplishments. We want them to memorise the letters through visualisation, to be able to trace with perfection which leads them onto the next step:
Writing the letter on their own. This helps your child distinguish between the letters A and B, to C and D and helps them grasp a better understanding.
Making it fun
Willow the Whale needs help with the letter W!
Children thrive from imaginative play – they believe in magic. So, there is nothing better than adding some fairy dust to the process of learning. Learning is not always easy, but being able to tap into a child's creativity and run with it will make important work seem like simple fun.
These exercise sheets are super interactive and that's what makes them so good!
Download our free Alphabet Tracing exercise sheets to start your child's A-Z handwriting practice here
We have 2 exercise sheets to choose from: –
A-Z Upper Case Only
A-Z Upper and Lower case with activities such as – Color it, Circle it, Trace & Write it.