It's that time of year again to get festive and crafty with the family. We have you covered for Christmas crafts and fun with your loved ones. We have plenty of gold stars for you to print out and get creative with, and if you haven't checked out our Printable Blank Star Templates And Stencils, why not use those to combine our gold stars and see what you can come up with.
Our printable gold stars are an inexpensive way to decorate your home this Christmas and with a little help from the kids you can cut out the gold star images. They come in a variety of sizes, including 1inch and 2inch which are perfect for making garland and even Christmas tags, just download our printable gold star pdf and you're good to go.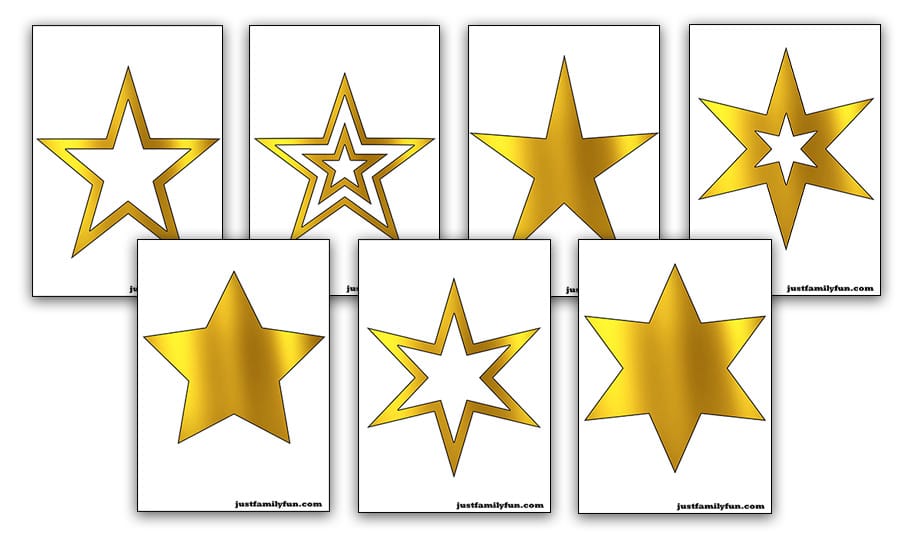 Here are a few ideas to help you get started with our printable gold stars:

Christmas tree decoration


Using card or plain paper, print out our gold star images, choose from any of our gold stars and cut them out. If you want to add glitter glue or other bits and bobs to your stars go right ahead and get creative.

With a pencil or pen (hole puncher if you have one), make a hole at the top of star and add some ribbon or string to create a loop.

There you go, it's as quick and easy as that. Your first gold star decoration is done, so now hang it from your Christmas tree with pride! You can even put the names of your family on them for a special touch and maybe give one as a gift to your loved ones.
Use the bigger stars if they are too big for your tree to create wall hangings and decorations to hang around the home.
Gold star garland
Print out the 2inch or 3inch gold star images (If you want to go bigger feel free), cut them out carefully. Have some string or ribbon handy and create a hole at the top of each star.
Thread the ribbon or string through the holes of the gold stars, creating a line of gold stars on a string.

When you're happy with the length, cut the string and you're ready to hang your beautiful gold star garland! You can put it around the tree, hang from the fireplace or wall.
Message from a star
Print out and cut some of the medium to large sized gold stars. Have your kids decorate them and personalise them, or just leave them plain. On the back of the stars, together write a message to a friend or family member and that it is a special message from the stars. You can give these as gifts, make them into hanging decorations for them to cherish.

This is a great family activity and a chance to spread some love over Christmas.
Did you have fun with our printable gold stars? Why not check out our Printable reindeer antlers