The festive period might look a little different this year, but the fun will not be canceled! Here at justfamilyfun.com, we have you covered for Christmas entertainment for the kids! My memories from Christmas time as a child are all about the great Printable games we used to play, and the fun we had as a family. So I thought I would offer some inspiration for games that you can play with your children, and I have included the printable Games resources for you to cut out. Everything you need, ready and waiting!
Christmas Bingo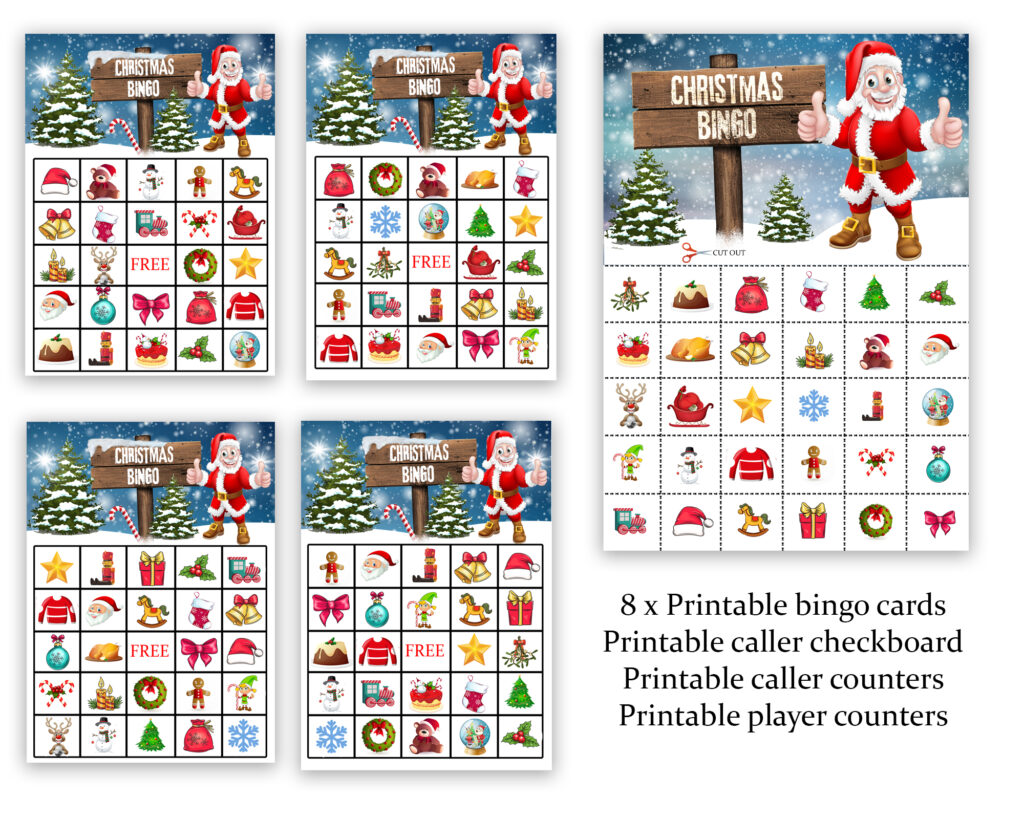 Bingo is the perfect game for young and old, and putting a Christmas spin on it is sure to be popular with the whole family.
Everything you need is included:
8 playing cards
Callers checkboard to cut out
Bingo counters
Print out and cut out (little hands might need supervision!)
How to play:
Each player receives a playing card (up to 8 people can play)
Once cut out, place all of the calling card Christmas images into a hat, bowl, or similar (we think a Santa hat would work perfectly!). Pull out one card at a time, and describe it to the other players. For example "Santa's sleigh with a present sack in it!" or "two shiny gold jingle bells!". The children will really enjoy these vibrant Christmas themed images.
Each player uses their bingo counters to cover the corresponding image on their board.
To win the game, a player must cover 5 images in a row. This can be done horizontally, vertically, or diagonally. Shout "BINGO!" to alert the others that you have won!
Handy hint: If everyone is having lots of fun and you want the game to continue, play until each player has completely filled their board!
Pin the Nose on Rudolph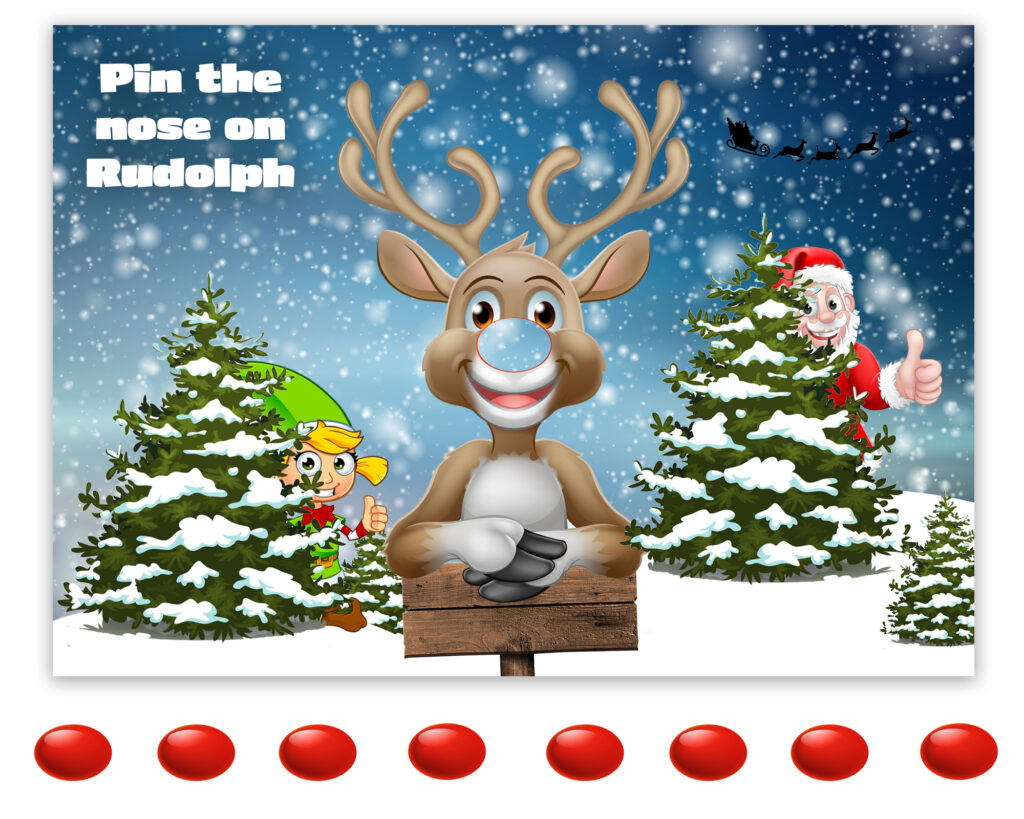 We have all pinned the tail on the donkey, but in the spirit of Christmas it is now time to pin the nose on Rudolph! Another simple game that adults and kids alike will enjoy.
Everything you need is included:
Rudolph poster
20 Rodolph's noses
How to play:
Cut out Rudolph's noses. This activity itself is great fine motor skill practice!
Pin the poster of Rudolph at a height appropriate level for the players
Ask the player to close their eyes and spin them around in a circle 3- 5 times
They will now need to guess where Rudolph's nose should go and pin the nose in that location
Wait for the eruption of giggles when the players see where they have pinned it!
The winner is the player who pins the nose closest to its correct position
Christmas pairs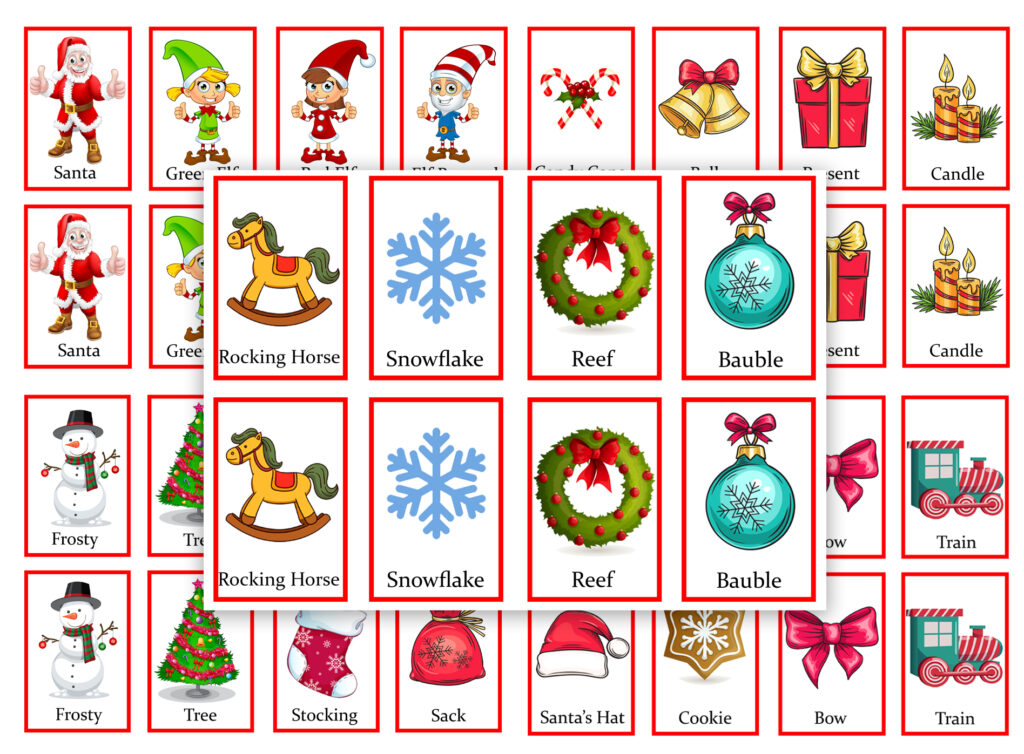 Perfect for when you need a bit of downtime, this game will test the memory of big and small alike. Simply print off and cut out the 10 pairs, place upside down and take it in turns to get a match! This game could also be used to play snap.
Each image also has a caption which will help children practice their reading in a fun, interactive way.
Handy hint: if there are littler ones playing, start off by playing using three or four pairs and work your way up.
Christmas scavenger hunt clue cards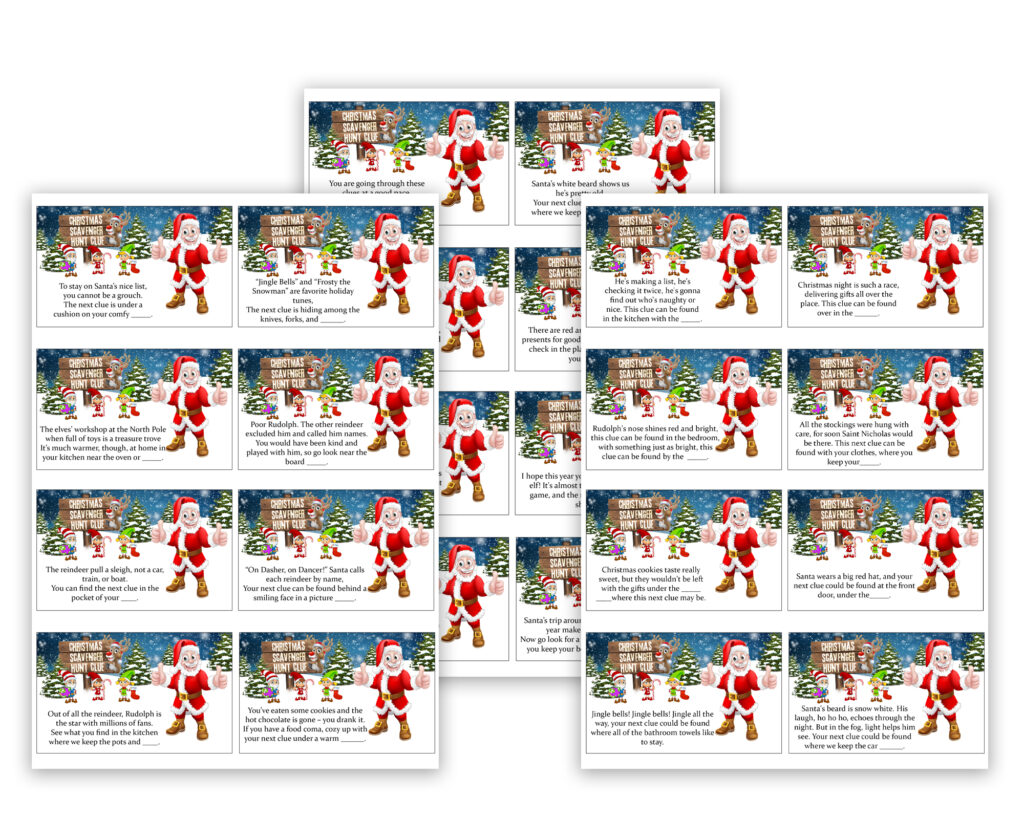 Who doesn't love a good scavenger hunt?! We think there could even be a bounty at the end of this game for the children to find… maybe a candy cane or similar! This game will get the children up and moving around, and get them thinking by trying to figure the clues out! They will be running all over the house- from the kitchen to the bedroom and back again! To play, print out the 40 clues (or as many as you have time for) and hide them where described. Can you child work out every hint?
Handy hint: if you have more than one child, the older child might be able to set up the game and hide the hints for the younger one… while you have a cuppa!
We really hope that you have enjoyed playing these Christmas themed Printable games with your children! Please feel free to share this page with your friends and family to spread the Christmas cheer! Did you know that we also create bespoke letters from Father Christmas that can be personalised for your child? More information about these can be found here (Click here).