Here at justfamilyfun.com we believe in the three F`s, Fantastic, Free, and Fun.  But fun can be educational as well as entertaining! With that in mind we are excited to introduce our free, downloadable colouring dice games for kids printable version.
With nothing but a dice, 6 coloured pens or paints, and our beautifully created sheets, your kids could be both expanding on their creativity, and building on their math skills – at the same time! With five different designs to choose from, all with unique and beautifully drawn backgrounds to really bring out these amazing designs, children can play for hour after hour, changing colours or paints depending on the luck of the dice, to create an endless set of unique game sheets for them to enjoy.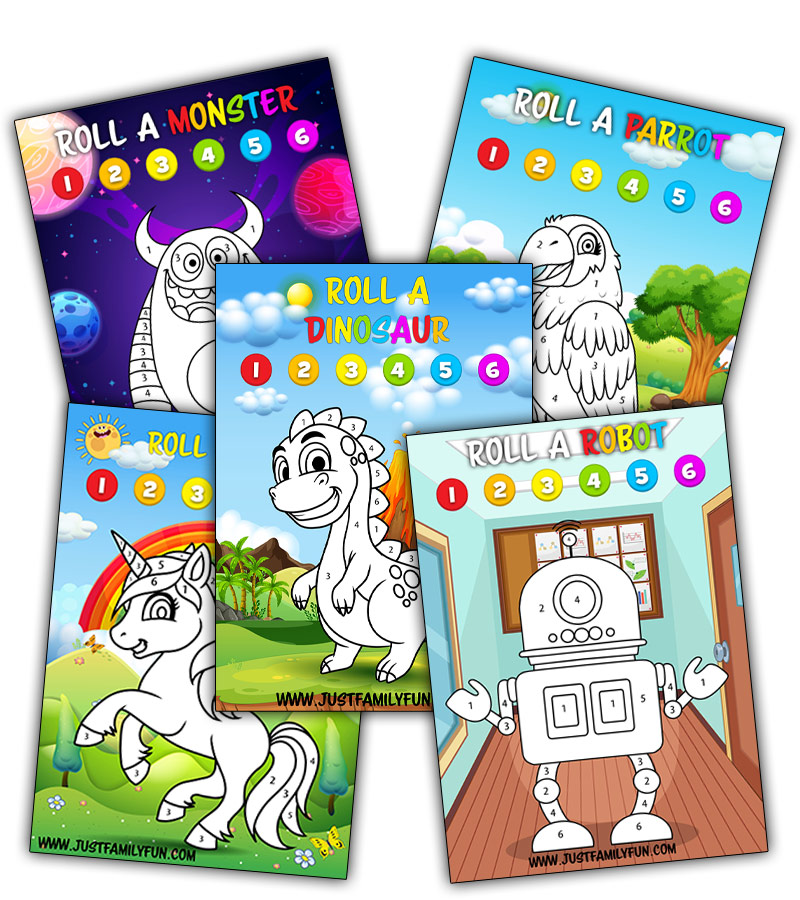 By relying on the dice to decide what number to colour next, kids can make competitions out of who gets all six different sections of their sheet coloured in first, a great addition to any children's birthday party or wet weekend at home. After all, have you ever tried to roll 1-6 on a dice and hit 4 more times than you can count? The suspense of taking it in turn, just needing that number 5 to land to complete your Unicorn, will hold their attention as few other colouring games can.
The simple design of the game will appeal to children of all ages, ranging from three to ten years of age, the younger ones especially will find the simple numeracy of our Roll A Dice Sheets both engaging and easy to understand, and the Colour by Dice number aspect will have their memory skills improving too as they try to locate all of the compartments with that number on to fill in.
While some of the other great free resources on www.justfamilyfun.com such as our Multiplication Activities may need just that extra bit of supervision at times, we feel strongly that the beauty of the Roll A Dice Colour game Sheets is the accessibility for children of all ages to really come to grips with simple numeracy, the logic to use that numeracy to follow simple steps to complete the relevant sheet, finishing the game with a completed sheet that they can then show off to you, their parents!
In fact, to show just HOW easy it is to play, here are the steps (HINT: there aren`t many)
Download the Roll A Dice Game Sheets HERE
Get your children 6 different coloured pens or paints
Get a dice (got any old board games lying around?) A dice each or failing that, the children can take it in turns.
Roll the dice!
Pick what colour you want to use for that number, and colour all the sections on your sheet in that has that number on it.
Repeat numbers 4 and 5 until you have landed on all 6 sides of the dice! ITS THAT EASY!
The fun doesn't just stop there! Your children will have five completely different game sheets to complete, with the potential for more only limited by our imagination. At present there are:
Roll a Dinosaur
Roll a Monster
Roll a Parrot
Roll a Unicorn
And finally, Roll a Robot.
If you find the kids getting a bit boisterous and competitive over using the dice, you can even just use the sheets as a colour by numbers activity to calm things down! If you want to have time to grab that coffee, or take that phone call, use coloured pencils rather than pots of paint, you won`t have to come back to the room and find it looking like a paintball aftermath!
Our Roll A Dice Game Sheets are the perfect addition to a party bag, or even as a game at the party itself. Pre cake, but post pass the parcel? Get the kids to stay sat in their circle and have them play for a while. Mum and dad can then catch their breath  ?
On that note,  check out some of our other amazing resources here for some amazing, and COMPLETELY FREE, games for the family to play. There are even more great printouts you can use at home or at parties to really engage and entertain the children, all while they are learning math or English.
Our FREE and easily downloadable content will stimulate your children, keeping them happy and entertained, it`s a great idea to always have some to hand for when boredom has kicked in, and great for playing alongside parents, helping teach your children core skills at home while helping parents spend quality time with their kids without having to spend a penny!
Will Dad be the first one to get his dice landing on all six numbers, and complete his Roll A Robot first? Or will Mum hit the 5 she needed to finish off her Unicorn? The entire family will be able to enjoy this amazing new free resource, and all of our content on justfamilyfun.com all through the holidays, and beyond. And after an amazing game of Roll A Dice Colour Game Sheets, why not head over to our Fun Family Recipes page here to learn how to make our Easy Chocolate Brownie Recipe For Kids?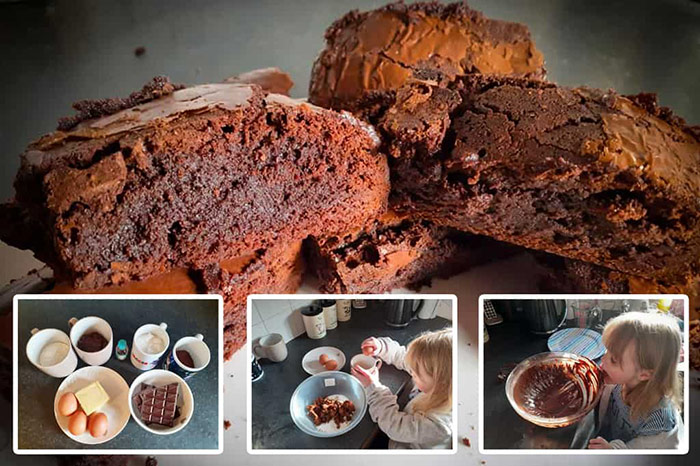 Nothing beats brownies after a serious colouring in session, why not let the kids make the brownies before you play Roll A Dice, and to the winner goes the first slice! Nom! Nom!
We are really looking forward to seeing you again on justfamilyfun.com, while you`re here, why not take a look at some of our FREE downloadable seasonally relevant activities? With Autumn just around the corner, get some great spooky Halloween Colouring pages here  or get in early and download for FREE our Dot to Dot Christmas puzzles here or maybe some Christmas Colouring Pages here.
Whatever your kids enjoy, we are sure you can find something at justfamilyfun.com to really build your children's imagination and well-being. Enjoy!