Can you find Santa in these word searches? Can you spot the reindeer in the word filled sky? In these word searches you can find Santa just like how we try to search for him on Christmas Eve! Christmas is now approaching faster than ever and what better way to start getting in the Christmas spirit than a free printable Christmas word search! There are word searches for every Christmas festivity. There are six word-searches in total and they are all great for family friendly fun on a winter evening. There is a General, Santa's Elves, Nativity, Christmas Food, Christmas Movies and Santa's Reindeer word searches available. All you need to do is download them and start finding the words.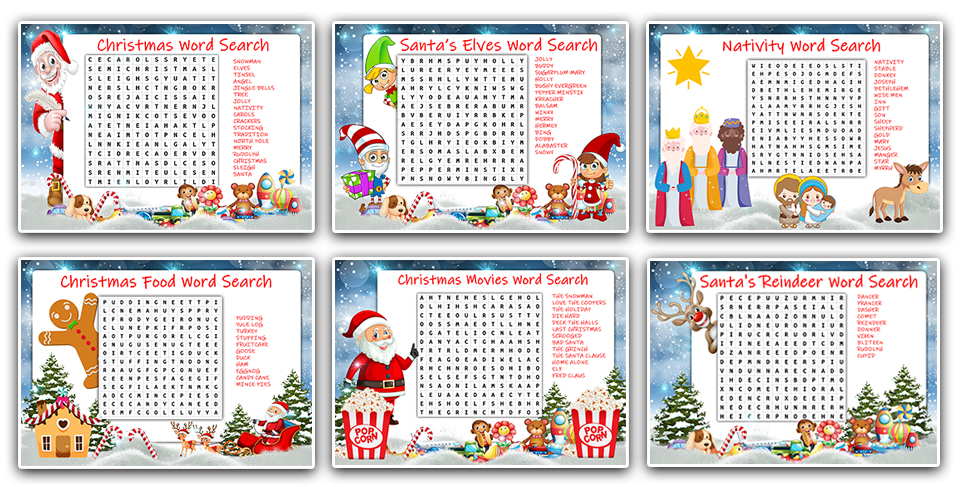 How to Play Our Christmas Word Search
Print off the free printable Christmas word searches.
Decide which person gets which word search (don't worry if two or more people want the same one, just print some more off!)
Then grab a pen or pencil and begin your search!
The list of words on the right side of the page is your Word Bank and those are the words you're looking for in the word puzzle in the middle of the page
Use your pen or pencil and circle the words from the word bank in the word search box
Once you've found all of the words – you have completed the search!
Make It Challenging:
Want to make it more challenging? We all know that everyone likes a little bit of competition during Christmas. There are two different challenges you can do!
If you're playing by yourself then time yourself each time you do a word search and see if you improve. Also, another way to challenge yourself is to set a time limit. Give yourself only a certain amount of time to complete the word search and see if you can find the words before all those bells start ringing!
If you're playing with someone then turn it into a game by seeing who can complete the word search first! Whoever has found all the words in their word search first wins the game!
So, will you be searching for these Christmas words before you go searching for your Christmas gifts? Download them and see how much free printable Christmas fun you can have today!
If you want some more Christmas fun then check out some of our other stuff as well! If you've enjoyed these word searches then I would suggest trying out some of these activities down below. They're all fun, Christmas themed and ready to try out with your family and friends.
Make Christmas Fun At Home With FREE Printable Games!
Free Printable Christmas Colouring Pages
If you're looking for some Christmas fun that is more hands on then we also have that available as well! Get stuck into these Christmas activities and bring some Christmas spirit into your space.
How To Make Snowmen Out Of Socks
How To Make Printable Reindeer Antlers
Try our windy weather word search