Halloween is almost here and there are chilly weekends, rainy afternoons and maybe even Halloween parties to fill with spooky fun and games. Our Halloween Bingo Printable is the perfect activity to enjoy with the whole family.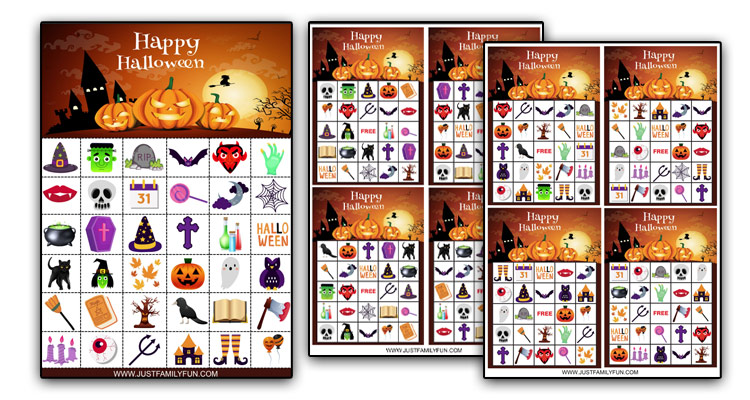 How to Play Bingo
Download our free Halloween Bingo Printable HERE.
Cut out the pictures from the 36 square callers card and put them in a bowl, cauldron or witches hat.
Spooky Tip – Feel free to add autumn leaves, decorative cobwebs or toy spiders to your bowl for some extra creepy fun.
Cut out the pumpkin bingo markers and give some to each player.
Give each player a different Happy Halloween Bingo card. There are 8 to choose from so plenty for everyone.
Spooky Tip – If you happen to have lots of ghoulish guests they could work together in pairs.
Pick a calling card out at random and call it out. E.g. Black cat, Broomstick or Skull.
If the player has that picture on their bingo card they should cover it with a pumpkin marker.
The first player to cover 5 in a row, vertically, horizontally or diagonally is the winner and must shout BINGO!
Spooky Tip – Choose a different Halloween themed word to shout like Boo! Or Trick or treat!
Our Halloween Bingo Game can be played as many times as your little monsters wish as the pictures will be called in a different order each time. The sheets can be laminated or printed on card if you'd like to toughen them up and make sure they last until Halloween night.
Tricky Twists
Once your little ones have mastered the classic game it's time to shake things up with a few tricky twists.
Trick or treat

– Use tricks like toy spiders or treats like small sweets instead of pumpkin markers.

H for Halloween

– The winner is the first person to cover the pictures that make an H shape for Halloween. Choose other letters too like an S for spooky or a B for Bat.

Winning Witch

– If a witch card is called the first person to shout WINNING WITCH wins straight away.

Blackout

– The first person to cover every picture on their bingo card wins.

Dark and Spooky

– Turn off the lights and play with torches.
Creepy Clues – Have the caller give clues for the cards drawn. E.g. 'something that says hoot' or 'where a vampire sleeps'.
Playing bingo is a fantastic way to build memory skills, practice winning and losing and develop patience. Most importantly, it's great fun and can be enjoyed by all ages.
Did you enjoy playing Halloween Bingo?
If you and your little one had a super spooky time we have lots more fun, free Halloween activities for you to try. Find pictures and solve riddles with our Halloween Scavenger Hunt Free Printables. Have a ghoulishly good time colouring our Free Printable Halloween Colouring Pages. Or practice using scissors and completing puzzles with our FREE printable spooky Halloween activities.
By
Laura Davies