Are you looking for some festive, family fun? Look no further! We have a free, printable Christmas worksheets pack that is perfect for kids to get stuck into.
You'll have a ball with our cute, Christmas characters and our five fun activities. With lots to explore and games to build on to challenge your child, you will be feeling the Christmas spirit in no time!
Our sheets are bright and jolly and packed with fun, all whilst aiding problem-solving skills, counting, and matching. Our children's worksheets are endlessly engaging, and your kids will be keen to have a go cutting out the pictures and completing the pack to become CHRISTMAS SUPERSTARS!  
What's included in our Printable Christmas Worksheets Pack?
Guess the Shadow – Activity 1.
Your child will love our animals, they're all dressed up for Christmas! Can your child match the pictures to the shadows?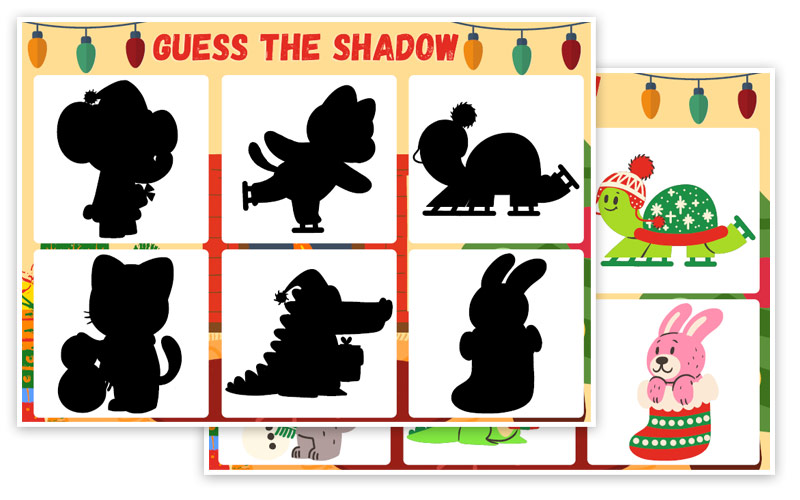 Top Tip – Ask your child to cut out the pictures and turn them face down, then encourage them to turn one over at a time and match the animal to the shadow, can they tell you what the animal is and create a little story about what it's doing?
Matching Pairs – Activity 2.
Uh oh! Our animal friends need some help to find their other half! Can your child help Deer, Panda, Reindeer, Lion, Fox and Penguin by finding their pair?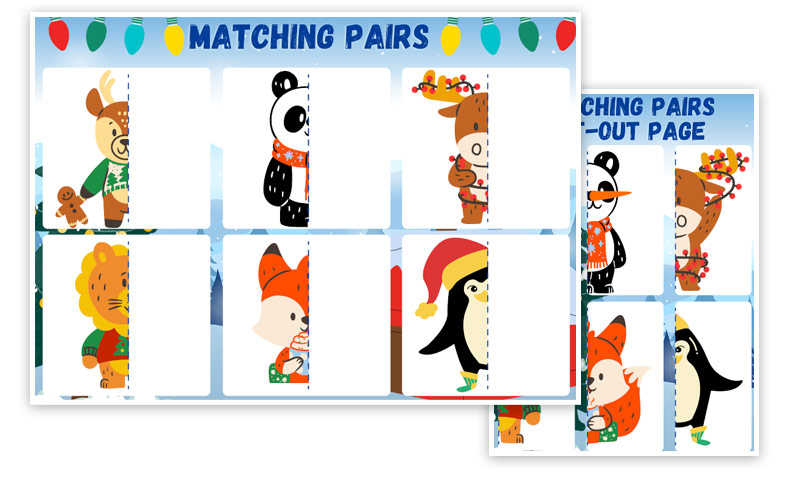 Cutting out the pairs from page 2 and matching them to the correct animals will help build on fine motor skills and is great practice for problem-solving. This is also a good opportunity to have some fun making up crazy pairs and discussing the new animal they've made, give it a silly name like Pan-guin or Fox-deer maybe?
Top Tip – They can also try finishing the other halves of the pictures with pencil or crayons for an extra artistic activity.
Christmas Number Puzzle – Activity 3.
Shh… It is Christmas Eve and Santa, and the elves are delivering presents while everyone is sleeping… Can your child piece together the Christmas scene? They can either use the picture strips to create the scene or match up the numbers to complete the picture.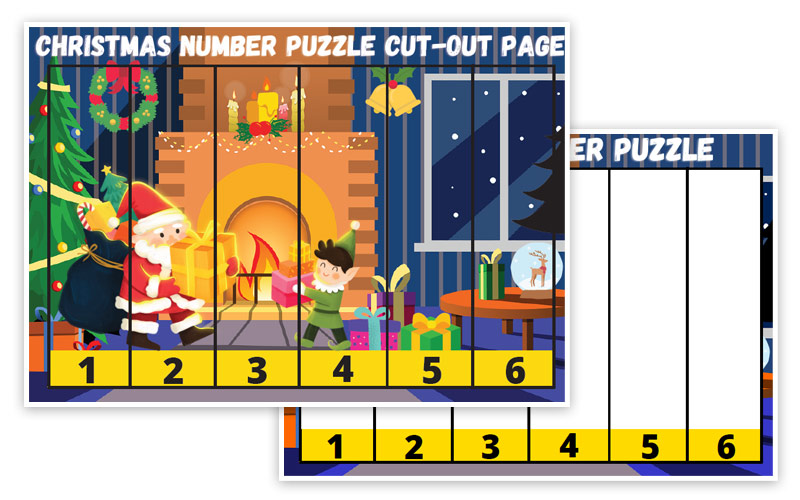 Top Tip – Cut out the strips and see if your child can recreate the Christmas scene by themselves; or for a challenge, you can mix up the strips and see if they can match the numbers to the picture.
You could further this task by asking them to count the gifts, count the candles or baubles and spot the reindeer and the candy-cane.
Let's Count! – Activity 4.
Some of our favourite, festive friends are here to see us! Can your child count how many of each one has arrived? – The numbers are on page 2 of the activity pack to cut out and stick on once they have the right answer.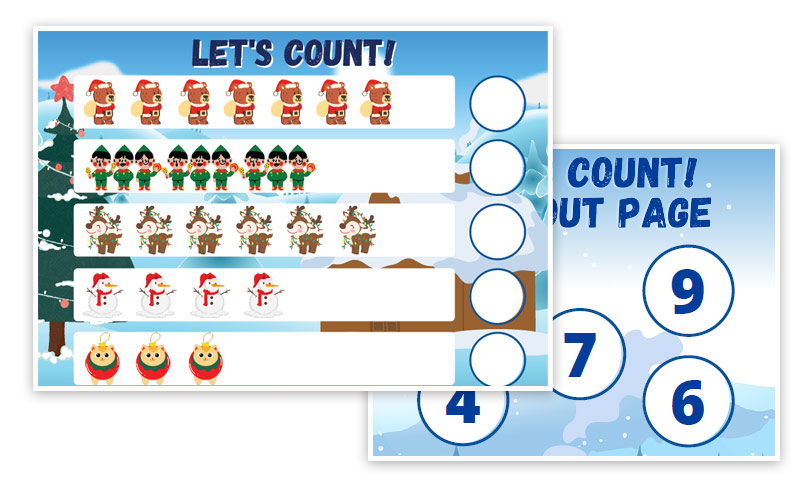 This is a great game for practicing counting and recognising numbers.
Top Tip – You can further this activity by asking your child if they know which row has the most and which row has the fewest characters on, you could also ask them to draw some extra characters to make all the rows even.
What Comes Next? – Activity 5.
It's time to create some seasonal sequences! Encourage your child to talk through the pictures and see if they can spot the patterns, can they work out what comes next?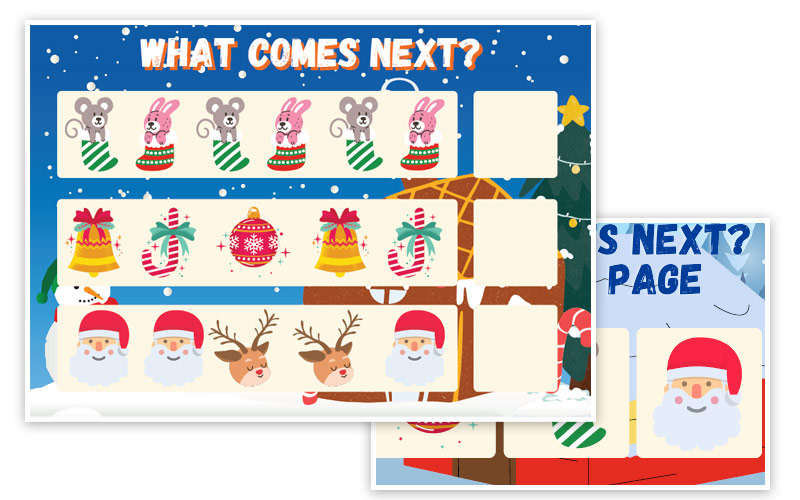 Cut out the pictures on page 2 and see if they can finish the patterns.
Top Tip – Can you and your child think of any more patterns to draw using colours and different festive pictures.
Odd One Out – Activity 6.
Look at these lovely bears all dressed up for the snow… are they all the same or is one of them different?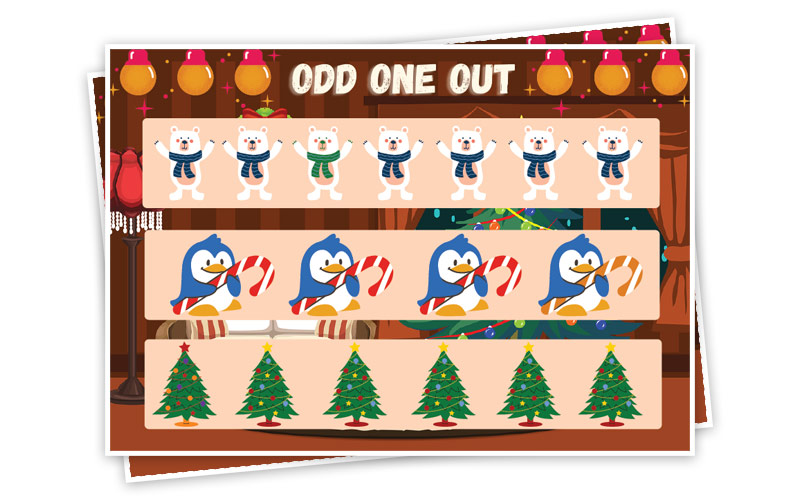 Here come the penguins with a yummy candy cane, can you see if any of the penguins is the odd one out?
Tinsel on trees and fairy lights! – How wonderful, can you spot something different with one of the trees?
See if your child can look closely at each line and spot the odd ones out.
This practices their ability to look in detail at pictures and notice changes and also pick up on things that match.
Match the Socks – Activity 7.
Oh, dear! Santa's left his socks out again! Can your child match them up by colour?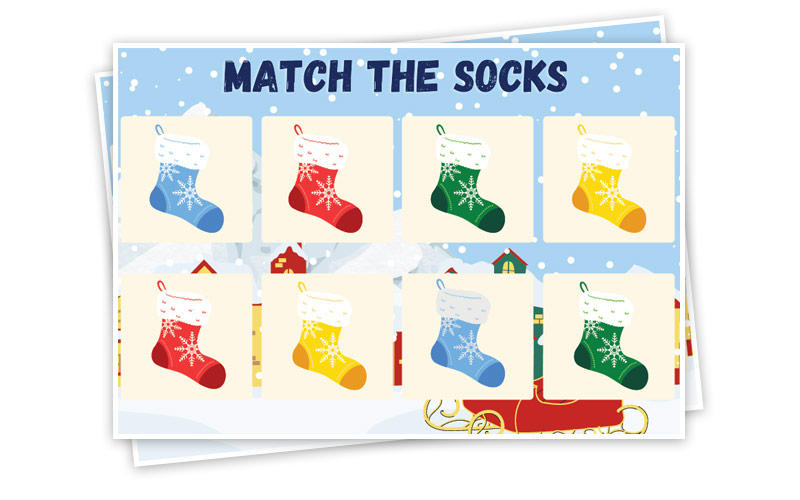 Ask your child to tell you the colours as they see them and join the pairs up with a line.
Can your child count how many socks there are and how many pairs they make?
Handy Hint.
Scissor Skills – Learning to use scissors can be tricky for little ones. Have a look at our age guide below, to get an idea of the kinds of things your child may be able to do with their scissors. It's important to remember that all children develop skills at different rates, this is only a guide.
Age 2 – Children may be able to open and close the scissors and make one 'snip' at a time. It is best to practice this skill on something soft, like playdough, first. When they have mastered the snipping action they can move on to paper.
Age 3 – They may start snipping in a short, continuous line. Let them practice on the dotted line but be ready to help if their fingers get tired.
Age 4 – They may be able to cut the piece of paper in half. As their motor skills progress, they may also develop more control over the hand holding the paper, allowing them to turn it and cut curved lines.
Age 5 – They may now be able to cut out more complex shapes, like puzzle pieces.
That's it! You're all Christmas Crackers! Good work superstars on completing these activities, we hope you have had lots of festive fun. If you enjoyed these Christmas worksheets, please visit us to see what other Christmas activity packs we have to print and enjoy. You could write a letter to Santa and tell him all about the fun you've been having or find out if you're on the naughty or nice list!
A Big Merry Christmas from us all! Ho Ho Ho!