Printable Emoji Quizzes With Answers
Looking for a great party quiz? Something to liven up a zoom catch-up? Maybe you need a brilliant classroom activity? We have 15 Printable Emoji Quizzes with Answers to save the day!
Everyone loves an emoji, over 10 billion are sent every day. That's more than the number of people on Earth!  We can also understand them regardless of language and without having to be taught, so the kids and grandparents can pick them up easily! This is why we have created a fab range of emoji quizzes, to entertain and create some great family memories. If you really love emojis we've also included some surprising facts for you and even some emoji party game ideas for the mega emoji fans!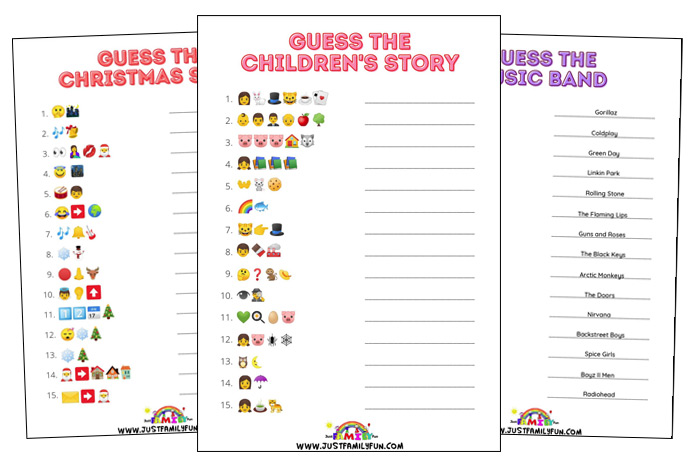 What You Will Need Tp Play Our Emoji Quizzes
Download and print your favourite emoji quiz with answer sheet. We have 15 to choose from!
Print a quiz for each player or team. If you don't have a printer at home, lots of libraries offer this service.
A pen or pencil for each team or player.
Race to Finish

– Race to see which player or team can complete their sheet in the fastest time.

Timed Game

– Choose a time limit e.g. 10 minutes. Set a timer and start guessing. The player or team with the most correct answers when the time runs out wins.

Take your Time

– These quizzes are great as a lovely, calm activity during a bit of downtime or on a long car journey. Give everyone time to think about each clue and work at their own pace. If you are looking for activities to entertain everyone on a long journey we have lots more great car journey games for you.
Parties

– Getting the whole family together or planning a kid's party? These quizzes are a great activity to get everyone involved and having fun. You could provide prizes for the winning player or team to add to the excitement. Our Disney, Marvel Hero and Kids' Movie emoji quizzes are perfect for kid's parties!

Classroom

– Looking for a fun activity to catch the attention of your students? Quizzes are a great way to warm up their brains and practice their lateral thinking and teamwork skills. Try our Landmark emoji quiz in Geography or Food quiz in Catering. We even have a Christmas Song and Christmas Movie emoji quiz for those last lessons before the holiday.

Zoom

– Keeping in touch with friends or relatives over Zoom but running out of things to say? Give one of our great quizzes a go. Work together or play as teams. Our Horror Movie emoji quiz is great near Halloween and our Music Band emoji quiz might even get someone singing! Don't say we didn't warn you!

Rainy Days

– Don't wait for a special occasion to play our fun quizzes. Stuck inside on a gloomy day? Try our Cartoon Character emoji quiz to brighten everyone's mood.
Emoji Quizzes With Answers for the Whole Family
Emojis are the fastest growing and first truly universal language! Almost everyone can understand them and over 92% of internet users use them. That's why they work so well for family quizzes! Team up in person or play over zoom, these great puzzles are fun for all ages.
Cartoon Character Emoji Quiz With Answers
Sure to be a hit with the whole family! We have 15 famous cartoon characters for you to guess. Both modern and classic characters are included to make sure everyone can get involved.
Twist – Bonus points for naming the TV program the characters appeared in.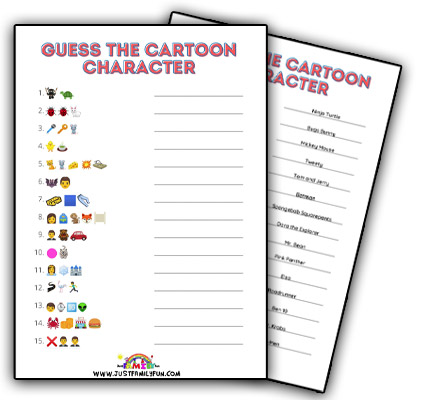 Disney Emoji Quiz With Answers
A must for Disney fans everywhere! With a great combination of classics and recent releases, this is a quiz the whole family will be able to play!
Did You Know? There are over 2,100 named Disney characters! Do you think this number is higher or lower than the total number of Unicode standard emojis?
It's actually lower! There are currently 3,633 emojis.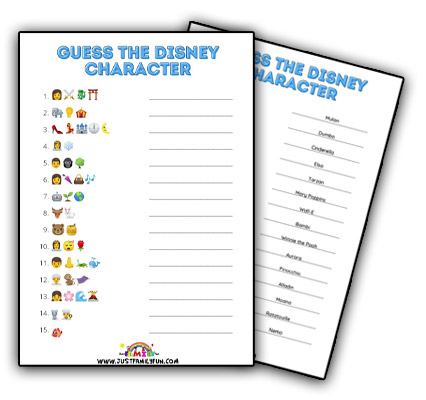 You may need some help from your littlest family members for this one. They will love getting to help you for a change!
Twist – Award bonus points for singing these classic rhymes.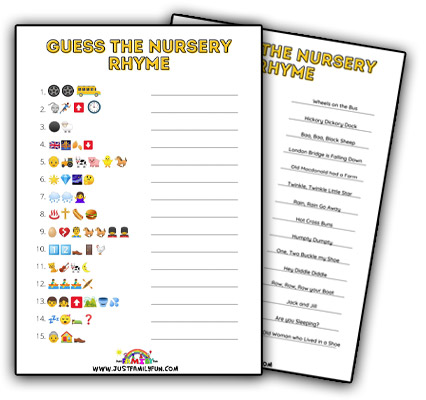 Children's Story Emoji Quiz
Delight your little ones and challenge grown-ups' memories with these classic children's tales.
Did You Know? The top-selling children's book in history is not Harry Potter. Want to have a guess?
It's The Little Prince by Antoine de Saint-Exupéry. 150 million copies have been sold since its release in 1943. How many times has the most popular emoji (tears of joy) been used?
2 billion times!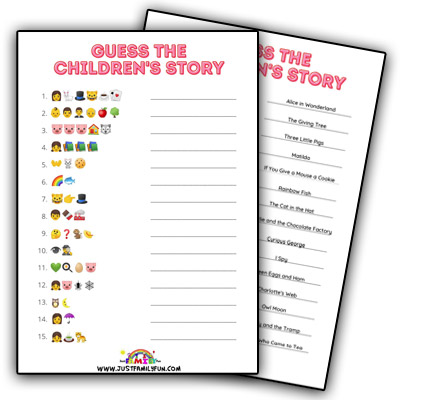 Marvel Hero Emoji Quiz With Answers
Get your teams ready for this incredible quiz! Brilliant for your Superhero themed party.
Twist – Get kids moving by having a quiz relay. Each team must wait across the room from their quiz sheet. One player at a time runs to the sheet and is allowed to write the answer to only one question and return to their team. They may visit the quiz sheet as many times as they need to as long as each player takes it in turns. Add to the challenge by making players hop, forward roll or skip to their sheet instead of running.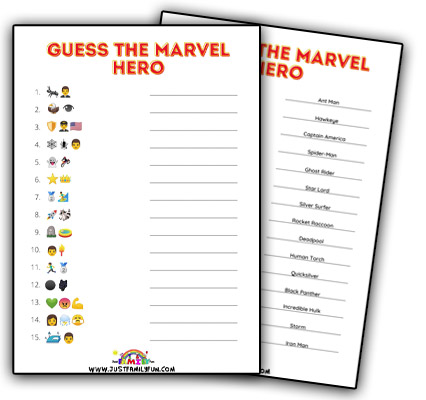 Let's hope you've been paying attention to recent kid's film releases. Perfect for classroom quizzes or kids parties.
Did You Know? There is a movie based on emojis. 'The Emoji Movie' came out in 2017 and grossed $217.8 million at the box office. Unfortunately, it was hated by critics and only managed a 7% rating on rotten tomatoes. Maybe don't rush to watch this one!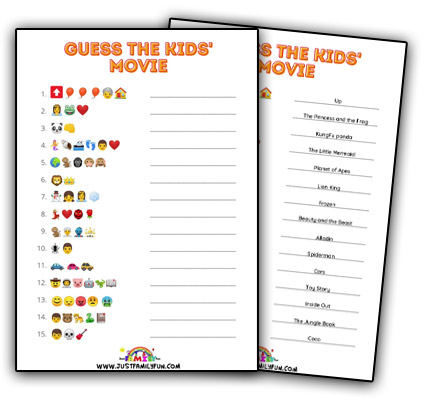 We're going global with a great range of takeaways, cafes and restaurants. Better provide snacks for this one! It's even making me hungry.
Twist – The winning player or team gets to choose dinner tonight!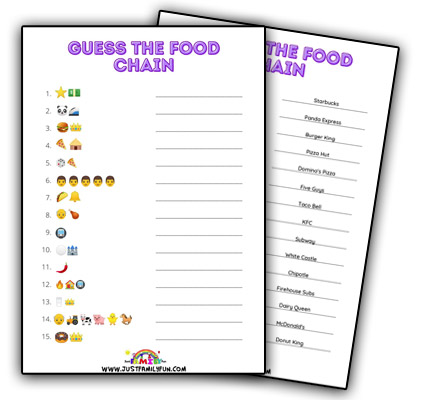 A great, simple quiz that everyone will be able to figure out. There are 15 different American foods to name, who can do it fastest?
Did You Know? The most popular food emoji used on Twitter is… pizza!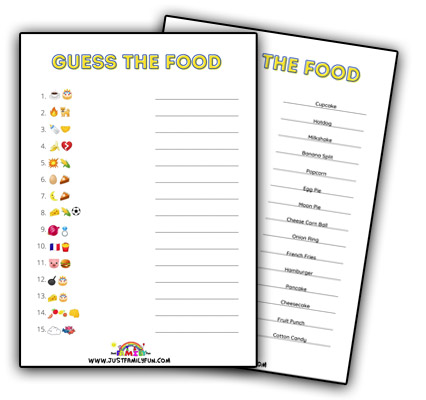 Christmas Song Emoji Quiz
Planning a Christmas get-together? Looking for a fun activity for the last day of school? Or organising a holiday Zoom catch up? This is the quiz for you. 10 festive tunes to guess!
Twist – Bonus points for any team or player who can remember enough words to perform these merry classics.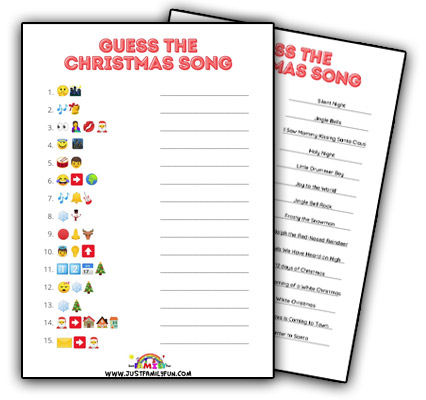 Christmas Movie Emoji Quiz
We have 15 festive films for you to guess in this very merry quiz. Why not print some for guests on Christmas day? It might stop everyone falling asleep after dinner!
Did You Know? The slice of cake with a strawberry on top emoji is actually a Japanese Christmas cake! It's true. Don't worry, I've been sending it in birthday messages for years too.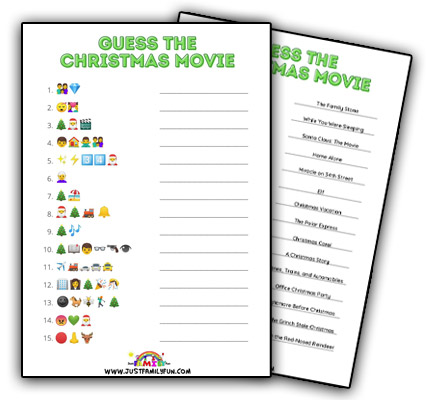 Emoji Quizzes With Answers For Older Kids And Grown-Ups
Looking for a real challenge for the grown-ups? Try out these great quizzes. Perfect for meeting up with friends or for family get-togethers.
Let's find out who knows their classic rock and chart hits.
Did You Know? Unicode have prohibited the creation of emojis to represent real people alive, or dead. This sadly means that we can never expect an Axl Rose, Elton John or Beatles emoji. Have I just given away a clue? You will have to try the quiz to find out.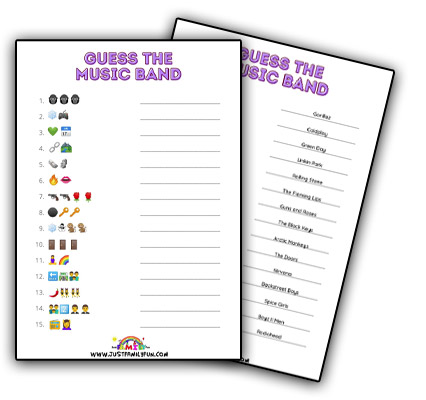 TV Show Emoji Quiz With Answers
15 popular TV series are just waiting to be guessed in this tricky quiz.
Twist – Can your players create their own second round? When the quiz is complete have each player or team create their own emoji clue for a TV show. Give everyone a chance to guess and award a second round of points.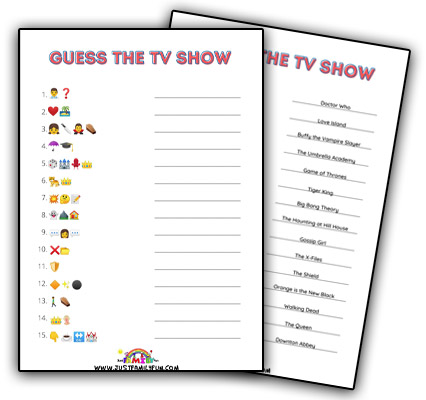 Are you a fan of scary movies? Need a creepy quiz for Halloween? This may be the perfect emoji quiz for you! It's hard to believe such cute emojis can represent these terrifying films!
Did You Know? The 'face screaming in fear' emoji is based on a painting. The shocked expression, pale eyes and hands are all taken from Edvard Munch's The Scream.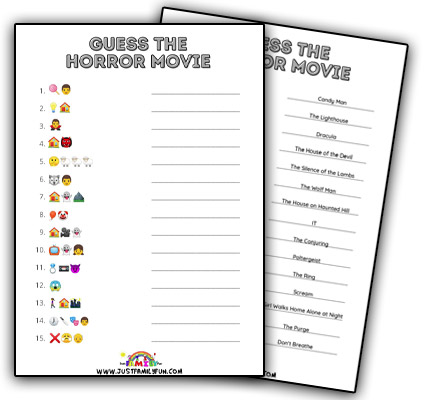 Have a great time naming these popular UK landmarks and destinations. Sure to have your players scratching their heads.
Twist – Bonus point for naming the county in which you would find each of these landmarks.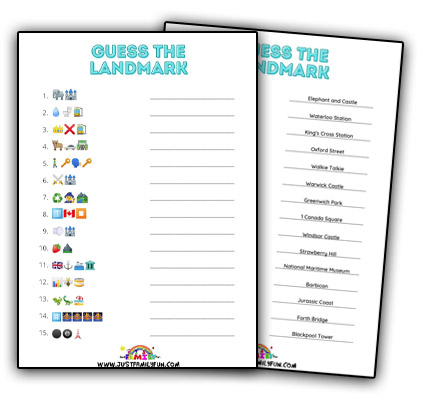 A brilliant quiz for all anime fans. We have 10 famous series for you to figure out.
Did You Know? Emojis were invented in Japan! Developed by J-Phone in 1997 they included 90 black and white emojis that even included 'pile of poo' emoji. Yes, that really was one of the first emojis invented.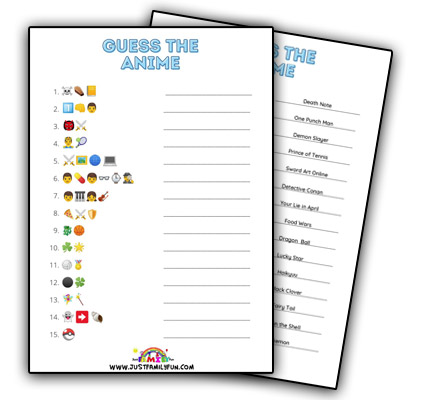 Finished your emoji quiz?
Check everybody's answers using page 2 of each Pdf quiz. Celebrate by awarding congratulations, medals or prizes to the winning team.
Don't throw them away just yet though! They can be used for lots more boredom busting!
Use our Music Band quiz as a playlist. Give everyone a blast from the past or educate your young ones with some classic music.
Use our Disney and Kids' Movie quizzes as a movie checklist. Make a plan to watch one a week and rate each film afterwards.
Try playing Charades with our Children's Story and Marvel Hero quizzes. Simply cut up the quiz sheet and put all answers in a bowl. Take it in turns to draw one at a time and act it out. Much quicker than normal charades as everyone has an idea of what the answer could be!
More Fantastic Emoji Themed Games
Maybe you loved our emoji quizzes so much that you have decided to throw an emoji-themed party!? Here are some great emoji game ideas to play with the family.
Emoji Pictionary

 – Split your party into two teams. Set up a large pad of paper that everyone is able to see. Print or draw as many emojis as needed and put them into a bowl. The players must take it in turns to pick an emoji at random and draw it on the paper. First to guess wins a point for their team.

Pin the Picture on the Emoji

 – A twist on the classic, Pin the Tail on the Donkey. Choose an emoji that has an important part that could be used as the 'tail'. This could be a heart from 'heart eyes' emoji, tear from 'tears of joy' emoji or mouth from 'smiley' emoji. Print a large copy of the emoji and several copies of the heart, tear or mouth. Have each player write their name on their piece. One at a time, blindfold the players and have them try to stick their piece onto the main picture as close as possible to the correct position. You could use blutack, double-sided sticky tape or rolled up sellotape for this. The player who managed the closest guess wins.

Emoji Twister

. Print copies of your favourite emojis and stick them over the coloured circles on a Twister mat and spin board. Play twister following the normal rules but instead of 'Left hand on red,' it will be 'left hand on sneezy emoji.' Yuck!

Emoji Phrases Game

 – Print or write some well-known phrases on separate pieces of paper. Have each player draw one at random and try to use emojis to make the phrase. This game works especially well long-distance as the emojis can be typed straight into a messenger.

Emoji Piñata 

– Make your own emoji piñata with cardboard and tissue paper. Fill your piñata with sweets or prizes. Blindfold one player at a time and give them a stick or bat. They must try to smash the piñata to win the treats inside!
Did You Love Our Printable Emoji Games With Answers?
If you, your family, friends or students had a great time solving our emoji quizzes then we have lots of other great party games for you to try. How about a round of bingo? We have lots of different themes to choose from so there is something to suit every event. Maybe it would be a good idea to get your guests moving with an exciting scavenger hunt? Or, perhaps everyone would enjoy an old classic like Pin the Tail on the Donkey?