33 Free Printable Tooth Fairy Letter Templates & Certificates
Have you been caught off guard by your child losing their first tooth? Are you wondering if the tooth fairy leaves a letter?
We can answer that question for you straight away – Yes she does! The tooth fairy can leave all sorts of treats including letters, notes, certificates, charts to record lost teeth and more.
The good news is that the fairies behind the scenes at Just Family Fun have created the complete tooth fairy letter package which includes tooth fairy letters for the first lost tooth, other lost teeth, blue ones, pink and purple ones, letters for boys, letters for girls and we even have the most adorable, cutesy tiny letters with matching envelopes.
Then we have matching tooth fairy letter certificates, sheets to record when each tooth was lost and teeth brushing charts to encourage children to clean their teeth.
The messages the tooth fairy has written on these notes are simple and general to avoid any discrepancies with your tooth fairy traditions.  
We have even more good news for you! All of our tooth fairy printables are FREE to download and print!
Scroll down the page a little to access the free printable tooth fairy letters but first, we have some great tips to help you prepare for the tooth fairies' arrival.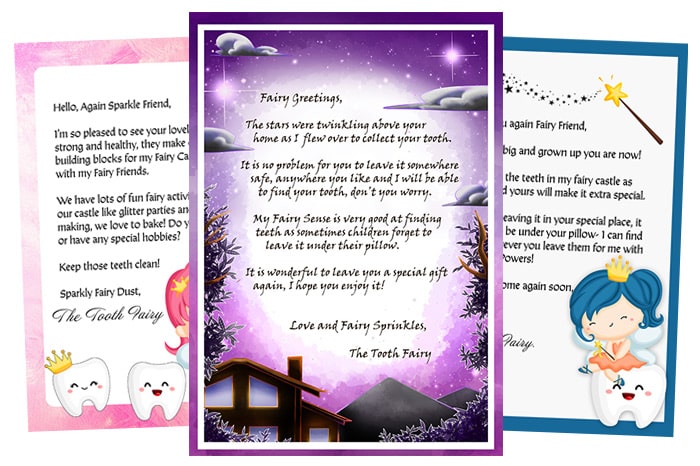 Top Tips to Consider Before The Tooth Fairies Arrival
When that first tooth falls out it's an exciting time but chaos can set in if you're not prepared. Here are 9 things to consider before the tooth fairy arrives.
Plan in advance what you're going to do when the tooth fairy makes her first visit.
Print letters and certificates etc in advance
Is this their first tooth? Print out one of our first tooth fairy letters written specifically for that first fallen tooth or one of the more general letters if it's one of the other 19 teeth
Do you want a super cute miniature letter? Opt for one of the adorable tiny tooth fairy letters and a matching dinky tooth fairy envelope.
Is the tooth fairy a little bit late – choose one of our specially created tooth fairy apology letters
How good are they at remembering to clean their teeth? Consider printing one of our tooth brushing record charts as encouragement.
Do they deserve a little treat? – Why not reward them with one of the tooth fairy colouring pages.
Do you want to record the day each tooth was lost? Consider printing our beautiful matching tooth fairy certificates or the record sheet so you can keep track of when each tooth fell out
Don't give yourself away. If your child recognises your handwriting, especially if they are a little bit sceptical about the magic surrounding amazing childhood traditions and fairytales they might see straight through the letters. That's where our free printables come in handy. They're printed in a font that the child will never connect with you unless you leave them hanging around.
Before you pop on your fairy wings take a look below at our free printable tooth fairy downloads.
Printable Letters From The Tooth Fairy
If you've done a quick google search for tooth fairy letters you will realise that there is no shortage of advice on how to write tooth fairy letters – but if you're not that creative these FREE printable letters from the tooth fairy will seem like a little victory.
We've created 6 printable tooth fairy letter templates designed by talented artists Katherine Louise Thomas. Each letter has a different fairy letter written on it and is ready to print.
The first three letters are written for the child who has lost their first tooth. The next three are written imagintaley and can be given to a child who has lost the first, last or any tooth.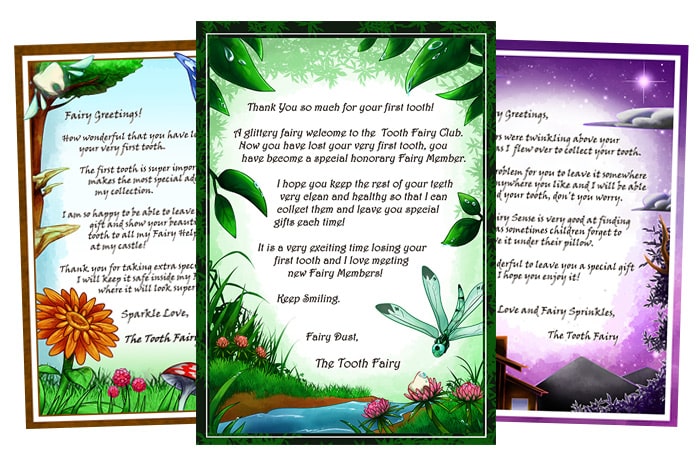 3 Printable First Tooth Fairy Letters For Kids
It's a special day when your child loses their very first tooth. The tooth fairy understands how emotional it can be for parents and is exciting for the children that the fairy is going to visit for the first time.
That's why our fairy has created 3 very special printable notes for the first visit from the tooth fairy.
Each note from the tooth fairy for the first tooth lost is written on a page with a coloured border, along with bees, dragonflies, ladybugs, toadstools, flowers and more adorable items you'd associate with fairies.
There are three different messages to choose between. The special messages contained in these first tooth fairy letters are unique and written specifically for this occasion. 
The tooth fairy first tooth letter will be a treasured possession for years to come. Do you want to record when they lost their first tooth? If so the matching tooth fairy certificates below are a great way to do this.
Simply print out the letter and pop it under the pillow with or without a coin.
General Letters From Tooth Fairy
The tooth fairy often delivers a letter when each tooth after the first tooth falls out as well. Below you will find a download link to print out tooth fairy letters that can be used when any of the teeth fall out. 
There are three different letters that all contain a unique message. Choose which letter or decor you prefer for your child. Print it out and arrange for it to be delivered.
These letters from the tooth fairy are suitable to be given when any of the primary teeth are lost.
Boys and girls everywhere love receiving these amazing letters from the tooth fairy. 
Matching Tooth Fairy Certificate Templates
If you've chosen one of the magical tooth fairy letters above, how about one of these matching free tooth fairy certificates for the tooth fairy to deliver as a little extra.
These tooth fairy certificate templates are ideal if you're looking to record the child's name and the date the tooth was lost. As a child, I loved certificates, my daughter loves to put them in frames on a wall and I'm sure your child loves them too.
Use them for the first tooth and any subsequent teeth. 
Download the printable tooth fairy certificates below.
If you're searching for a tooth fairy letter for a boy (or a girl) that loves the colour blue then these certificates are ideal for your little guy or gal.
There are three letters. One is ideal to give the first time the tooth fairy visits your little man and the other two are great to gift when subsequent baby teeth fall.
Our boy tooth fairy letters went down a treat with our nephew. He's already attempting to work another tooth loose just so the tooth fairy can visit him and exchange his pearly whites for a letter.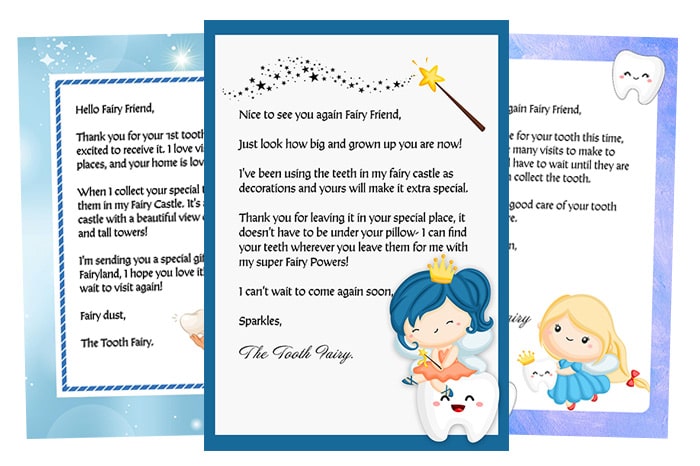 Matching Boys Fairys Letters Certificates
If you liked our blue tooth fairy letters designed with children who love the colour blue in mind the Tooth Fairy may like to deliver these matching boys fairy letter certificates.
To make your life easy we have created a tooth fairy certificate template that matches our letters above – of course, you don't have to use the letter, you can just deliver the certificate on its own.
The free tooth fairy certificate is easy to use – simply click on the link. It will open in a new window and you can print or download it.
Your little human will love these free printable tooth fairy certificates.
If you're looking for a tooth fairy letter for a girl who loves pinks and purples then she will love these little messages from the tooth fairy.
We created three beautiful tooth fairy letters with girls (and boys) in mind. They have a coloured border and an image of the tooth fairy with her wand. She's wearing a dress that matches the page border.
One of the letters is great for when the first baby tooth falls. The second two letters are perfect for the tooth fairy to deliver for successive lost teeth.
Just click on the link, print it out and pop it under the pillow in exchange for the fallen tooth.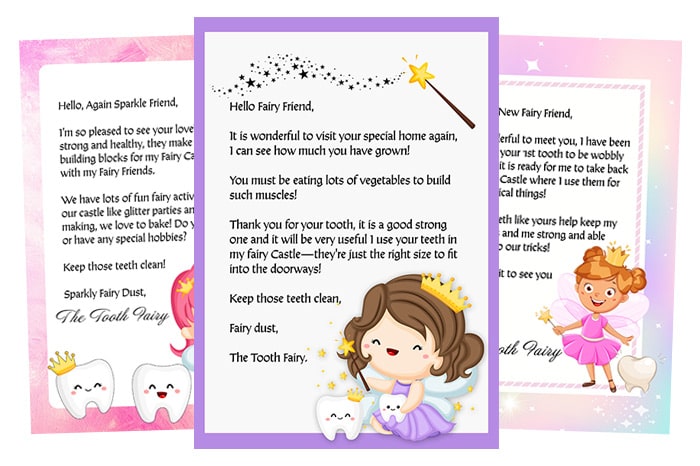 Matching Tooth Fairy Certicate Templates
Tiny Tooth Fairy Letters And tooth fairy envelope
The tooth fairy letters and certificates above are amazing but tooth fairies are tiny – so a teensy fairy-sized letter and envelope from the tooth fairy are incredibly fitting.
However, I think for most it's quite difficult to find a pen with such a tiny nib and/or create handwriting so small.  So we came up with an excellent idea of creating some for you, using our magic fairy pens.
We've created 6 tiny letters which are 4cm x 6cm in size. They are beautifully decorated and each contains a different message.
Choose Your Free Printable Tiny Tooth Fairy Letters Below.
To download your miniature letter simply click on the Tooth Fairy letter you would like. This will open the pdf in a new window. You can print or download it.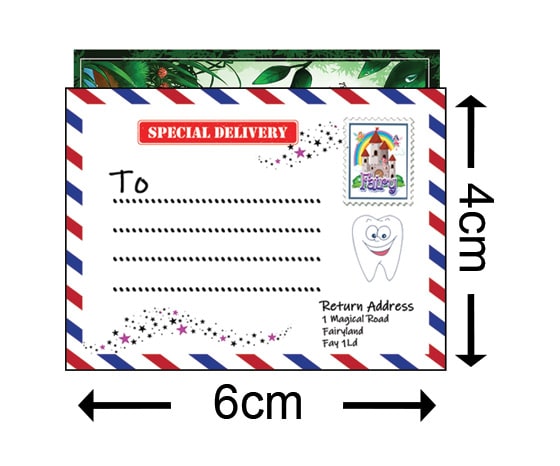 How To Use The Miniature Letter and Envelope
All you'll need is a pair of scissors and a dab of glue for the tiny envelope flaps.
Use the scissors to cut the letter and the cutest tooth fairy envelope.
Fold three sides of the envelope together and secure with a dab of glue.
Pop the tiny tooth fairy letter inside the envelope
If you have any fairy dust to hand (biodegradable glitter) you could pop a little inside for some extra magic
Seal the envelope and place it under the pillow with the coin.
You may also like to include one of the colouring pages below or a certificate from above.
Sometimes the tooth fairy forgets to come and these letters are here for those occasions.
If more than the usual quota of children lost teeth yesterday, the tooth fairy had some other very important tasks to do or she was feeling a little bit under the weather she may have forgotten to visit your little human.
Sadly your small person will be understandably very upset that the tooth fairy forgot to come or got delayed by chattering gnomes or a sticky spider web. The tooth fairy will have quite a lot of explaining to do. One thing that can help get the fairy out of trouble is one of these winning tooth fairy apology letters where she says sorry that she forgot to come.
Simply print one out and hopefully, the tooth fairy will be forgiven – maybe the fairy could leave one of the rewards charts or colouring pages you can find below as an extra gift?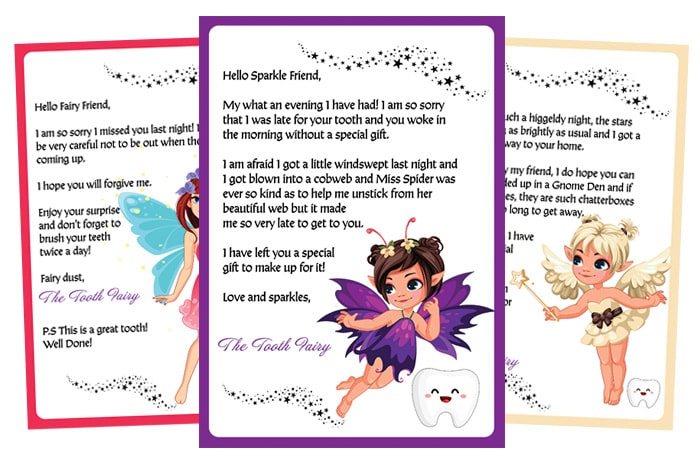 Tooth Fairy Gifts And Accessories
Whether you're looking for gifts to leave from the tooth fairy herself, somewhere to safely store the precious fallen tooth ahead of or following the fairy's visit or just because there is a great selection of tooth fairy gifts and accessories available online.
So what tooth fairy gifts are available? If you're looking for gifts to leave from the special tooth fairy herself, a 1st birthday or christening gift there are tooth fairy coins. These are great to leave instead of a real coin as they can be kept forever. Tooth fairy keepsake boxes are the perfect place to save your child's full set of baby teeth.
Teeth are easily lost under pillows and in messy bedrooms, take the stress out of teeth being lost with tooth fairy boxes and cushions. Tooth fairy cushions and boxes make the perfect safe places to keep a baby tooth before that evening's visit. They make great decor for any child's bedroom and wonderful keepsakes afterwards.
Should you want somewhere special to store the treasured teeth forever instead of your jewellery box, Tupperware box or your top drawer how about a specially designed keepsake box?
There are a plethora of cute tooth fairy gifts available for boys and girls including personalised gifts.
Here's a round-up of the sorts of tooth fairy gifts and accessories that are available to buy online.
Traditionally the tooth fairy leaves a coin under the pillow in exchange for a nice shiny white tooth. There are some very special coins available that might be even better than real hard cash.
As a regular visitor at the mint, the place where coins are made, a range of commemorative tooth fairy coins have been crafted. These adorable keepsakes make an amazing gift to celebrate this special moment for children all over the world.
The special coins have been crafted in a range of materials including plastic, iron and aluminium bromide. Some have been created from old sixpences. Mints around the world have created special commemorative coins. Tooth fairy silver coins are very special coins created to be kept forever as a memento. 
Some tooth fairy coins even come packaged in special Tooth Fairy boxes with toothbrushes, fairy pens, tooth charts and more.
You can leave these coins under your child's pillow in exchange for teeth to help forge beautiful memories or as rewards, decorations or meaningful gifts for coin-themed parties.
It's traditional to leave fallen baby teeth under the pillow but if like many parents you worry about waking your son or daughter up whilst trying to swap the tooth for a coin a tooth fairy pillow will be just what you have been dreaming about.
These precious tooth fairy pillows make the perfect safe place to leave lost teeth for the tooth fairy. You no longer need to worry about disturbing your child and spoiling the whole tooth fairy tale – simply ask your child to leave the tooth on the pillow or in the little keepsake pocket if there is one.
Tooth fairy pillows make a great addition to every child's bedroom. They make great decor and a lovely little keepsake. Some come with ribbons or a cord so they can be hung from a door handle or drawer knob. Others have pockets to keep small items such as teeth safe.
They come in a range of shapes such as rectangles, stars and squares. Some are plain in design and others have fancy designs of teeth and fairies on them. The creators have been thoughtful and produced them in a range of colours suitable for boys or girls.
Tooth Fairy Pillows For Boys
Needleworkers have been very thoughtful when designing tooth fairy pillows for boys designing personalised tooth shape superhero pillows complete with masks, capes and toothbrushes in tiny tooth hands.
Others have created teeth in the shape of a little green dinosaur which are super cute for little boys.
Girl's Tooth Fairy Pillow
When it comes to girls there are lots of pink and purple coloured pillows. My absolute favourite girl's tooth fairy pillow is one in the shape of a unicorn. The tooth shape pillow is wearing a tutu and has a unicorn's horn and hair sprouting from the top.
Some of the more expensive tooth fairy pillows have really beautiful designs with personalised messages asking the tooth fairy to stop. They are adorable and will be treasured forever.
A tooth fairy box makes the perfect place to store a tooth in, in anticipation of the tooth fairy's visit.
These small, mostly round containers made of wood or plastic are just the right size to pop one tooth before being placed under the pillow or left on the bedside cabinet for the tooth fairy to find. Many boxes of this design have small tooth fairies engrafted on the top with a couple of words such as "tooth fairy box".
I'm particularly fond of the small pewter boxes with decorative 3d tooth fairy sculptures on the top. This style of box makes the perfect gift for a newborn, a Christening or a small gift for a first birthday!
Silver first tooth boxes are another firm favourite in our house. Again they make a superb gift for a christening or first birthday box and can be used each time a tooth falls. They can then be kept as lovely keepsakes and even past down through generations.
Tooth fairy tins, with sliding lids and a wonderfully cute poem on the top, will be adored by little girls. These can be used to leave teeth for the fairy and afterwards as a small box to store treats, notes, pencils and more.
These lovely boxes can be kept as a memento and passed on to future generations.
A tooth keepsake box is a perfect place to store your child's teeth forever. These small memory boxes with a small hole to insert each baby tooth that falls make the perfect keepsake for children as they grow.
Many are made of wood, in the shape of a child's face or teddy bear. When you lift the lid there's a hole for each incisor, canine and premolar that falls.
Those looking for tooth keepsake boxes that are a little bit different may prefer a storage box that has multiple little wooden teeth to keep each tooth within.
Others may like a storage box that looks like a see-through money box, with multiple plastic storage containers to place a tooth in. Once the plastic container has its treasure inside you pop it inside the storage box. 
To store the deciduous teeth forever, many suppliers of these special baby tooth box keepsakes recommend that the shed teeth are placed in water for 5 minutes before being placed in their boxes. This helps preserve them for years to come.
Once your child no longers believes in the tooth fairy…
 [Which sadly, is age 5 for my little boy and he's not even got a wobbly tooth yet  (that makes me very sad that the magic is already beginning to fade – how long until he stops believing in all the childhood magic?!)].  
The little organisers make a great way for your children to learn about how the teeth are positioned in the mouth and what each type of tooth looks like and how many of each there are. A little ongoing science lesson.
Tooth Fairy Colouring Pages
Children love the tooth fairy visiting, it causes real excitement. Why not mix it up a bit and leave one of these 3 printable tooth fairy colouring pages as well. The colouring sheets can be used in several ways including
As a little extra thank you from the tooth fairy to show her appreciation for the tooth.
In anticipation of the tooth fairies' visit
As an extra gift if the tooth fairy forgot to come – it can be used in way of an apology.
As a reward when they have completed the tooth brushing reward chart (see below)
Colouring pages are adored by children. It's a great way to entertain them and a brilliant way to improve fine motor skills and train the brain to focus. Simply print one out and leave it with the coin.
Simply download and print the tooth fairy colouring sheets and use them as you wish.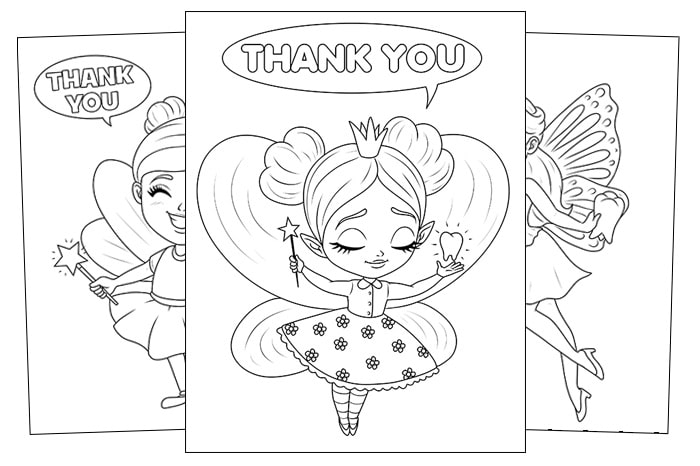 Fun Tooth Fairy Facts And Questions
How old is the Tooth Fairy? -The tooth fairy is very old – there are records of the tooth fairy leaving her "tooth fee" as early as the 13th century.
In America, they celebrate National Tooth Fairy day on August 22nd. Some also celebrate it on February 28th.
How many teeth does the Tooth Fairy collect in a day? – She collects A LOT of teeth. According to Pediatric Dentistry in Long Island, she collects about 300,000 teeth from children all over the world every night.
What do tooth fairies do with the teeth? – As we just found out she collects A LOT of teeth. The tooth fairy has a fairy castle for her home – it's made out of pearly white teeth. It's also thought that some of the teeth are used to help build the fairy community where she lives. She also likes to make jewellery for her friends and family.  It's been reported that any teeth with holes in them are thrown away and become fairy dust.
How much does the Tooth Fairy pay? The rate that the tooth fairy pays fluctuates. It can depend on the country, the global economy, the size of the tooth, if it's the first or last tooth to be shed. £1 a tooth seems to be the going rate – far more than the 20p I used to get!
How old are children when the tooth fairy stops coming? The tooth fairy stops visiting when a child is between the age of 9 and 12. It corresponds with when their 20th tooth falls out.
How many times does the tooth fairy come? The tooth fairy visits a child up to 20 times. That's the number of deciduous teeth that children usually have. However, some people retain one or two of their teeth into adulthood. It would be unusual for the tooth fairy to visit if these teeth are removed in later years.

What does the tooth fairy wear?

– In many countries, the tooth fairy appears in a pretty and sparkly dress. However, in some countries, she's a mouse.
What Tooth Fairy Tradition Will Your House Use
It's nice to develop a personal tradition for when your children lose their teeth, but children have a lot of baby teeth, so whatever tradition you start you need to be able to replicate it 20 times – which can be hard to do over a long period.
Don't make the tradition too complicated or elaborate or the children will start to question it. Especially as they get a little older, and realise some things are just not possible.
Printing Tooth Fairy Letters in Advance
Print your free printable tooth fairy letters, certificates, tiny letters and envelopes, and record charts in advance. See our free printable letters and certificates above – our record chart can be found below.
Printing our free tooth fairy printables before the tooth unexpectedly falls out is one of the most important tips – that way you don't have to stress about the printer being out of ink or there not being the right sort of paper. Store them somewhere safe away from little humans – but not so safe that the tooth fairy can't remember where she put them.
Although simple, they make a great celebration of the tooth fairy coming, making some great memories and a cute record of when they lost their teeth. Preparation is often key to surprises!
Where Do You Leave The Tooth Fairies Gift?!
The classic tradition says the tooth fairy leaves the coin under the pillow, but sometimes it can be a little too tricky to sneak in, find the tooth and replace it with a coin, letter etc.
The tooth fairy may be small but is she dinky enough to squeeze under a sleeping child's head? The tooth doesn't have to be left under the pillow, why not suggest your child leaves it in a small pot next to the bed – somewhere easy for the tooth fairy to find. It will be dark after all.
Tips For Being The Tooth Fairy
Playing a stand-in for the tooth fairy is pretty scary stuff, it's like trying to sneak a stocking into a child's bedroom on Christmas Eve – your child's radar will be set to full power and they could wake up at any moment.
Here are a few handy tips for when you swap the tooth for coins, notes for the tooth fairy etc.  
Pop the tooth in a Ziploc bag – It will make finding the tooth if it's kept under the pillow much easier.

If you're caught making the switch here are some explanations

you can use

in the morning –

"Look! The tooth fairy has let you keep your tooth! And she's given you a nice shiny coin" whilst holding the coin up. (I had to use this once, amazingly it works!)
at night – play the caring card! Tell them you were just checking that the tooth hadn't fallen on the floor, stolen by the dog or misplaced. Encourage them to go back to sleep.

Keep coins specifically for the Tooth Fairy with your pre-printed letters. It's Murphy's Law that you will have no coins of any value in the house, not even down the back of the sofa the day your child magically loses that tooth.
SET AN ALARM – watch, phone, the oven – or all three if you like to cancel alarm calls! This will hopefully prevent you from forgetting to make the switch.
What Does The Tooth Fairy Leave As A Gift?
When I was little we received a small coin, far less than the going rate given today, I must add. However, many families go that extra mile, making the tooth fairy's visit extra special.  Tooth fairy traditions can include leaving one or more of the following items under the pillow.
A few coins
A note
A tooth fairy note and /or certificate
A tiny tooth fairy letter and envelope
An "I brushed my teeth reward chart"
A printable Tooth Loss Chart
A non-sugary treat
A tooth fairy-inspired colouring page
A small toy or gift
Book – many feature the Tooth Fairy as the main character including

The Night Before The Tooth Fairy, Natasha Wing
How To Catch the Tooth Fairy, Adam Wallace
What Does The Tooth Fairy Do With Our Teeth, Denise Barry

A fun new toothbrush or a miniature trial tube of toothpaste
Something from nature: a pressed flower, a special rock
What to Do With Those Tooth Fairy Letters?
Many mums and dads choose to save these lovely notes from the Tooth Fairy. You can keep them in a memory box or book. If your child leaves a note for the tooth fairy you could also keep these too!
What Do You Do With the Teeth?
This is a bit like marmite, you either love the idea of keeping a box full of baby teeth or you hate it. I've kept my daughter's – mainly because I was offended when I discovered that my mum had disposed of my teeth and the worst thing was that she couldn't even remember what she had done with them.
However, not everyone is a scientist/medic at heart like me and you may not share the same view on keeping the teeth and that is fine. It's good that everyone is different. 
If you do want to keep them as a keepsake – here are a few ideas of how to store them for your child.
Put them in a tiny box
Save them for a science project
Buy a special baby tooth save box – readily available on Amazon or similar online stores – these boxes are great as they have 20 spaces, so you can put the teeth into the correct location in the mouth
Make jewellery
If you don't fancy keeping them, just toss them out with the trash.
What To Do When The Tooth Fairy Doesn't Come?
This happens more often than you would think. Sometimes for one reason or another, the Tooth Fairy doesn't manage to get to your house before sunrise. Maybe you simply forgot, were out of cash or just trying to juggle a million jobs. Whatever the reason when your child wakes up you're going to have to come up with an excuse.
Tooth Fairy Excuses
She was busy—so many kids have been losing teeth lately!
The sun was about to come up and she had to fly quickly back to the fairy community.
The Weather prevented her from coming—the wind blew her off course
Maybe she's on vacation—everyone needs a vacation sometimes!
Maybe she ran out of Fairy Dust and couldn't fly.
The child's bedroom was so messy she could get in the room.
Maybe the household pet saw her and she flew away.
She ran out of coins.
The child wasn't sleeping, she couldn't risk being seen, so she couldn't come in to get the tooth.
If the Tooth Fairy doesn't come, don't worry about it. It happens to the best of us. To help get you and the tooth fairy out of trouble we've created some tooth fairy apology letters – scroll up the page a little and you can print them out and leave them the night after.
Some Useful Teeth Charts For The Kids
Charts are wonderful tools to encourage positive behaviour and keep records of events whilst having fun at the same time.
We've two interactive charts below that can help encourage children to get into a good habit of cleaning their teeth and one for you to record when they lost their baby teeth.
Everyone knows that poor oral hygiene can result in dental cavities (holes) and gum disease. But did you know it has also been linked with cardiovascular disease, cancer and diabetes?
One of the most important ways to prevent oral health conditions and systemic diseases is by disrupting the plaque twice a day forever! It's a lifelong commitment. Developing good oral hygiene at a young age can prevent tooth loss and diseases in the future.
However, It's always difficult to get children to do something they don't want to do, even if it's for their benefit. But they love a challenge.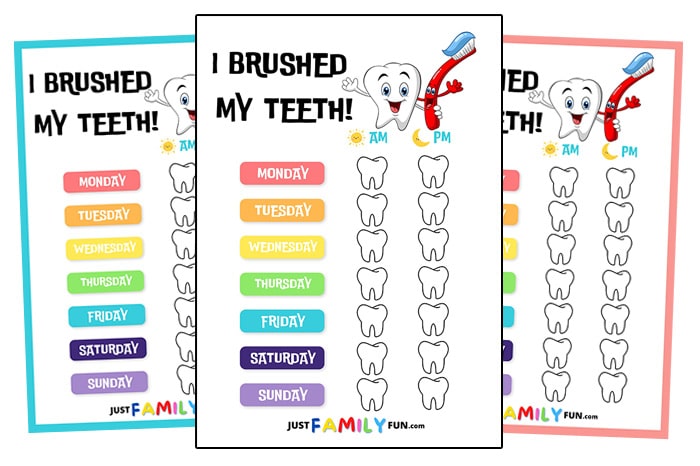 Our free printable tooth brushing chart is a great way to incentivise them to brush twice a day and develop a healthy habit. Every time they brush their teeth they can colour in one of the circles to make toothbrushing fun! You can incentivise it and say they can have a non-sugary treat like a sticker at the end of the two weeks.
Why not pop Hey Duggee's "The Toothbrush Song" on at the same time to make it a little bit more fun or create a little song of your own. In our house, we have one about dinosaurs knowing what a good idea it is to clean their teeth.
Printable Tooth Loss Chart
Keep a record of when your small human lost their baby teeth with one of these insanely cute printable tooth loss charts.
Print your chart of choice, and write down the dates each tooth was lost. You have the option of colouring the corresponding tooth on the chart.
There's also a colour-coded list showing when baby teeth fall out. This is a general guide, the age teeth are shed can vary from child to child.
Long after the primary teeth have been shed, you'll have a smile-inducing keepsake that you and your child will treasure.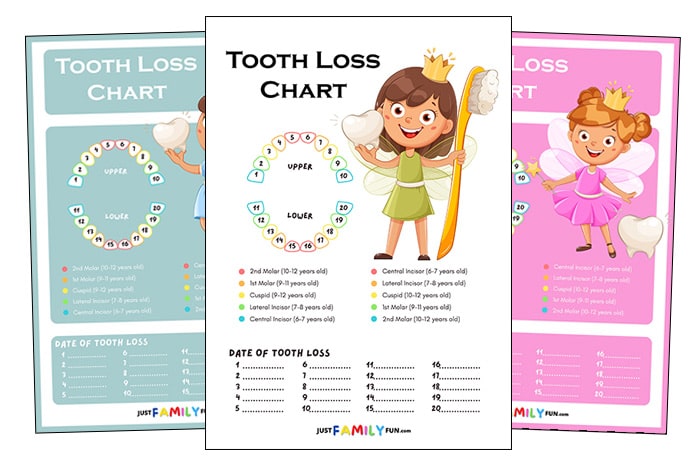 Whatever your tradition is for the tooth fairies visit, we're sure you will agree that it's supposed to be fun. That look of pure excitement and joy on their face when the Tooth Fairy has visited is wonderful, delightful and a pure joy to watch.
The magic of being a child doesn't last forever, if you're looking to help your child have the best memories of the tooth fairy then our complete Tooth Fairy letter Template Package is the perfect resource.
You don't have to be the most amazing tooth fairy that ever lived, remember nothing elaborate, and simple is best – your child will love the tooth fairy in whatever form you choose.