Free Printable Tooth Fairy Apology Letter Package
Have you woken up this morning with a sinking feeling of dread because you've remembered that you were supposed to arrange for the tooth fairy to visit your child last night?  Don't worry, we've all been there. 
Here at Just Family Fun, we know that juggling a busy family life isn't always easy so we're here to help wherever we can!  As such, we have designed a selection of free printable tooth fairy apology letter templates  to cover you for when the tooth fairy forgets to collect a tooth.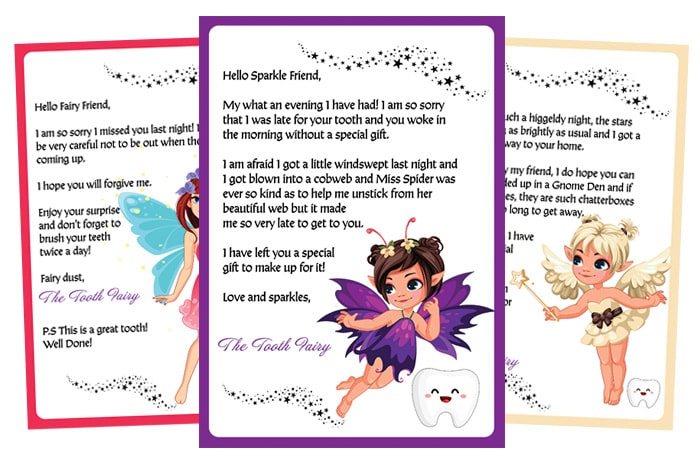 What's Included in Our Tooth Fairy Apology Letter Package
We have three tooth fairy letters to choose from. Each one features a different illustration of the tooth fairy and contains an explanation for her failure to collect the tooth!
Tooth Fairy Apology Letters
The three available options for the tooth fairy apology letters are as below:
In the first tooth fairy apology letter, the tooth fairy apologises for being late to collect the tooth. She explains that she was blown into a cobweb and got stuck until Miss Spider helped her to get free. She tells your child that she has left her a special gift to make up for it! The letter is outlined by a purple border and has a beautiful illustration of the tooth fairy flying next to a happy looking tooth.


The second letter explains that the tooth fairy got a little lost because the stars were not shining very brightly. She says she ended up in a Gnome Den and the Gnomes were chatting to her and it took her ages to get away! She apologises profusely and says she has left a gift in their special place to make up for it. The letter is decorated with a stunning graphic of the tooth fairy waving her wand alongside a smiling tooth and is outlined by a cream border.


In the third letter, the tooth fairy apologises for missing your child last night. She explains that she can't be out when the sun is coming up. She says she hopes that your child can forgive her and tells them to enjoy the surprise that she has left. She also reminds them to brush their teeth twice a day and congratulates them on leaving a great tooth. The letter features a red border and is decorated with a gorgeous image of the tooth fairy.
If you're at a loss on what else you can do to bring the tooth fairy to life, we've rounded up a few ideas on how to make the tooth fairy experience even more magical.
You don't need to spend a lot of money to create tooth fairy magic. In fact, with our colouring pages, games and puzzles or fun printables, you don't need to spend any money at all! Have a browse and print off your favourites to leave as gifts from the tooth fairy, it's hours of fun for no cost.  Win, win!


If you have any glitter to hand, you can use this as fairy dust and sprinkle it over the letter and gift. You can also use this magical fairy dust to create outlines of footprints trailing across the windowsill.


After receiving such a heartfelt tooth fairy apology letter, your child may feel moved to respond to the tooth fairy to tell her that she is forgiven! This is a great chance for your child to practice their writing skills. If they enjoy drawing, why not also ask them if they can draw the tooth fairy on the letter too?


The tooth fairy is terribly busy with many houses to visit. With her in such a rush, it's entirely possible that she might leave something behind for your child to find. A tiny wand always sparks excitement, especially if it is sparkling with fairy dust!


The tooth fairy only collects teeth that have been well taken care of. She sometimes likes to remind children of this by leaving a tube of toothpaste along with their special gift.


Ask your child to leave their tooth in a glass of water next to their bed. When you collect the tooth, add a couple of drops of food colouring or blackcurrant squash to the water. Your child's face will be a picture when they awaken to find that the tooth is gone and that the water changed colour when the tooth fairy dived in to collect it!
We know that it can be distressing for both you and your child when you have forgotten to exchange their tooth and so we hope that our tooth fairy apology letters help you to restore their faith in the tooth fairy!
If you are looking for ways to monitor and record the journey of tooth loss, why not also print a copy of our tooth loss charts?
If you've used any of our tooth fairy tips alongside our free tooth fairy letter, or if you've had any great tooth fairy ideas of your own, please feel free to share your stories and pictures with us on Facebook, Twitter, or Pinterest.  We love to see families enjoying the magic of the tooth fairy!
Please check out our ultimate tooth fairy letter package here.