35 Free Printable Chore Chart Templates
If you want to get your family organised at home, a free printable chore chart is the perfect solution. Introducing chore charts for children teaches them a great life lesson, helping kids learn responsibility. Printable chore charts provide consistency, so the kids know exactly what they have to do each day by simply looking at the chart.
Introducing a child's chore chart isn't just a useful way to get a little extra help with jobs around the house – there are numerous benefits for your child's wellbeing and development, too.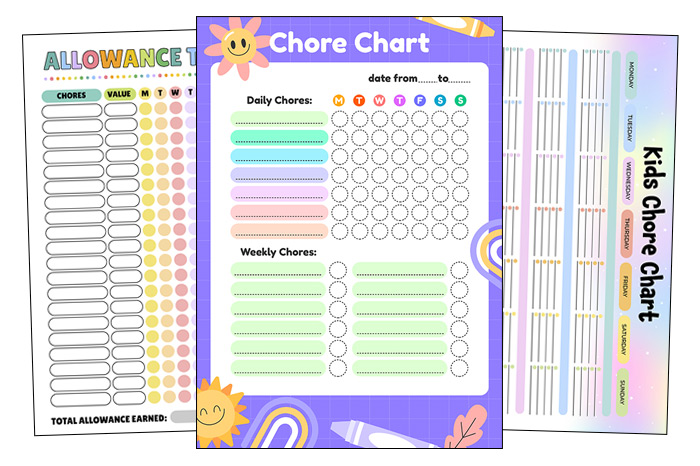 Benefits of Free Printable Chore Charts
Studies show that children who help out around the house from a young age can have better relationships with friends and family when they grow up, because they learn the importance of working together and contributing to their household.
When expectations are in place about who needs to do certain chores, families are less likely to argue. A free chore charts template is the perfect visual tool to set these expectations and can also reduce power struggles with parents.
Doing chores helps children learn how to manage time – a useful skill for the rest of their lives.
Children can experience a surge in brain development when they complete chores. For example, if they set the table they are applying real-life maths and analytic skills as they count how many utensils each person needs. This can also set them up for success in other areas such as reading and writing.
A chore planner can help teach kids about self-control and discipline, and this in turn can help them develop financial skills.
Chore charts can help teach children to be independent, and as they get older they can check their printable chore list themselves and mark off their chores when they've completed them.
How to Use Free Chore Chart Printables
We've talked about the benefits of chore charts for children, but how do you introduce a child's chore chart successfully? Here are a few tips that can help:
Start as young as possible! You might think your child is too young to introduce chore chart printables, but many small children are much more capable than we think they are.
Make sure you praise your child right from the start rather than waiting until a chore is completed. Encouraging your child while the chore is in progress is the best way to build positive momentum, especially for little ones.
Try to have a relaxed approach to how well your children complete their chores. Nobody is perfect, and it's important not to jump in and do the chores for your child.
Be a good role model. Children learn more easily if they see others in the family doing the same thing. Why not try a house chore chart for adults in your family too?
Remember it takes time to develop good habits, so don't be discouraged if a chore chart doesn't work for your child straight away. Just keep reinforcing the positive behaviour and after a few weeks you're bound to see some progress.
It's easy to get busy with everyday life, but try and check your child's chore chart each day with them.
Make using your free kid's chore chart lots of fun for everyone. Put on some loud music, sing songs or see who can finish their chores first!
Older children can be rewarded with money if they complete chores. It's a good way to introduce them to the world of working and how things will be when they get a job as an adult.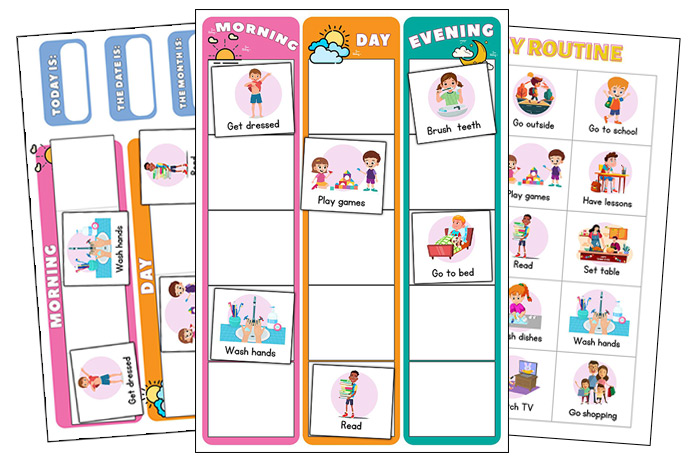 chore charts with pictures
Chore charts with pictures are perfect for young children who find them much easier to understand than just a written list of chores, especially if they haven't started to read yet. Adding pictures lets young kids use free printable chore charts all by themselves. Using pictures is also a simple visual reminder of the chores that need to be done each day or week.
Our free picture chore charts are simple to use in your own home. Each free chore chart has 3 different coloured columns divided into:
Choose from two different versions of our free printable chore charts with pictures:
A landscape version with space for four chores. This printable chore chart also has boxes to write the day of the week, date, month and weather.
A portrait version with space for five chores.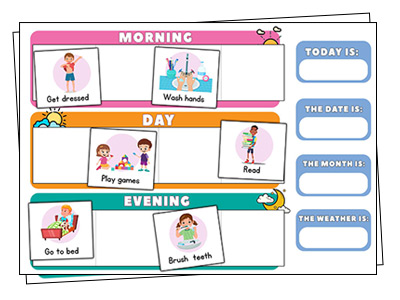 To use, simply print out your free printable chart and cut out the individual daily routine squares. Each square contains a fun picture illustrating a chore that can be stuck onto your child's chore chart ready to be completed.  The simple format is really easy for young children to follow, and there are lots of simple chores to choose from, such as "set the table" and "wash the dishes".
You can print as many free children's chore chart templates as you need to, or if you have a laminator you can laminate the chart and the chore cards so you can reuse them. Simply stick a small amount of blu-tack on the back of each chore card then stick onto the chore sheets printable. Or you can attach Velcro circles to the backs of the cards and to the centre of the boxes on the chore chart.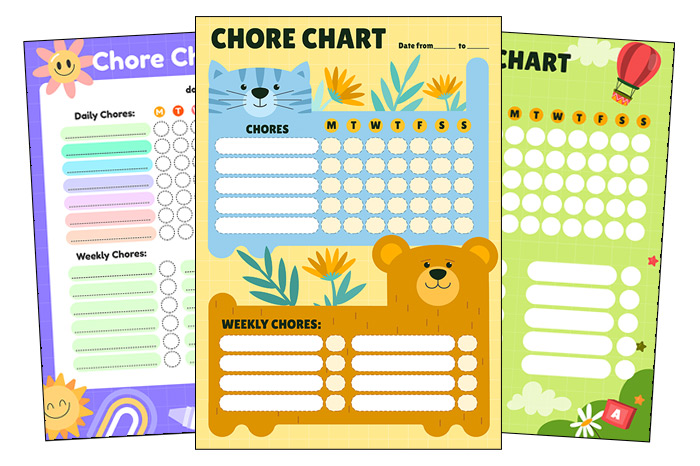 chore charts for children
We've got a great selection of chore charts for children that will get your young ones helping around the home in no time at all!  If you're looking for free chore charts for kids, we've got lots of colourful, fun designs ready to download and print. We've created designs suitable for everyone in the family, including the youngest members and even the adults too!
If you want everyone's chores all in one place we have a selection of free printable chore charts for multiple kids. We've also provide plenty of Blank Chore Chart Printable Templates so you can organise your family's chores in your own way.
Chore charts can be a great way to teach older children about earning money, and we've got you covered if you're looking for printable pocket money chart ideas.
Around 3 years old is the perfect age to start chores, and completing easy tasks helps young kids feel confident and helps their motor skills. Children of around this age love to help, and we've got a perfect chore chart for a 3 year old that you can download and print for free.
Children tend to develop an independent streak by age 3, and will enjoy completing tasks all on their own. It's important to remember that the goal is for your little one to learn how to follow directions and see their chore through to the end. The end result probably won't be perfect, but small children are learning about a sense of self-pride and responsibility each time they try to complete a chore.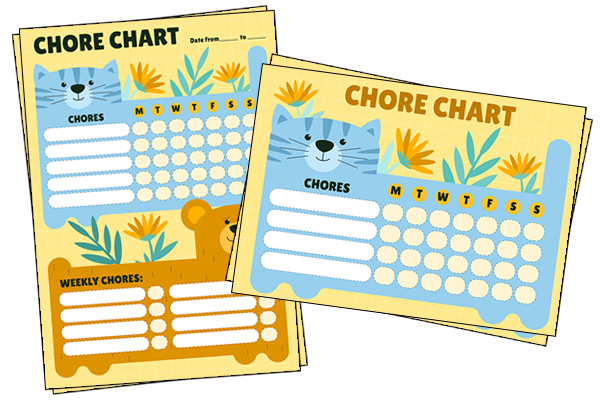 Here are a few ideas of tasks to add to your 3-year-old's chore chart:
Put dirty clothes into a basket. You could even turn this into a fun game by letting them throw clothes into a hamper from the other side of a room.
Help look after a pet. Children feel a huge bond and love for their pets, and they can easily help with simple tasks like grooming or feeding animals.
Watering plants with a small watering can.
Put away toys and games. Tidying away these items gives young children a visual result so they can see how they are making a difference and helping the entire household.
Setting up the bathroom ready for a bath. Ask your child to fetch their favourite bath toys, towel and face cloth.
Stacking books. At the end of story time, ask your three year old to put the books that you've read into a neat pile.
Children of around four years old love to help out around the house and often find cleaning fun! Print out our colourful 4 year old chore chart and choose some tasks around the house that they can help with. Kids of this age will not do everything perfectly but will often do chores well enough.
When deciding which tasks your four year old can do, begin by adding on to any chores they have been completing since their younger years. Add new chores slowly too so that your little one isn't too overwhelmed with new tasks.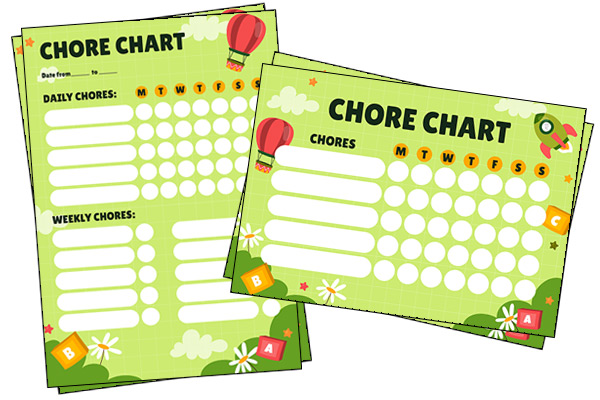 Some tasks to add to your 4 year old's chore chart include:
Help to sort socks and other laundry. You could put all the socks into a large basket and ask your child to sort them into pairs. It's a great way to learn the concept of pairs and sets, and they will also get to practise vocabulary to do with colours and patterns.
Wiping down the front of appliances like fridges.
Make the bed. Make it more fun by asking them to pull the duvet or blanket up and tuck in their favourite teddy.
Hang up bags and hats at home. You could put up a hook at a lower height so it's easier for your little one to do this for themselves.
Sweep up leaves in the garden.
Dusting furniture.
Chore Chart For 5 Year Old
By the time children are 5 years old, they are often eager to take on more responsibility. You can encourage them further by printing a chore chart for a 5 year old and choosing some tasks that will help give them an increased sense of importance. Just remember to keep tasks fun and simple to keep your youngster motivated, and remember that all children develop at a different rate – so if they're not ready for some of these chores just yet, don't worry!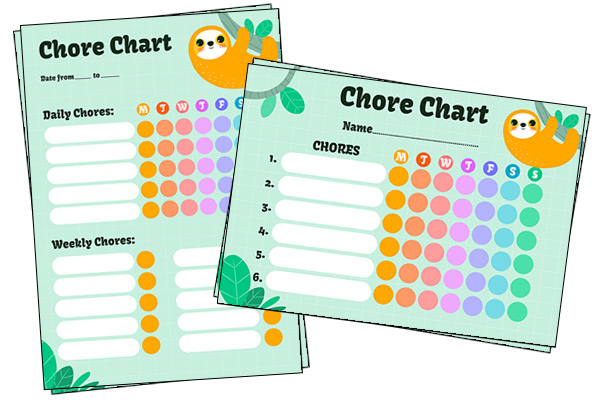 Some chores that might suitable for a 5 year old include:
Emptying waste paper baskets.
Clearing the table after a meal.
Using a hand-held vacuum cleaner.
Washing plastic dishes in the sink.
Preparing simple meals. Most children love preparing food, even if they start with safe, easy tasks such as washing vegetables or fruit.
By the time your child is 6, there are lots of chores they can complete around the house that will help you out and give them a great sense of accomplishment, too. A child's sense of confidence begins to develop around this age, so it's really important to give them plenty of recognition for how well they're doing.
Six year olds still want to have lots of fun whilst doing chores, so try and turn their daily or weekly tasks into games and a fun experience if you can.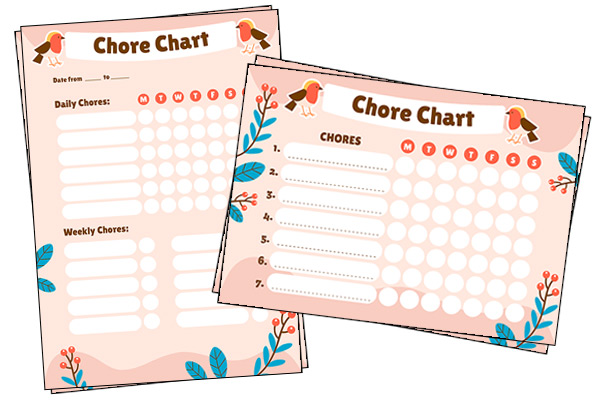 Here are few ideas of suitable chores for 6 year olds:
Change the toilet paper roll if it's run out.
Empty the dishwasher if you have one.
Wipe down bathroom surfaces.
Load and unload the washing machine.
Doing chores can easily become a part of everyday life by the time a child is 7.  A chore chart for a 7 year old is a great way for them to see their achievements, and you might want to introduce rewards for your child if they've completed their tasks for the week. Our chore chart for 7 year olds has space to write down eight chores for your child, so there's plenty of room to add new chores to the ones they've been completing since they were younger.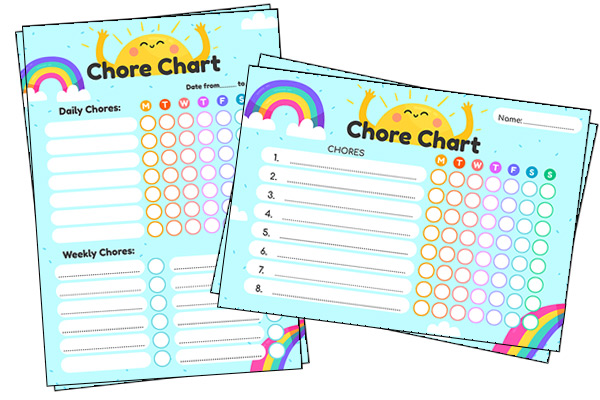 Some chores suitable for a 7 year old include:
Pulling weeds. Children of around 7 years old are ready to do more outdoor chores which can help them learn more about plants and nature. It's also a great excuse for exercise and fresh air.
If your vacuum isn't too big and bulky, this is a great age to let your children try vacuuming the carpet, and most kids enjoy it!
An easy and important chore for 7 years olds is getting their school clothes ready for the next day.
Chore Chart For 8 Year Old
By the time your child is 8 years old they are ready to do chores that teach them important life skills whilst also feeling like they're part of the family. 
Print out a chore chart for your 8 year old with each task carefully labelled so they can complete their chores independently if they want to.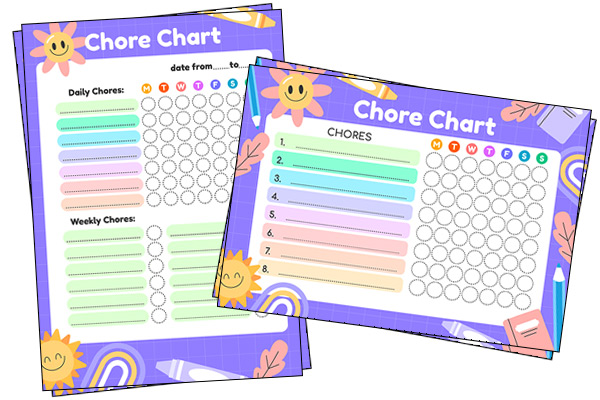 Here are some chores that suitable for 8 year olds:
Taking a pet for a walk. Your child may have done simple chores to help look after pets when they were younger, and now they can try the next level of pet care for more independent, older children.
Preparing a shopping list. This a great way for younger children to practise maths concepts by working out how many people live in the house, the number of days they need food and how much they eat.
Help make dinner. By the time your child is 8 they can become more involved in cooking simple meals and food preparation. You could buy them their own brightly coloured utensils that they also need to wash up later.
Put away groceries.
Chore Chart For 9 Year Old
The older children get, the more helpful they can be to the whole family. By the time your child is 9 years old they can handle even more responsibility, so use a chore chart for 9 year olds to add some new, grown-up chores. It's still helpful for older children to use a chore chart so they can see what's expected of them and feel a sense of achievement when they have completed their tasks. It's also a good age to introduce monetary rewards for completing chores at around this age, if you want to.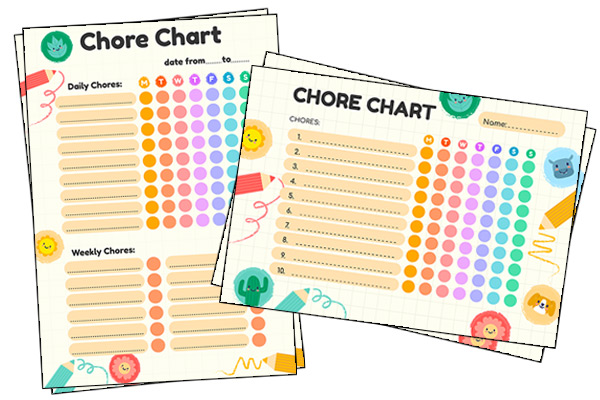 Some ideas for chores for 9 year olds include:
Sewing buttons.
Putting younger brothers and sister to bed and helping them get dressed.
Washing the car.
Helping with simple household repairs and projects
Chore Chart For 10 Year Old
By the time your child is 10 years old, there are lots of chores they can help with independently around the house and garden. Our free printable chore chart for a 10 year old has room to write down 10 chores.
Although older children usually need less supervision than younger kids, it's really important to remind your older child about safety issues, for example if they are using a hot stove or household cleaning products.

Older children might not always want to help with chores, but using a chore chart can help encourage them especially if you offer suitable rewards.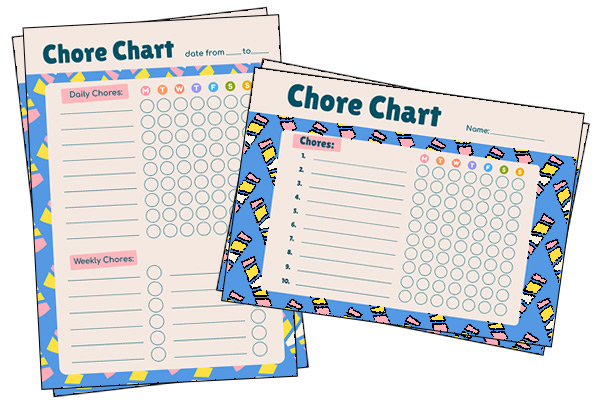 Some ideas for chores for 10 year olds include:
Doing laundry (using the washing machine and tumble dryer).
Washing windows.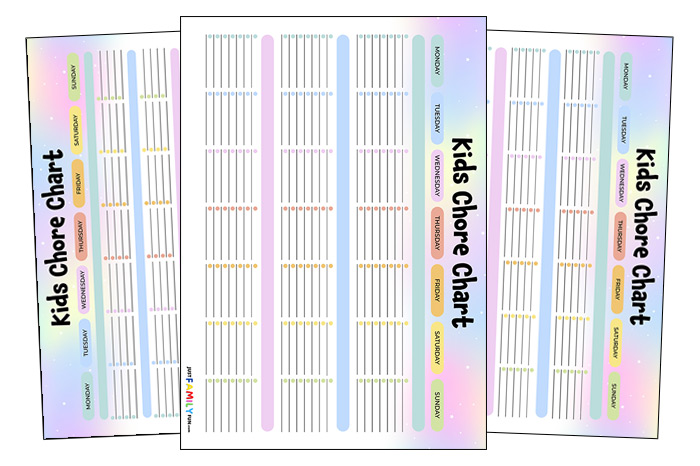 Chore Charts For Multiple Kids
Our free printable chore charts for multiple kids are a great way to allocate and keep track of the daily chores for all your kids on the same chart. Print out one of our colour-coded, simple charts and divide up the family chores by age, skills or interests. Write each family member's name on the chart with their list of chores for the week, then display somewhere your whole family can see it.
As each family member completes a chore they can tick or cross them off the list.
Our chore chart for 2 kids is the perfect tool for dividing chores for the week between two children.
There's plenty of space to write a name for each child plus the tasks they've got assigned for each day.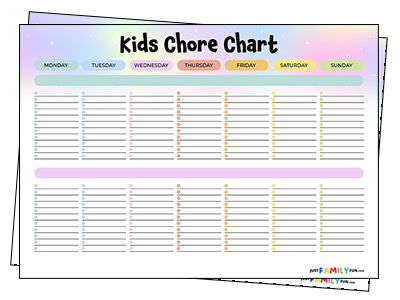 Do you have 3 children in your household? You can divide chores fairly using our free printable chore chart for 3 kids.
Write each name in the space provided then fill in their chores for the week. Stick up on a notice board or fridge so that everyone can easily check their list and cross off each chore when it's completed.
Our printable chore chart for 4 kids is a handy visual reminder of everyone's responsibilities and tasks for the week ahead. Each child has their own colour-coded section so it's easy for them to check their own chores.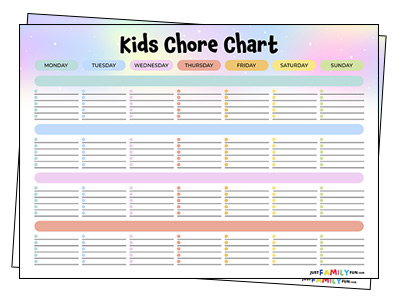 Do you have a large family with 5 children? We have the perfect chore chart for 5 kids. This colourful chart is divided into simple, colour-coded sections with room for each child's list of chores under their name. It's nice and simple so you can see everyone's tasks for the week at a glance.
If you want to reuse the chart, laminate and use a dry-wipe marker to tick off chores.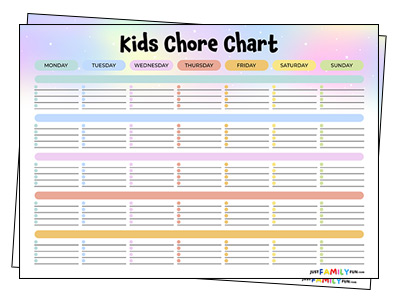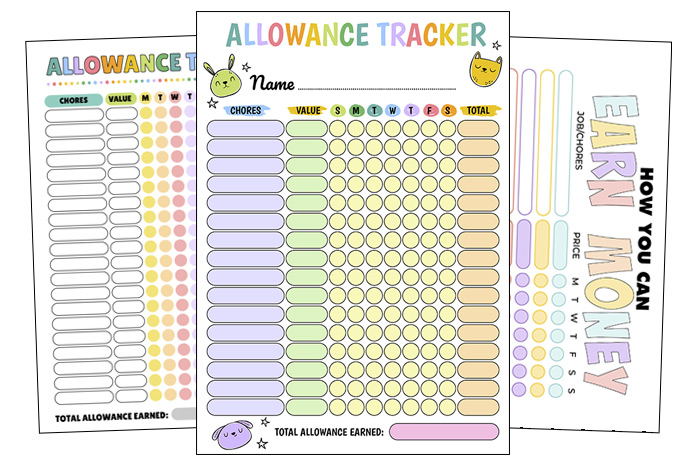 Allowance Chore Chart Templates
Many families pay their kids pocket money for doing chores, and we've got some great allowance chore chart templates that are perfect for keeping track of your child's chore list and how much they've earned.
Every family has a different approach to how much pocket money you should give your children for completing chores, and ultimately it's down to what works best for your household.
Some of the benefits of paying your child for completing chores include:
Earning money by doing chores is a great lesson to prepare children for the real world.
Children often appreciate new toys more if they've earned them by doing chores.
Kids respond well to incentives, so it can mean chores get done a lot more quickly and with less nagging from parents.
An allowance chore chart can help children learn basic maths and financial skills.
This printable chores money chart is a handy visual reminder of how many chores your child has to do to earn money during the week. There are columns for the chore, the value of the chore, a tick box for each day of the week and a total at the end of each row. There's also a total allowance earned box at the bottom of the chart so your kid can see how much they've earned over the week.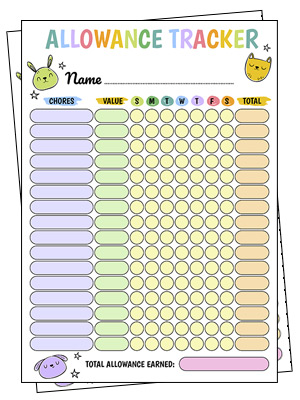 Allowance Chore Chart Tracker
This colourful allowance chore chart tracker is a fun way for kids to keep track of how much money they've earned by doing chores. At the end of the week they can add up the total from each day to see how much total allowance they have earned – a great way to practise maths skills too!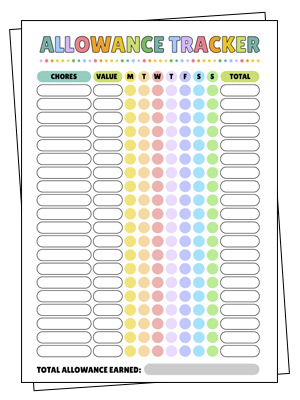 Pocket Money Chores Chart
If your child wants to do chores to earn extra money to spend on toys and other fun things, they can use this helpful pocket money chores chart to keep track throughout the week.
When Saturday arrives, you can help them add up how much they've earned during the week.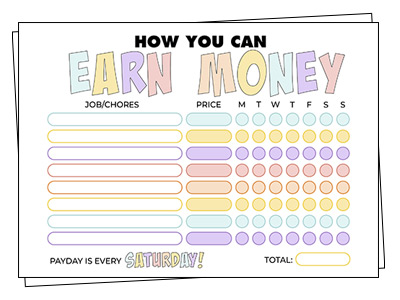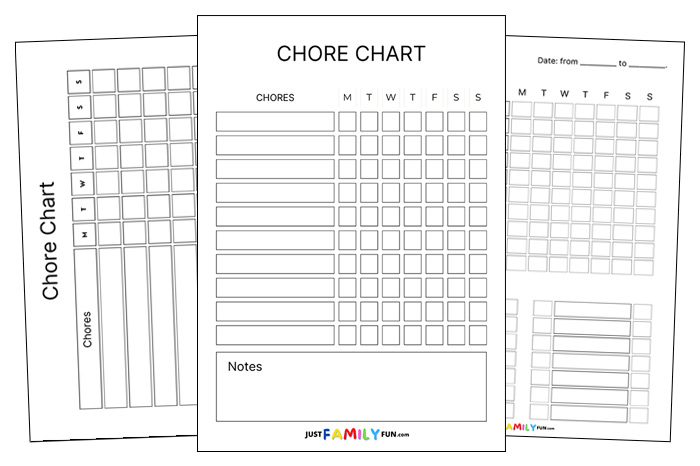 Blank Chore Chart Printable Templates
Every household is different, so we've created some handy blank chore chart templates so you can customize your own free chore charts to suit your family.
Blank Chore Chart Template Daily & Weekly
Every family has chores that need to be completed daily and other chores that only need to be done once a week. This blank chore chart template lets you add daily & weekly chores all on one handy printable sheet.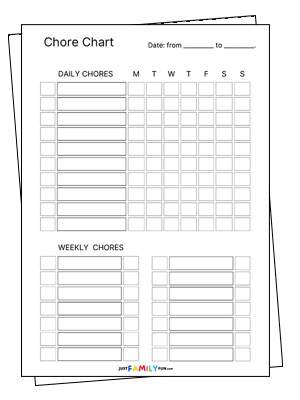 This free printable daily blank chore chart has room for plenty of chores that need to be completed each day. There's a handy notes section at the bottom too – why not make a quick list of any new cleaning products you might need to buy if you've run out whilst doing the chores?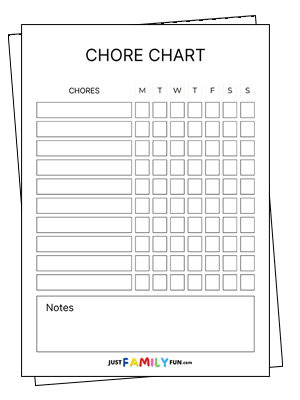 Landscape Blank Chore Chart
Print out this landscape blank chore chart and add your own list of chores for the week. You can then display the printable chore chart on a noticeboard or fridge and tick off the chores once they've been completed.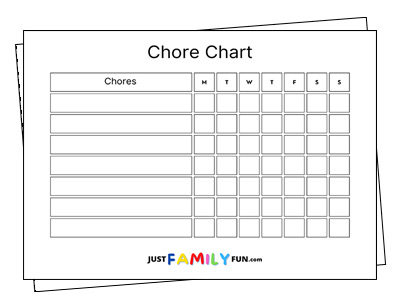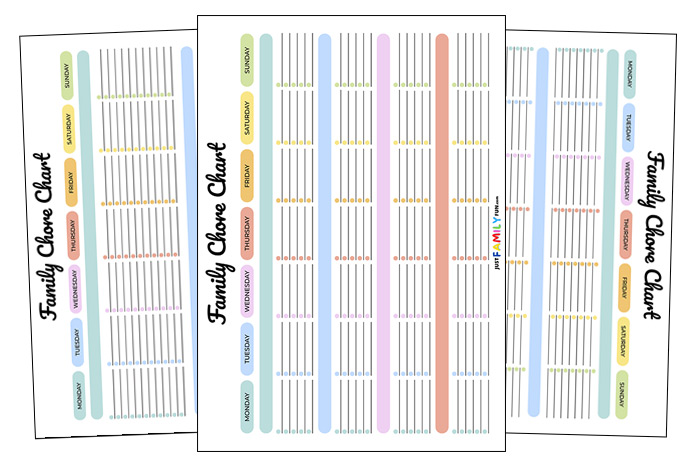 Family Chore Chart Template Pack
Our family chore chart template pack has everything you need to get the whole household involved in doing chores. The bright and colourful chore charts have easy-to-follow sections for each day of the week and are colour-coded so different family members can easily see what their chores are. It's a perfect visual tool for helping everyone stay organised!
Chore Chart For Family Of 2
This colourful chore chart for family of 2 lets you divide the chores for a week in a simple, clear format. There are two colour-coded sections, one for each family member. Simply cross off each chore once they've been completed and the household tasks will all be done in no time at all.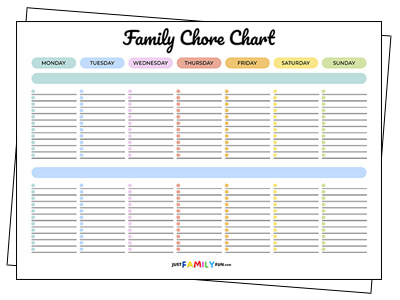 Chore Chart For Family Of 3
Our printable chore chart for family of 3 will help everyone keep on track with their chores each week. There's a section for each family member and a column for every day of the week. Why not turn chores into a challenge and see who can finish all their tasks first each day?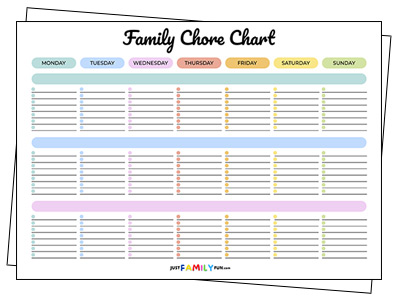 Chore Chart For Family Of 4
This chore chart for family of 4 is the perfect visual tool for keeping your household organised with daily chores. Divide chores based on age, ability and interest then add under each family member's colour-coded section on the chore chart.
Sharing chores is a great way to make sure that one person isn't burdened with all the hard work, and helps families learn to work together as a team.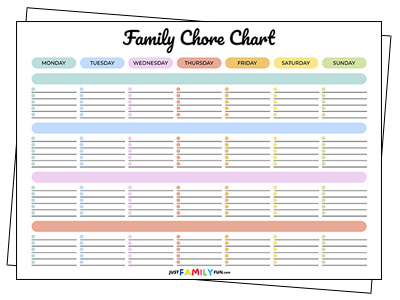 Chore Chart For Family Of 5
If you have a big family then organising chores can be tricky, but this chore chart for family of 5 can really help everyone stay on track.
Each member of the family has their own colour-coded section where they can find all of their chores for the week and can mark them off their list as they go along. You could even offer a small reward or prize for the first person in the family who finishes all their chores!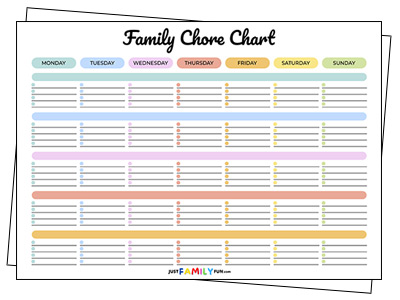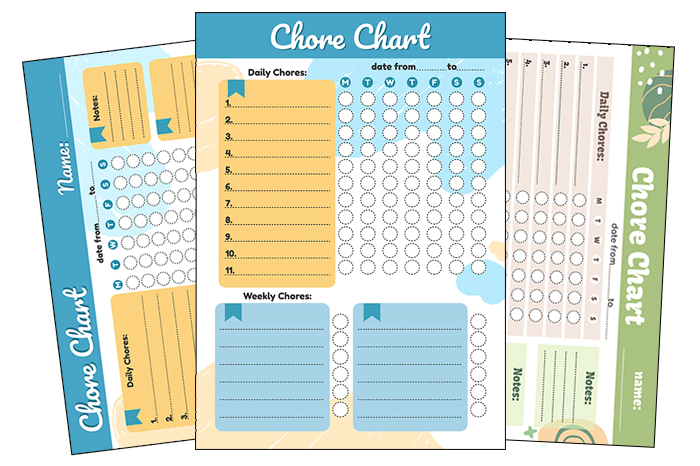 Printable Adult Chore Charts
It's not just children that can benefit from a chore chart, and we have some lovely, printable adult chore charts that you can use in your home. A chore chart will help most adults keep their houses clean and tidy too and can be the secret to an organised home.
Here are just a few of the benefits of printable chore charts for adults:
A chore chart can help jobs get done on time, so that smaller tasks don't pile up and become overwhelming. It can stop the mess getting out of control before it gets too much.
A clean and tidy house is much more pleasant to live in and you should feel less stressed.
If you cross off jobs as you go along, you'll feel a growing sense of accomplishment.
You will have a record of everything you've completed already. So if you can't remember the last time you changed the bed sheets or cleaned the bathroom, you can check back on your chore charts.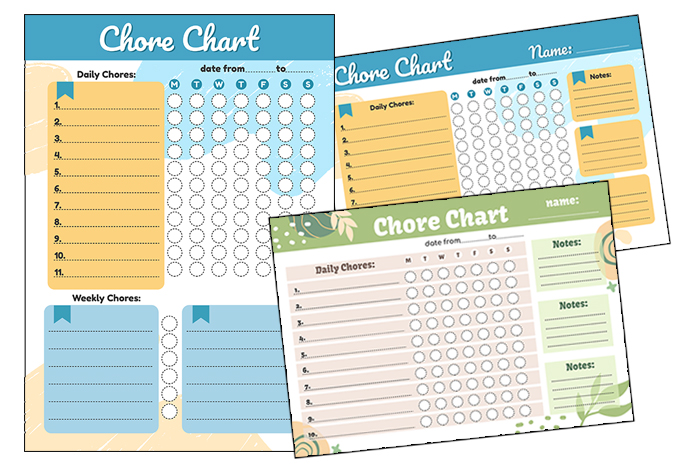 Chore charts can be a useful visual tool for every household, whatever the size of your family. Not only will your house be tidier, cleaner and more organised, there are also lots of benefits of chore charts for children of all ages and adults too.
Chore charts can help your child become more independent, manage their own time and understand finances, and can even help with their brain development. Even the smallest children can start with some basic chores so that by the time they reach their teenage years they're ready to take on bigger responsibilities and challenges.  
Did You and Your Child Enjoy Our Free Printable Chore Charts?
We have lots more to enjoy on our website – why not have a look around and see what else you can find? All of our activities have been designed to help your child improve their skills and enjoy learning too, like our fun card games.