Printable Snakes and Ladders Game for Kids
Board games have been a popular pastime for many years. Whether you are the 1980s, 1990s or 2000s kid, you would have enjoyed playing board games with families and friends. Snakes and Ladders (sometimes called Chutes and Ladders) is one of the most popular board games of all time.
What makes it popular is that it is a board game with 100 squares full of tricks and traps. All you must do is roll a dice and try your luck. JustFamilyFun has a ready-made printable Snakes and Ladders game as well as a customizable colored and black-and-white template for you to play with your family and friends.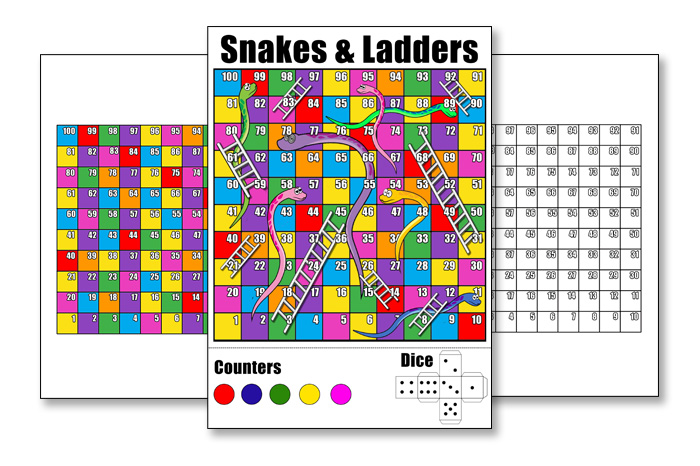 What Is The Snakes And Ladders Game?
Snakes and Ladders (also known as Chutes and Ladders) is an ancient Indian board game, originally known as Moksha Patam. It is a classic board game that can be played by 2 or more people. It has a board with a hundred numbered square grids. The board also has numerous 'ladders' and 'snakes' pictured on it, each connecting two specific squares on the board. This game aims to navigate one's game token according to the dice rolls from square numbered 1 (bottom-left square) to the final square numbered 100 (top-left square). Whilst navigating, you climb up if you get on a ladder but slide down if you get on a snake.
Each player is represented by a different game token. Traditionally, a single dice is rolled to determine the movement of one's token. Nowadays, two dice may be used for a shorter game. As mentioned earlier, the boards have ladders and snakes starting and ending on different squares. The duration of the game depends on your luck of landing on ladders or snakes. The less you get bitten by a snake, the quicker you will reach the final square and win the game. On average, this game takes about 15 to 45 minutes to end.
Snakes and Ladders game falls in the category of a race game or a dice game. This game is a simple race that is based on complete luck, and it is easy to learn, hence it is popular amongst young children. That is the reason why we have created a printable Snakes and Ladders game template for your kids. Our black and white template will help your children show their creativity whilst playing the game; let us see how.
How To Use Our Snakes And Ladders Printable (black and white & colour) Templates?
JustFamilyFun's handy printable Snakes and Ladders game is available in 2 different templates ( readymade board and blank templates). Our ready-made game board can be printed off and you can start playing the game straight away. However, our blank templates are created for your children to be creative whilst learning and playing this exciting new game. You get templates for a coloured board, black and white board, snakes, ladders, dice, and game tokens/counters to print out. After you print them out, your kids can colour the board, grab a pair of scissors and have some fun creating their own snakes and ladders game.
How To Play Snakes And Ladders?
The game of Snakes and Ladders can be easily understood by young children as its rules are simple. The following are the rules to play this game using our printable Snakes and Ladders game template.
Each player chooses their distinct game counters/tokens. Thereafter, the players take turns to roll the dice. The player with the highest number would go first, second highest would go second and so on.
The players navigate their counters from left to right, starting at 1, following the numbers on the board, then the next row from right to left and repeat. For instance. if a player rolls a 3, then they would move their counter 3 places.
If a player lands on the bottom of a ladder, their counter climbs up to the square at the top end of the ladder. However, if a player landed at the top end of a ladder, they must stay there until their next turn. The player must not move to the bottom of the ladder.
If a player lands on a snake's head, their counter slides down to the square at the snake's tail.
The first player to reach the highest-numbered square on the board, usually 100, wins the game. To win the game, the player must roll the exact number to get you to the last square. If they roll a higher number than required to land exactly on the highest number, 100, their counter must not move and remain at the current square until their next turn to roll the dice again.
What Are the Benefits of Playing Snakes And Ladders?
Snakes and Ladders game is not only an easy to learn and fun game to play, but it also gives children an opportunity to practise their counting skills. With our black and white template, your children can learn to count the squares quickly as well as practise their colouring.
Are You Ready to Start Playing?
If you are ready to play this game with your friends and family, visit the link to JustFamilyFun's printable Snakes and Ladders game templates. Choose the ready-made or black and white version and get started! Please feel free to let us know how you and your students or family enjoy it. We would love to hear from you.
If you enjoyed playing our snakes and ladders game, please check our other fun family games here.