3 Free Printable Boy Tooth Fairy Letter Templates & Certificates
Is your little boy due a visit from the tooth fairy? Have you been looking for the perfect boy tooth fairy letter and certificate to commemorate the occasion?
Then look no further! Whether he has lost his first tooth and needs an introduction to the tooth fairy, whether the tooth fairy is an old friend or whether the tooth fairy forgot to pay him a visit, we have a letter for you. 
We also have a matching printable tooth fairy certificate to go with each letter.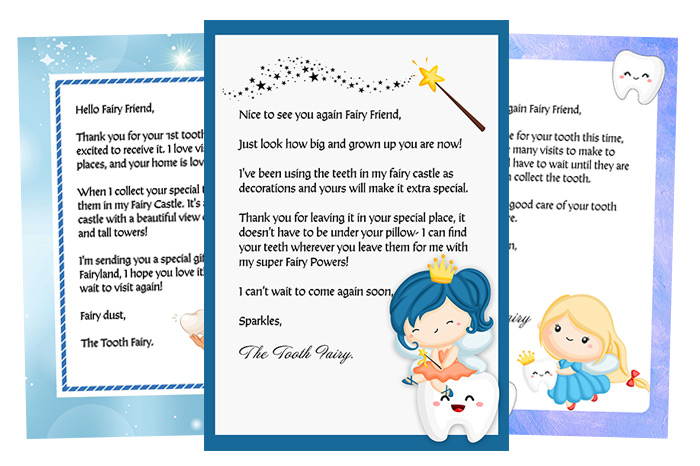 What's Included in Our Tooth Fairy Letter for Boys Package
We have three boy tooth fairy letter templates to choose from, each with a matching certificate! There's one letter especially for the loss of the first tooth, and the other two letters can be used for any tooth.
First Tooth Fairy Letter and General Boy Tooth Fairy Letter Templates
The three available options for the tooth fairy notes are:
First tooth fairy letter. Losing his first tooth is a big milestone in any boy's childhood, and you'll definitely want to mark the occasion! The first visit from the tooth fairy is always an exciting time, and your boy will be thrilled to wake up and find his first tooth fairy letter! In the letter, the tooth fairy thanks him for his tooth and says how excited she is to receive it. She also explains what she will do with the tooth, tells him that she's sending him a special gift and says she can't wait to visit again. The letter is decorated with a sparkly blue border and a fun graphic of the tooth fairy holding the tooth.


The second letter is particularly handy if the tooth fairy forgot to collect the tooth and leave a gift! The tooth fairy note apologises for the late collection and explains that sometimes she has many visits to make and must wait until the children are asleep before she can collect the tooth. The letter is decorated with a patterned blue border, a charming graphic of the tooth fairy and some incredibly happy-looking teeth!


The third tooth fairy letter is perfect for you if your preference is for the tooth to be left somewhere other than underneath your little boy's pillow. We all know it can be tricky for the tooth fairy to collect the tooth and leave a gift without waking your little angel up! This tooth fairy note explains that she can find the teeth anywhere they are left by using her super Fairy Powers! The letter is decorated with a plain blue border, a graphic of the tooth fairy sat on top of a cheerful tooth, and a wand shooting out a trail of stars.
Printable Tooth Fairy Certificate Templates
Our three printable certificates have been designed to be left with the boy tooth fairy letters as a matching set. Each tooth fairy certificate template features the same designs and fun characters as the boy tooth fairy letter templates. Completely free, you can print one out for each tooth loss to present to your son every time he loses a tooth along with the letter.
Have you been looking for some ideas on how to make the tooth fairy visit even more magical? Here at Just Family Fun, we have a few ideas on how to make the most out of the tooth fairy experience!
It may be traditional to leave money in exchange for a tooth, but many families are branching out and leaving different gifts instead. Books, toys, or collectable cards often go down a treat! Being the tooth fairy can be an expensive job though so if you're looking for a gift that won't break the bank, why not check out our colouring pages, games and puzzles or fun printables? There's something for everyone and they are completely free of charge, just print one off and leave in exchange for the tooth!


If it's practical to do so, you can sprinkle the tooth fairy letter, certificate and gift with fairy dust (also known as glitter!)


If you have a doll to hand, you can also use this together with the fairy dust to leave some fairy footprints along the windowsill.


As we mentioned in our second tooth fairy letter, the tooth fairy can find the tooth even if it's not left under a pillow! If you are finding it difficult to collect the tooth without disturbing your son from his slumber, why not encourage him to find somewhere else to leave his teeth? If you have an empty box or tin, you could ask him to decorate it with his drawings of the tooth fairy and make it his special tooth box!


Tooth fairy doors are all the rage now! How else will the tooth fairy get in if she doesn't have a door? If you're feeling crafty, you can make the door together, else you can buy one.


Ask your little boy to write a nice letter to the tooth fairy to leave with his tooth. As well as practising his handwriting, it'll be super exciting when he receives his tooth fairy letter back! Who wouldn't want to have the tooth fairy as a pen-pal?
Conclusion For Our Boy Tooth Fairy Letter Templates
Losing baby teeth is a big occasion and we hope that our free printable certificates and tooth fairy letters help your family to enjoy the magic of the tooth fairy!
If you are looking for ways to monitor and record the journey, why not also print a copy of our tooth loss charts?
Please also don't forget that the tooth fairy can work some magic for you. If it's a struggle to persuade your child to brush their teeth, remind them that the tooth fairy won't collect a tooth that hasn't been well-cared for! 
If you've found some creative ways to bring the tooth fairy to life alongside our free tooth fairy letters and certificates, please feel free to share your stories and pictures with us on Facebook, Twitter or Pinterest. We love to see our printables being put to good use!