Printable Tooth Fairy Letter For Girls
Are you looking for the perfect girl tooth fairy letter and certificate for your daughter? Here at Just Family Fun, we have created the perfect tooth fairy letter and certificate to help you to mark and celebrate the occasion! Whether she has lost her first tooth or whether she's been visited by the tooth fairy before, we've got you covered.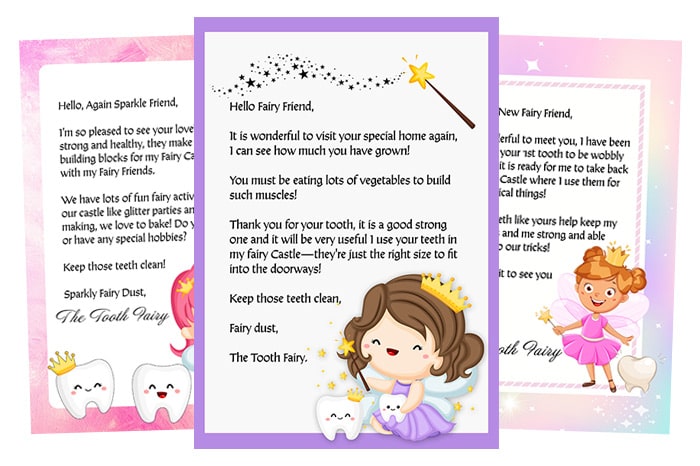 What's Included in Our Tooth Fairy Letter for Girls Package
We have three girls tooth fairy letters to choose from. There's one letter especially for the loss of the first tooth, and the other two letters can be used for any tooth.
There is also a certificate designed to match each letter.
First Tooth Fairy Letter and General Tooth Fairy Letters
The three available options for the tooth fairy notes are:
The first tooth fairy letter that we have can be used following the loss of any tooth. In the letter, the tooth fairy says how pleased she is that your daughters' teeth are so strong and healthy as they will make good building blocks for the fairy castle. She tells her what fun fairy activities they do in the castle and asks whether she has any hobbies. She reminds your daughter to keep her teeth clean, which we are sure you will appreciate if you've been having any problems with getting your daughter to brush her teeth! The letter is decorated with a patterned pink border and a gorgeous graphic of the tooth fairy and three happy teeth.


The second letter can be used for any tooth after the first. In the letter, the tooth fairy tells your little girl that it's wonderful to visit her again and tells her how much she's grown. She thanks her for the tooth and says how useful it will be in the fairy castle. The letter is decorated with a plain purple border, a graphic of the tooth fairy with two teeth, and a wand shooting out a stream of stars.


The third letter is for the loss of her first tooth. Losing her first tooth is a special occasion and what better way to celebrate than giving her the first tooth fairy letter! The first visit from the tooth fairy is always an exciting time, and your little girl will be thrilled to wake up and find her first tooth fairy letter! In the letter, the tooth fairy says how wonderful it is to meet her and tells her that the tooth will help her to do lots of magical things. She tells her that her beautiful tooth will help to keep her and her friends strong so they can fly and do their tricks and says she cannot wait to see her again. The letter is decorated with a sparkly pink and blue border and a fun graphic of the tooth fairy holding a tooth.
Printable Tooth Fairy Certificate Templates
We have three printable certificates for you to download and leave with the tooth fairy letters. They are completely free, and each tooth fairy certificate template features the same designs and fun characters as the girls' tooth fairy letters. Every time you print a tooth fairy letter for your daughter, you can print off the matching certificate to leave with it. As well as helping to add to the thrill of the tooth fairy visits, if your child has been scared by the experience of losing teeth then a certificate is a brilliant way of rewarding her for her bravery.
We love the excitement that the tooth fairy brings to children, so we have compiled a few ideas to help you to make the most of this magical time!
We know that being the tooth fairy can be a costly job. Instead of leaving money or an expensive gift, consider leaving colouring pages, games and puzzles or fun printables It creates just as much joy and any of our free printable activities will keep your daughter entertained for a while!


Stock up on glitter and sprinkle the tooth fairy letter, certificate, and gift with some fairy dust! It's also fun to use a doll and glitter to create fairy dust footprints in your daughter's bedroom.


If you have used the letter in which the tooth fairy asked your daughter if she had any hobbies, you could ask her to write back to the tooth fairy to thank her for her visit and tell her what hobbies she has. As well as the fun of befriending the tooth fairy, your daughter will be able to practise her handwriting.


Why not arrange for the tooth fairy to leave something behind? There will be wonder in your daughters' eyes when she wakes up and finds a tiny sparkly fairy wand has been dropped near her bed! She can use it to practise her own magic skills, or else she might post it back to the tooth fairy with her letter.


Tooth pillows or pouches are exceedingly popular with kids and parents alike. Having a special miniature pillow to tuck the tooth into adds to the fun for children, and the parents like it because helps the tooth fairy to reach the tooth much more easily without disturbing the sleeping beauty. You can make one of these yourself at home or else they are available to purchase.
Conclusion On Our Tooth Fairy Letter For Girls
Losing baby teeth is a big occasion and we hope that our free printable certificates and tooth fairy letters help your family to enjoy the magic of the tooth fairy!
If you are looking for ways to monitor and record the journey of tooth loss, why not also print a copy of our tooth loss charts?
Please also remember that the tooth fairy really is a magical being and as such, she can give you a little extra help with asking your daughter to be good. The tooth fairy has no interest in collecting teeth that haven't been brushed well, and she certainly doesn't want to be flying into messy bedrooms!
If you've used any of our tooth fairy tips alongside our free tooth fairy letters and certificates, or if you've had any great tooth fairy ideas of your own, please feel free to share your stories and pictures with us on Facebook, Twitter, or Pinterest.  
Please check out our ultimate tooth fairy letter package here.