Christmas is coming and it's the perfect time to develop your kids' creative talents in a fun and festive way! As the days get shorter this is the perfect activity to ensure that each gift is personlised and your children are amused. These free, printable, Christmas gift tags will not only liven up your gifts, but they will get your family in the festive spirit!
What's Included In Our Christmas Tag Pack?
You will get twelve fun and festive designs to pick from!
Your child can choose from a smiling Santa, a happy snowman, a cheeky elf, or colour and create their perfect Christmas tree.
Whatever they pick, your child will create something unique and fun to add that extra little bit of love to your presents.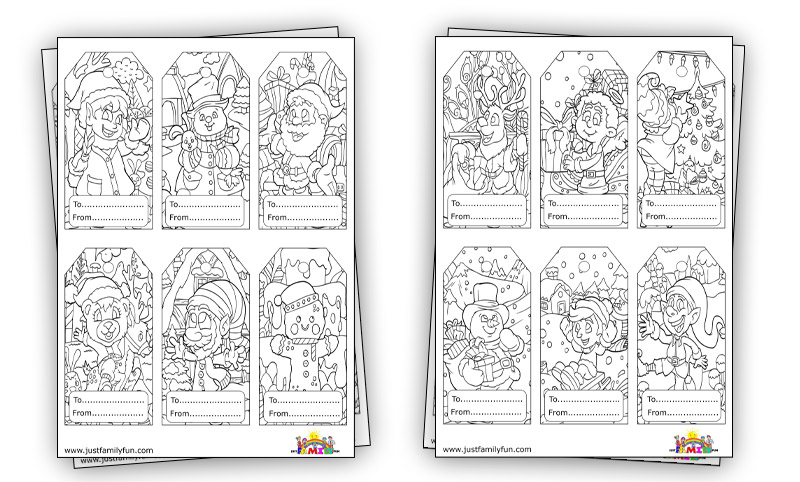 The templates include a hole to use for a ribbon to attach it to the presents as well as 'To' and 'From' information.
How To Make Our Christmas Tags
Tag choice

 – Have your child select their favourite design and print it out. Our designs can be printed onto paper or card – depending on your printer.
Top Tip – If your printer can't handle card, print onto paper, and then glue onto card before cutting out. This will make the tag stronger!
Cut it Out – Your child may need help to cut out the tag template or they may be able to handle this by themselves.
Top Tip – Don't forget to create the hole for the ribbon to go through! It may be useful to use a hole punch as the hole is small or a pencil.
Creative Tip– Add some green or red ribbon for extra Christmas cheer!
Bring it to life

 – If using a black and white image it's time to have fun colouring it in.
Top Tip – If you have any exciting extras lying around the house, they can really add to the aesthetic of the tag. Add some glitter to make those decorations sparkle. Add pompoms to create that snowy effect! Think outside the box!
Attach the Ribbon – Use a hole punch to create the ribbon hole or use a pencil to stab through it. Add some string or ribbon and tie it at the end ready to pop on the presents when they are wrapped.
Creative Tip – If you have a bit of left-over tinsel this can be a great attachment in place of the ribbon. You might need a bigger hole though!
Congratulations – your tag is complete and ready to pop on a present.
Enjoyed this?
Check out our other festive activities. Why not have a Christmas party with our Christmas jumper design competition and seasonal wordsearches. Send and receive a letter from Santa or just make worksheets more fun with our Christmas worksheets!