It's that time of year again! When the mince pies, the hot chocolates, the candy canes and Christmas tree decorations all start to appear….
And yes, it's also time to hunt out those Christmas jumpers that have been hibernating in the back of the wardrobes, just longing to be rediscovered and shown off in all their glory!
We, here at Just Family Fun, would love you, our readers, to go WILD with creativity, and a bucket load of sparkles, to design your own festive and cheery Christmas jumper. We have provided you with a FREE downloadable template to get you started! Download it here.
So dig out the glue sticks and glitter, don your aprons and Christmas craft away to your heart's desire!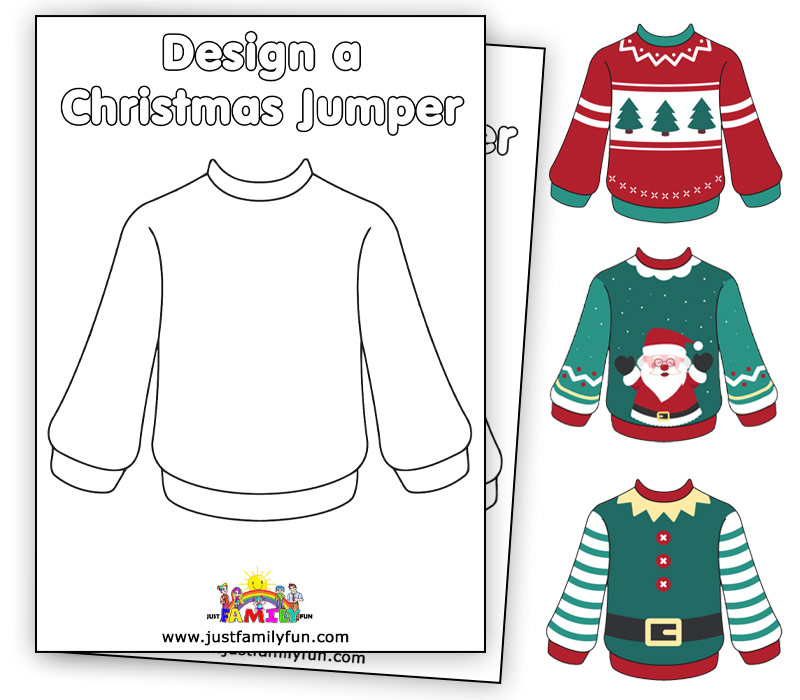 If your fabulously festive design catches our eye you could win one of six super yummy, chocolatey prizes!! We have five small Christmas chocolate hamper boxes to give away throughout the competition. And if you are the overall winner once the competition closes you will receive a large Christmas chocolate hamper, which contains all of your favourite goodies and treats, just in time for Christmas!
Terms & Conditions:
You may enter the competition as many times as you wish.
The competition is open to UK entrants only, and all entries must be submitted by an adult aged 18 or over.
The prizes will consist of five small chocolate hampers and one main large chocolate hamper. The five small prize hampers will be awarded throughout the competition, and the main prize will be awarded once the competition has closed.
The closing date of the competition is Friday 17th December 2021.
All entries must be family-friendly, with no adult images or words.
All entries will be added to our jumper gallery.
The winners will be chosen by the editors at Just Family Fun.
To enter, upload your creation and fill in your details in the form below. In a couple of days you will see your design pop up in our Christmas jumper gallery.
DID YOU KNOW…
Friday 10th December 2021 is Christmas Jumper Day with Save The Children, and already 1.5 million people have pledged to wear their Christmas jumpers. Save The Children is an organisation that exists for the children, to help those that are in need of support with food, medication and education. They provide support to children throughout the UK, and also around the world. For the 10th year running they are holding their annual Christmas Jumper Day to help raise the funds to provide these necessities. So, all over the UK adults and children are pledging to wear their Christmas jumpers to work and school, youth groups and at home, among other places. If you are interested in knowing more about this nationwide event, or would like to sign up to hold your own fundraising Christmas Jumper event then click the link below to go to the Save The Children's Christmas Jumper Day website: