There are so many ways you can use this free printable apple template.  Simply download them and use them as colouring pages, as stencils for arts and crafts and a wide range of learning activities.
The apple template printables from Just Family Fun are a great way for you to get creative with your child without spending ages setting up.
There are three apple templates included, a whole apple, an eaten apple and an apple that's been cut in half.  There is a wide range of activities you can do with the templates.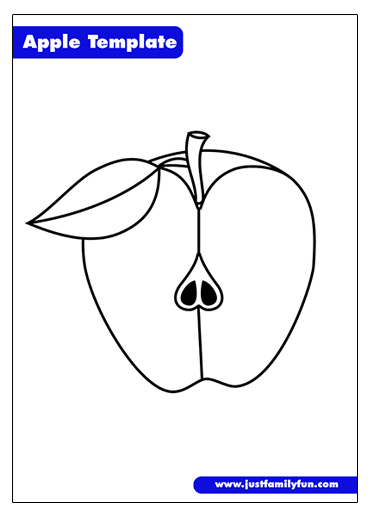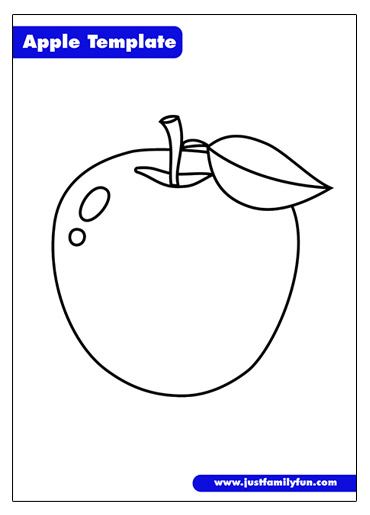 If you are short on ideas of how to use them we've got some great ideas below for you.
What Can Our Printable Apple Template Be Used For?
There is no shortage of things you can do with our apple cutout templates.
Here are some more simple ideas.
Ten Apple Up on Top
One of our favourite ideas is to read Ten Apples Up on Top! by Dr Seuss and then make a tower just like in the book. Print out 10 paper apples and glue them on paper from bottom to top to make the tower.
Make a Bowl of Apples
The printable apple outlines are perfect for children to colour with red and green pens. They can make a lovely colourful basket of apples to celebrate autumn. You can even pop an apple core in the basket. Who ate the apple?
They can even use their colourful apple patterns to celebrate national apple week.
Anatomy of an apple
You can teach your child all about the inside of an apple. First cut a real apple in half. Point out the seeds, flesh, skin, stem, and core. You can then use the apple printouts to recreate the different parts of an apple.
Colour the skin red or green. Use things from around the house like raisins for seeds and a piece of string for the stalk to highlight the distinct parts.
Scrunched Tissue Paper
Children love making tissue paper into balls. Use this idea to make beautiful apples.
Cover the printed outline of an apple with glue. Then stick scrunched up balls of green and/or red tissue paper onto your apple template. 
Conclusion
With so many uses for these printable apple templates, your kids will for sure have lots of fun with these apple templates. We've given you a few ideas but there are hundreds more things you can do with the apple outlines.
Other templates you might like.