Your little fashion designer will have a blast with Just Family Fun's blank white T-shirt template designs. Available in four unique styles, these T-shirt outlines display the front and back of each shirt so your child can fill in every inch with anything they can imagine. Drawing activities are great for a rainy day or anytime and encourage creativity, eye-hand coordination, and self-confidence. From decorating with their own original art or designs to practicing writing words or drawing shapes, the sky's the limit for creative fun with these outlines. Just download and print the template PDF of your choice and you and your little one are ready to create!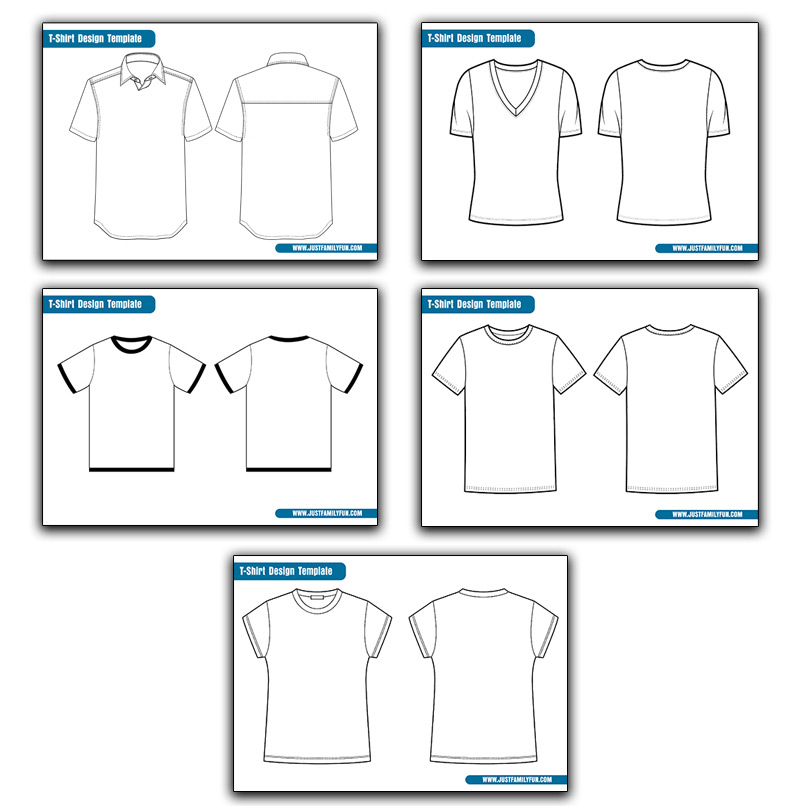 Creative Design Session
Print up several of your favorite Just Family Fun T-Shirt design templates and get ready for some crafty, creative fun!
Set out art supplies so your little artist can let their creativity soar. Some suggested materials are:
Crayons
Markers
Colored Pencils
Paints
Glitter and glue
Letter Stencils
Child safe scissors so they can cut out their shirt designs
Need Some Theme Ideas?
Suggest these fun themes to help get the creativity flowing!
Create a T-shirt featuring your child's name front and center and have them decorate it with drawings of their favorite things.
Design an amazing T-shirt and pretend it's for their favorite character to wear.
Design a shirt specifically for a family member or loved one based on that person's favorite things.
Print up a photo of your child and their best friend, cut out the faces and glue them to the T-shirt template. Now decorate it with things they both love.
Design a fan T-shirt for their favorite musical artist or personality.
Design a brand new shirt for their favorite sports team.
Create a T-shirt all about their favorite animal.
Design a themed T-shirt for an upcoming holiday.
Design an alphabet-themed T-shirt featuring a letter of their choice front and center and decorate the rest of the shirt with pictures of their favorite things that begin with that letter.
Bonus Tip: cut out and string together your t-shirt designs for the whole alphabet and make an educational banner.
T-Shirt Color Game for Hands-on Learning
Letting kids get their hands busy creating their own learning tools expands their understanding of subjects and brings learning to life. For a fun, hands-on learning game download Just Family Fun's shirt PDFs and print your desired T-shirt outlines onto heavier paper or cardstock. Have your little learner color each one with a specific color, and cut out the design. Write the name of the color on the back of each T-shirt. Viola! You have color learning flashcards.
Two Ways To Play
Place the cut-outs color side up on a table and have your child point to the color you call out. Flip the cut-out to familiarize them with the written name of the color.
Place the cut-outs color side up on a table and point to a color. Have your child call out the name of that color.
As you can see, there's no limit to the creative fun these T-shirt templates can inspire. Did you and yours create some amazing T-shirt designs? Upload a photo on Twitter and tag us @JustFamilyFun1
We'd love to have a look!
Just Family Fun's Other Templates