Printable Pin The Tail On The Dinosaur
Dinos are a timeless favourite for young kids. Are you having a dino-themed birthday party? Or even just fancy a fun adventure on a rainy afternoon? Then we have the printables for you! Just like Pin The Tail On The Donkey, and our popular Pin the Horn On The Unicorn – we give you Pin The Tail On The Dinosaur!
Each downloadable pack contains a bright, beautiful and perfectly lovable dinosaur and 8 tails. This twist on the classic party game is sure to delight young dinosaur fans. It's a great way to entertain the kids and family members alike.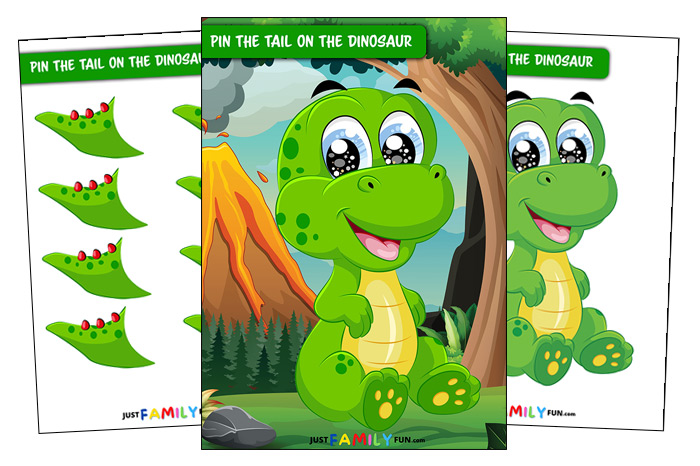 What You Will Need To Play Pin The Tail On The Dinosaur:
Download and print off our Pin The Tail on The Dinosaur pack.
Top Tip: Print directly onto some card or glue the paper tail to the card. This will help your game pieces retain their shape.
Scissors to cut out the dino tails
An adhesive to stick the tails onto the dino. (Depending on the age and abilities of the children, this can be Blu-tack, sellotape, double-sided sellotape, glue dots or even pins. Pins may cause injury. They should only be used with adult supervision.)
A blindfold to cover the eyes – you can use a cloth, sock, scarf, or check out some of our printable kids' masks.
A reward (optional) for the winner, such as a sweet or extra party bag.
The reward doesn't have to be fancy, just something to encourage a bit of friendly competition.
How To Play Pin The Tail On the Dinosaur:
Cut out the tails carefully.
Choose your playing area. Ensure the players won't damage themselves or your stuff while blindfolded. Make sure it's at a good height for kids to reach.
Write player names on each of the tails – to determine the winner.
Give each player their tail.
Who is going to have the first turn? (by age, rolling a dice etc.)
Ready the tails with your chosen adhesive – remember safety first if using real pins!
Blindfold the first player, make sure they cant see and turn them around a few times. Hand them their tail and let them find their way to the dino!
Repeat until all players have had their turn.
Check the results! Whoever gets their tail closest to the right spot is the winner.
Have you downloaded the printable game? Great, Let's begin!
Tip: The players will provide quality entertainment. Remember to capture great videos and pictures to share. Not just the kids, but adults too. What kid doesn't want to watch their grown-ups pinning a tail to the dino's nose!
Now that you've enjoyed a game of pin the tail on the dinosaur, check out some of our other party favourites:
If your child loved this dinosaur activity, you can find other dino-themed worksheets here. We have lots of fun, free and educational activities to combat boredom!
Activities included in this free printable:
Matching shapes
Trace the line
Dino puzzles
Colouring in
Counting
We also have a build-a-dino activity that can be downloaded here. This activity comes with a reference dino image and dino pieces (to be cut out). There's also a blank dino for kids to colour in – encourage their creativity! Use pencils, paint, glitter and glue, feathers, or pasta. Whatever you have on hand, that's not nailed down, can bring this dino to life!
Kids learn best when they're having fun. Appealing to their interests helps them engage better with the task. Here at Just Family Fun, we provide free resources that can be printed as often as you like. If you want to get the most out of your printables (and save some paper) you can use self-adhesive clear vinyl. Alongside a sturdy backing card, you'll be able to keep the printables in good condition for reuse.