Printable Raindrop Outlines
If you're learning about rain, the seasons or weather the simple outlines of a raindrop from Just Family Fun make the perfect resource to use as simple colouring pages, or to create templates or stencils for a variety of crafts and educational activities.
We've included three A4 printable pages featuring different sizes and numbers of raindrops. One has a single large A4-sized raindrop and the others have 4 or 9 smaller outlines.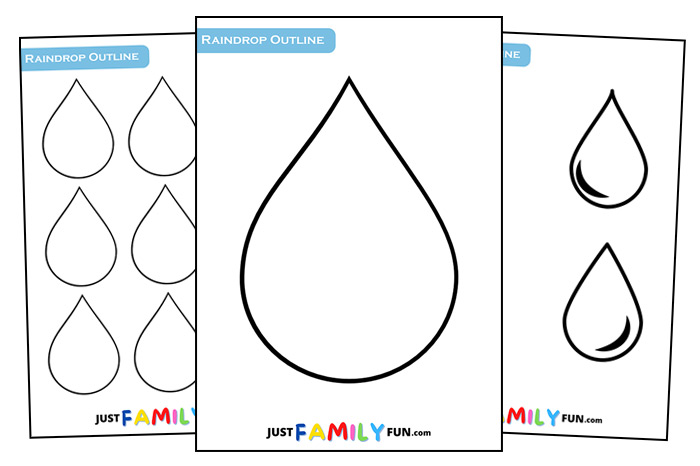 What Can Our Raindrop Outlines Be Used For?
The raindrop outlines are printable so you can download and print as many raindrops as you need for your activities. If you're looking for inspiration here are a few ideas.
Print out several pages of the smaller raindrops, colour them blue or any colour child fancies. Draw a brightly coloured umbrella on a large piece of paper and place raindrops over the page. It makes a lovely wall decoration for the autumn season.
Use one of our cloud outlines, to make a fluffy cotton wool cloud or a yarn cloud and place raindrops attached to several pieces of string hanging from the cloud.
If you have a preschooler who's learning letters, these raindrops make a fun resource to practice the alphabet. Draw a cloud on a large piece of paper, under the cloud write each letter of the alphabet.
Write one letter per raindrop and ask your child to match the raindrop to the letter under the cloud. To make it more challenging you could you lower and upper case letters.
The smell of rain is called Petrichor and rain isn't the teardrop shape that we use to show rain – it's spherical when formed and as they approach the ground the air pressure makes them look like a burger bun.
Whether you're learning about the rain or the weather, singing "we're singing the rain" or just looking for a fun way to pass a rainy afternoon these raindrop outlines make the perfect resource. 
Just Family Fun's Other Outlines