Free Printable Rocket Outline
Any space-loving child will be over the moon about these free printable rocket outline templates from Just Family Fun.
Whether you want to use them to celebrate international space day (in the UK this is the first Friday in May every year), the United Nations World Space Week in October or just introduce the concept of rockets and space these outlines are the perfect resource.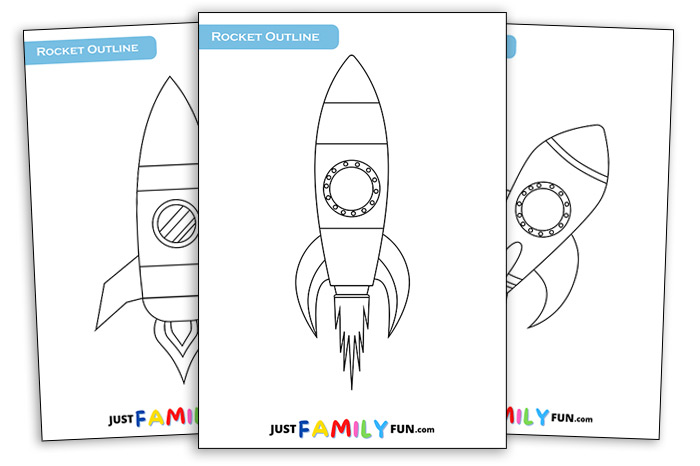 What's Included in our rocket outline templates
In this free printable rocket outline pdf, we've included 3 outlines for you. 2 rocket ships are pointing straight up and one is at an angle.
What Can Our Rocket Outline Be Used For?
There are countless things you can use these brilliant rocket outlines for. Just like all of our outlines they can be used to make free printable rockets that you can cut out and make templates or stencils.
They can obviously be used as simple colouring sheets but once you've coloured them in there are so many things you can use them for.
We've included a few ideas below.
Make Rockets That Really Fly
Colour the rockets and amaze your child with real flying rockets in three simple steps:
Cut out the coloured rockets, and attach a paper straw to the back with tape. Ensure that you cover the end of the straw so no air could be blown through.
Insert a straw with a slightly smaller diameter inside the rocket straw or use a pipette if you have one.
Hold it up in the air, do a count down, and blow through the straw.
Your child will be amazed as the rocket zooms into space….okay maybe not quite that far, but they will love it.
Who doesn't love to see a few rockets dangling from their ceiling?
Print out several of the rocket outlines, colour them in and cut them out. Sellotape some cotton to the back of them. Attach the other end directly to the ceiling or a coat-hanger in you prefer.
Your small person will adore the rockets hanging in their room.
There is no shortage of ways you can use these rocket ship outlines. From real flying rockets to stencils that make the perfect pumpkin carving pattern or even as a simple craft activity after reading amazing books like Professor Astro Cat's Space Rockets or Rocket Girl: A Space Book about Shooting for the Stars & Landing on the Moon!