The free printable anchor template from Just Family Fun is perfect if you're looking for a fun and easy nautical craft project to keep your boat obsessed child occupied. With their simple designs, they're perfect for both younger and older children.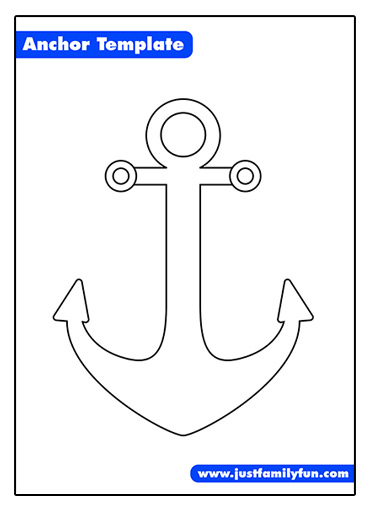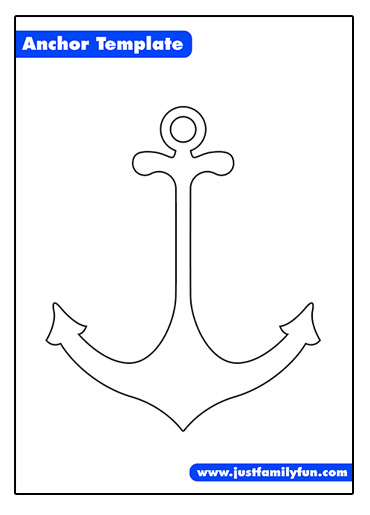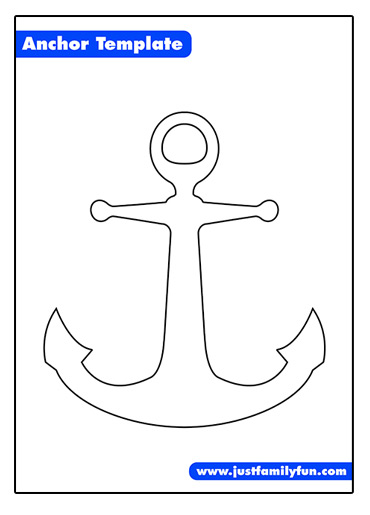 Here's a fact to share with your children about anchors. 
Anchors are usually made of metal or wood. They have two arms that are sharp to enter the seabed. The arms catch the seabed (the ocean floor) to stop boats from moving temporarily.  If a boat wants to be permanently moored a big heavy rock is used. 
Here are some questions you can ask your children if you're learning about the sea.
What is this object?
Who uses an anchor?
Why do they use it?
Where would they use it?
How do they use it?
What Can Our Printable Anchor Template Be Used For?
Our printable anchor templates are perfect to make lots of colourful anchors for a pirate party or decorations for your child's room. 
They make a great resource for craft activities to celebrate Maritime week in the UK or National Maritime Day (USA /Australia). 
If you're struggling to come up with something to use the Anchor template for we have some ideas. Kids will love making any of these beautiful ship anchor crafts. 
So gather up your materials and let's get started!  
Beautiful Ship Anchor Craft
This craft is a beautiful way to teach kids about anchors. You can guide them in making it, or they might do most of the work on their own! 
First, let them choose which anchor template they like best, print it out and cut it out with scissors.
Paint the anchor brown, grey or silver. Leave it to dry and then stick it onto some blue paper or the back of a cereal box your child and you painted blue. 
Now take time decorating the masterpiece with stars, flowers, buttons or draw patterns across both sides.  
Anchors Away
Use your Beautiful Ship Anchor Craft from above for a great bit of role play.
Make some paper chains, using strips of paper. Attach them to the top of your eye-catching anchor and then practice throwing your anchors overboard. Be pirates or sailors on the high seas.
Anchor Colouring Sheet
Print out the printable picture of an anchor and use it as a simple colouring sheet! Whether they colour it in traditional black and white or get creative with different colours, they're sure to have a blast. Plus, they'll learn a little bit about maritime history while they're at it. So grab some crayons and print out this colouring sheet today!
Anchor Stencil
Use the free printable anchor stencil to make a lovely nautical craft. Grab some small MDF sheets, blank wooden squares or wood slices for crafting. 
Then print out your choice of anchor stencil. Cut out along the anchor outline. Both cut out anchor shapes and the paper the anchor has been cut out from can be used as stencils. 
Place the stencil on the wood. 
Use a roller to apply black paint to the stencil. Carefully peel back the stencil to reveal a beautiful anchor. 
You could use the stencil to apply anchors to walls, paper, gift cards or anywhere else you fancy having some anchors. 
Conclusion
We hope you liked our ideas for how to use these anchor templates. There are hundreds of other ways you could use them.  Happy crafting and anchors aweigh! 
Other Great Templates