Free Printable Kids Dino Mask Templates
If you're wondering where you can find a dino mask for play-time make-believe or for a fancy dress costume, Just Family Fun has designed three dino mask templates that you can print, cut out and wear in an instant.
Any dino loving kid or adult will love these printable dino masks that can be used for fun creative activities or as a cheerful resource to introduce the dinosaur topic in key stage one or the reception years. 
Dinosaurs may have been wiped off the face of the earth 66 million years, but since their remains were discovered 200 years ago, dinos have been a huge hit. From the bone wars (1877 to 1892) to current dinosaur discoveries they are a source of great amazement. Children love to learn about them, watch TV shows about them and pretend to be them.
However young or old your child is, they will have a super time playing with these masks.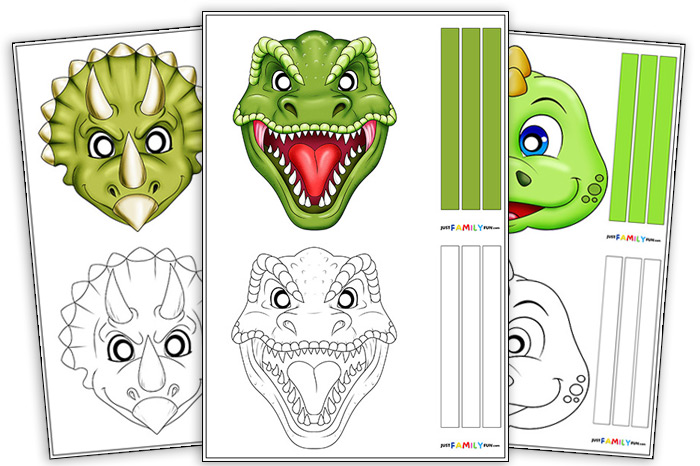 What's Included in our dino mask templaete package
When you download the dino mask template you get three different designs. Each design is available as a full-colour template that's ready to wear or a black and white outline that you're little person can colour in as creatively as they wish.
If you're looking for a T-rex, Triceratops or a Diplodocus we have the perfect pre-coloured dino mask or simple outline for you to print, cut out and wear on the head using the included head strap.
How to Use the Dino Mask Templates
All you have to do is print off your dino mask of choice, colour them in if needed and cut them out. To save your little person from crashing into walls and furniture, don't forget to cut out the eyes.
If you want them to be sturdy it would be wise to print the template on card stock to stick your paper printouts onto cardboard first.
If you want them to last a little longer, so you can use them over and over again you could laminate them.
Each mask comes with a handy strap that you can fix to one side of the mask using sticky tape, and quickly measure it around the child's head before fixing the second side.  
You could also use elastic, so it's slightly more flexible around the head.
What Can Our Dino Mask Be Used For?
Roleplay, colouring pages, decorations for dinosaur themed bedrooms or so many other ways these dino masks can be used to entertain children for hours.
If your little one wants to go out on Halloween as a dino, these make a great resource, colour them in black or other scary colours.
The three dino mask designs provided as a simple outline make the perfect colouring page for preschoolers. Pick your favourite dino, and then explore colouring between the lines. Creatively colour, make and pretend to be a dinosaur! Let you're little one colour them how they like whether that be all black, red, white or even rainbow coloured. 
Raawwww – who doesn't love a bit of dino-themed role-play? These superb dino masks make the best props for children to pretend to be their favourite dinosaur. With these masks, they can charge like triceratops, stomp like a t-rex or reach up high and graze on leaves like a diplodocus. Ask your tiny person to give their mask a name as you start your roleplay.
Instead of using these dino head templates as masks, you could stick them onto a couple of lollipop sticks, so that the children can hold them up in front of them and put on a little puppet show. Perhaps the triceratops could charge tyrannosaurus Rex or a heard of Dippy's could wander through a forest.
If you fancy being a little more creative than colouring, why not stick furry materials onto the masks. No one knows for sure how dinosaurs looked why not be imaginative, maybe fur, maybe feathers or maybe even stickers if that's what your little one fancies. This activity would work best with the dino mask outline drawing we've included.  
Dinosaurs are the perfect way to introduce how animals eat different food types. T-Rex's eat meat and are at the top of the food chain (carnivores). Triceratops and Diplodocus eat plants (herbivores) and are eaten by the t-rex. Explain how humans are omnivores (eat meat and plants) but some people choose to be vegetarian or vegan.
We hope you have an amazing time being creative, learning and playing with our three different dino masks. They are free, downloadable and printable. Feel free to print as many of the dino mask pdfs as you need to entertain your children. 
other fun dinosaur activities