10 Printable Kid's Thank You Notes
Teach your children how to show their appreciation for others by using our printable kid's thank you notes. With over nine designs for your little ones to choose from, they can create a heartwarming and meaningful letter for best friends, family members, and favorite teachers.
Whether it's to thank them for their hard work and support or to share their gratitude for a super fun Christmas gift, Just Family Fun's thank you notes are perfect for kids who want to practice reciprocating the love and care they receive every single day.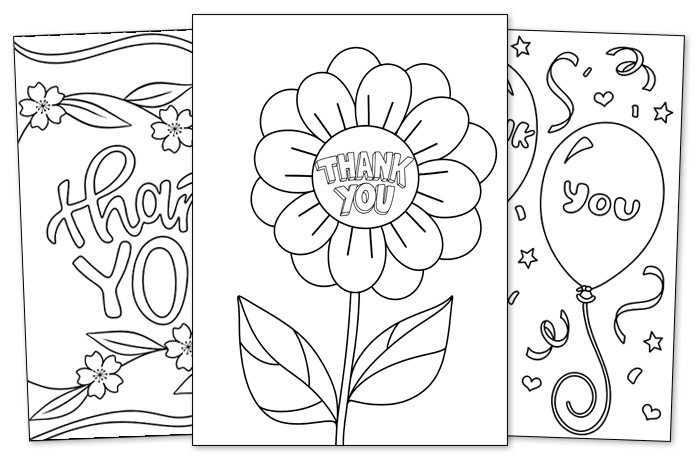 Practicing writing old-school, traditional letters in our family-friendly note cards is especially useful because it supports young children's creativity, grip on pencils, unguided handwriting, producing signatures, and emotional expression. It doesn't matter if they want to draw a picture or compose a poem; these physical note cards are nicer and more personal than a digital email or text message!
What's Included In Our Printable Kid's Thank You Notes:
Just Family Fun's set of free gratitude note cards includes ten different black-and-white designs, ideal for printing onto A4 or A5 cardstock or thin paper.
To start writing your letters, all you need to do is choose your preferred design from our selection of clouds, rainbows, balloons, monsters, flowers, stars, ribbons, hearts, donuts, and even more. Print out your favorite card (or all of them!) using both side print option on your printer, and carefully fold the paper in half.
Your letter will look exactly like store-bought cards but with ten times more personality and for much less of the cost.
When to Hand Out Thank You Cards:
There's no such thing as saying "thank you" too many times! If you need to tell somebody how you feel, write up a sweet message on one of our personalized greeting cards to express your gratitude.
A few times you should consider handing out thank you cards are when people gave you birthday or holiday gifts, came to your party, initiated a play date, helped you with an important task or job, paid you a giant favor, offered advice, invited you to a special event, or had fun with you!
Some people you might want to thank for doing these nice and helpful things are grandparents, teachers, best friends, parents, siblings, bosses, classmates, mentors, and tutors.
How to Decorate Your Thank You Notes:
In the beginning, try setting your kids free to decorate and color in their black-and-white thank you notes as they please. This encourages creativity and allows young children to express their thoughts in a fun way!
If your little ones have mastered the basic art of crayons and colored pencils, try using a wider variety of artistic tools. Safely using glitter glue, sequins, felt cutouts, foam bits, snippets of paper, and scissors with string can improve your childrens' hand-eye coordination and fine motor skills. It will even make the thank you cards more beautiful and meaningful to the receiver.
How to Write a Thank You Letter:
Have you noticed that your kids love coloring in their cards but aren't fans of writing the actual thank you message? Fair enough! It can be boring and time-consuming if you don't have the words to say what you want to say. Well, we have a solution for that!
To spark up the creativity and guide their work, we have composed ten ready-to-go thank you message templates with different styles and vocabulary levels. All your children need to do is copy their choice of these thank you letters onto their printable card and fill in the blanks! Equally, these templates can be used as inspiration for composing their own unique letter.
Best for toddlers:
Dear _______,
Thank you so much for the ______. I really like it! I'm glad you thought of me.
You're my best friend!
From,_______
Dear _______,
I love the ______ you gave me. Thank you for coming to my birthday party! I had lots of fun doing ______ with you.
Thank you again!
Love,_____________
Dear ______,
Thank you for your help with _______. I couldn't have done it without you!
I hope I can help you with something soon.
From,_________
Best for younger children:
Dear _____,
Thank you very much for the _____! I had lots of fun playing with it.
I'm glad you were able to come to my party. Thank you for having fun with me!
Sincerely,______
Dear _______,
I appreciate your support with ________. I was worried about finishing it by the due date, but you helped me complete the project really quickly! You're always around when I need help. Let me know if I can return the favor.
Thanks again,_________
Dear ________,
Thank you for being my favorite teacher! In my opinion, this year's best classroom activity was _____ because ______. You're very good at helping me with _______ and I have learned a lot thanks to your support.
I hope I get to see you next year even though I will have a new teacher. You're the best!
I'll miss you! Sincerely,_________
Best for preteens and young teenagers:
Dear ______,
Thank you so much for your thoughtful birthday gift! I love the ______ and am excited to try it for the first time with friends tomorrow. I have wanted one forever because they look like so much fun.
I hope you're doing well and I can't wait to see you soon. Thank you again for the_____!
Have a great day,_________
Dear _____,
I received your early Easter present in the mail today. I wasn't expecting anything so it was a complete surprise! I appreciate the _____, _____, and ____ you included in the package. You know me so well!
I have already played with the _____. My favorite part is ________ because ____________.
I appreciate all the thought you put into my surprise gift. Thank you so much!
Have a happy Easter Sunday! Love,________
Dear _______,
I'm glad we were able to spend so much time together this week. It was a treat to be able to catch up and hear about _______. We should meet up again sometime soon.
Thank you so much for _______. It was a very thoughtful and unnecessary gift! It made my day to receive the _____ from you. I can't wait to use it for ______.
Let's keep in touch. Thank you again for all the fun we had together!
Best wishes,______
Dear ______,
I wanted to express my gratitude for the time you gave up to provide advice and support last week. Your help with my  _______ made it easier to accomplish, meaning I wouldn't have been able to do it without you! I appreciate that you took the time to help me even though it wasn't your job to do so.
Feel free to reach out if I can provide the same support for you in the future. I want to reciprocate the favor!
Thanks again,________
To make the process of writing thank you notes easier for everybody involved, we at Just Family Fun have compiled a short list of top tips and tricks for you to try at parties and other events.
Make a list of which friend gifted your child each present they received. This way, there is no confusion over where each toy came from and the thank you notes can be specific, showing a true appreciation for your children's friends.


Take candid photos of your children's reactions as they open presents or hear good news and include them in the letter! This is a fun method of continuing the excitement and sharing your children's feelings in a visual way. Along with the DIY thank you card, the photo can be used as a keepsake by family members and friends.


If your little one refuses to write their letter of gratitude, that is okay! Encourage them to draw a photo of their gift or thing they are thanking the receiver for as an alternative.


Help your children practice their signature on a spare piece of paper before writing their thank you notes. Not only will this make their cards look neat and less messy, writing a signature is a crucial life skill that they will greatly benefit from learning early on.
No matter the circumstance, our free, printable kid's thank you notes are a simple and fun way for children to show their appreciation for toys, help, or love they receive from people in their community!
Celebrate your friends, family, and peers by expressing your gratitude with our adorable cartoon thank you notes. From clouds and rainbows to monsters and donuts, we have designs suited for every child's likes and dislikes. If you have used our kid's thank you notes before, you may enjoy other free activities from Just Family Fun! Visit the page to try out our printable kite templates, layers of the Earth worksheet, and free digital photo backgrounds!
Whether you colored in and gave a thank you note or received one from a kid in your life, we'd love to see a snapshot of your card! Tell your story to Just Family Fun to share the excitement.