Bonkers for Biology? We have a fun science activity and worksheet pack that your children will love to have a go at to explore the world of animal cells! They will be able to have a go at labelling, colouring and drawing. This pack is a great way to encourage children to explore biology whilst having fun. Download our Animal Cell Worksheet for Kids – to get started now.
This super cell worksheet is bound to get brains buzzing and grownups will enjoy it too!
What's included in out Animal Cell Worksheet Pack?
Parts of an Animal Cell – Labelled Diagram – Page 1.
Our pack starts with a bright and bold diagram of an animal cell. A clearly labelled cell diagram with all the key terms your child will need to know to understand cell biology. Talk through the diagram with your child and discuss each part of the cell for maximum effect.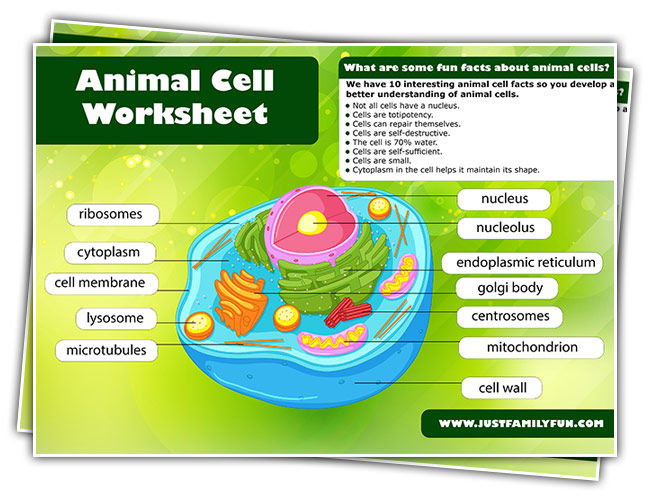 You'll also find 10 fun facts on this sheet to entertain you and your child whilst learning.
What Do the Different Parts of an Animal Cell Do?
Don't panic if you need to brush up on your own cell biology knowledge, we've provided a basic rundown of all the parts of the cell you need to know.
Nucleus – Controls and regulates cell activity.
Cell Membrane – Keeps the cell together and lets things in and out of the cell.
Mitochondrion – Generates energy for the cell to function
Label the Parts of an Animal Cell Worksheet – Page 2
Now your brilliant biologist has all the info they need about the parts of an animal cell, it's time to see if they can label the cell using the information they have learnt. This could be done independently or with a little support depending on how confident they feel.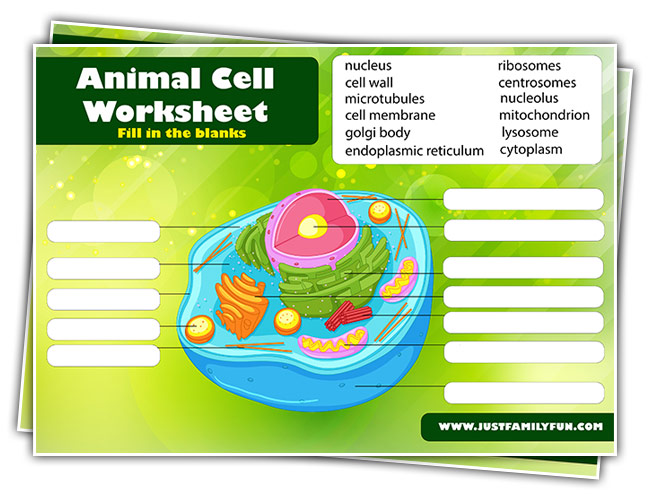 Cut and Stick

– Cut out the names from the key terms book and see if your child can stick them into the correct label boxes.
Look, cover, write, check

– look at the labelled diagram, cover it, write down as many key term labels as your child can remember and then check the answers.
Finish the word

– Write the first 3 letters of the key term and see if your child can finish the word to complete the labels.
Colour in an Animal Cell Diagram – Page 3
Use the coloured key in the top right corner of this worksheet and colour in the cell diagram picture, this is an excellent way to recall the information about each part of the cell. Use the same colours as the previous pictures to enhance the memory of the cell parts and key terms.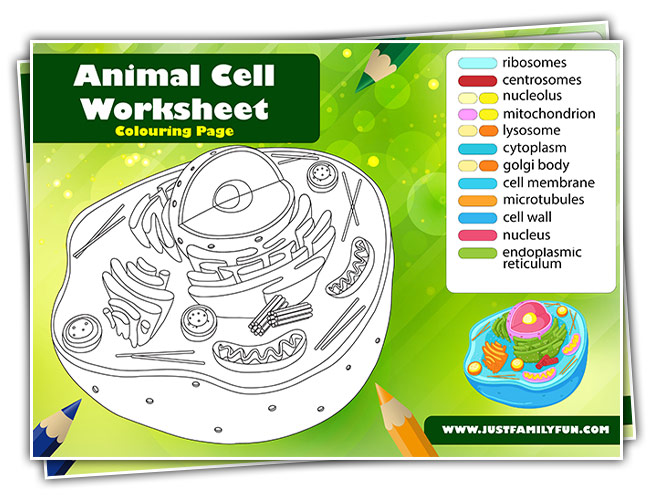 Draw an Animal Cell – Page 4
Finally, to finish up your lesson, encourage your child to have a go at drawing an animal cell, talk thought each part as they draw and colour it and let them try to label it too. This is a really effective way of cementing all the knowledge that they have gained.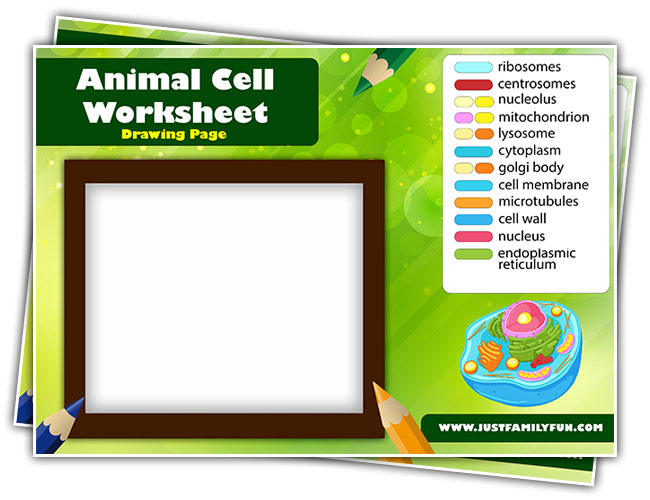 Challenge your child to create an exact copy of the cell they've seen today.
Fabulous facts! See if your child can remember the facts from page 1 and write them alongside their drawing.
Amazing Annotation – Encourage your child to annotate the drawing they have done.
Congratulations! You and your child have now completed the Animal Cell Worksheet pack! Way to go brainy, brilliant Biologists!
Download our Animal Cell Worksheet Here
Did Your Little Scientist Love Our Animal Cell Worksheets?
We have lots more amazing science activities to complete next. How about trying our wonderful weather, spectacular space and mysterious moon interactive worksheet packs?