With the school summer holidays here, it is important to keep the minds of our little ones active. We do not want to waste all that learning they have been doing in school, we want to help them build up and reinforce what they have learned. Here at justfamilyfun we have designed 10 appealing learning space activity sheets for your kids to enjoy.
This downloadable book offers your young ones an insight into the world that he/she lives in. Through fun and engaging quests, they learn about space, the stars, the planet, pollution, and the weather. The activities are designed to help kids think for themselves in a fun way.
Designed with vivid colours and a space adventure in mind, these activities will take kids to the moon and back over 10 pages of delightful Earth and Space themed activities. From Wordsearches to colouring pages, this book has everything you need to keep them occupied in an enjoyable lesson.
Space Activity Sheets Details
The adventure begins with super fun and engaging word search. This can help your child to recognize words, patterns, and, importantly, s-p-e-l-l-i-n-g. Not only will your child have to look for words from the earth to the moon, the bright friendly colours on the page will keep them engaged in the search.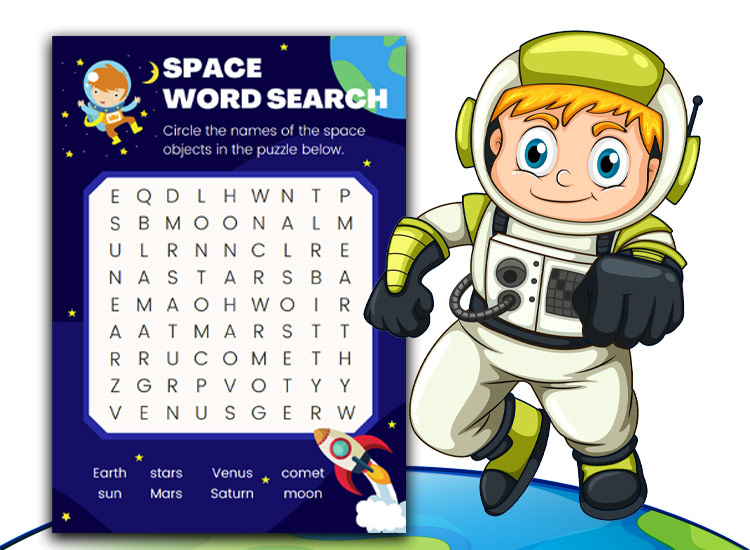 This is followed by a journey to the moon itself! Your child will have heaps of fun working their way through the maze to land their Rocketship on the moon. Everyone loves a good maze; we cannot help ourselves but try to find a way through when we see one. These cognitive skills, all related to our ability to think, reason and remember, are what helps us to find our way when we are lost, not just physically but mentally. Mazes have long been known as a great developmental tool for the mind, and they are simply fun to do, no matter how old you get!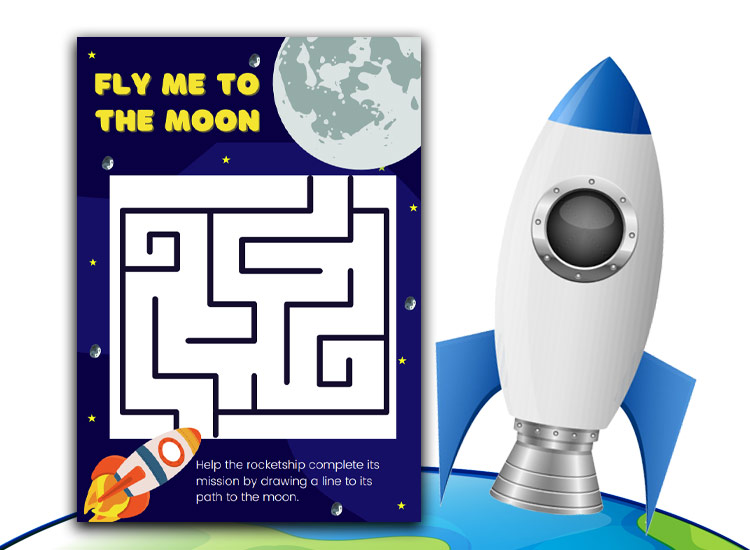 Once the rocket ship has landed on the moon, you can see all of the planets laid out before you. Now is your chance to name the Planets. With some of the words already filled in, you need only fill in the missing letters. A chance to practice handwriting and memory skills. Also, a chance to learn the name of the planets if not known previously. If you can, couple this section with a model of the solar system for great effect.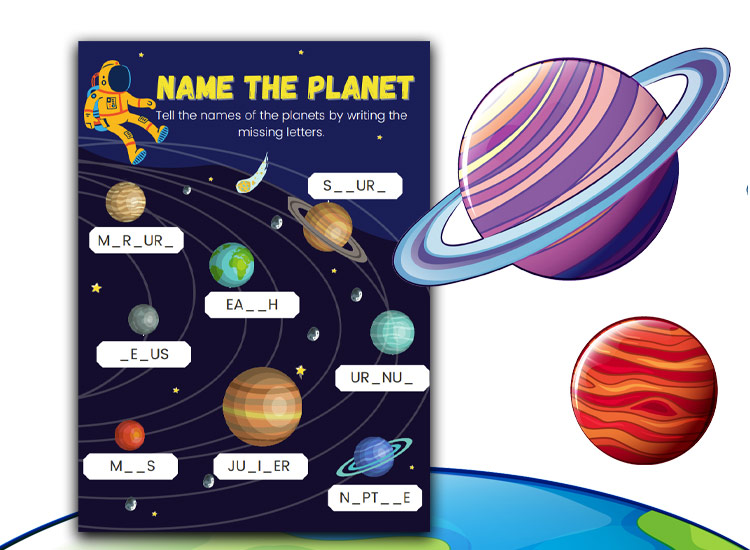 Duck! There are loads of space objects flying about. But can you name them all? This section of the book gives you a list of these things you can see in space, you need only match the word to the object. Simple words like Sun may be easy for your young one to recognize but does your young one understand what a galaxy is? Do they recognize the word for asteroid? With the words and images before them, this section can increase knowledge and understanding while improving their thinking ability.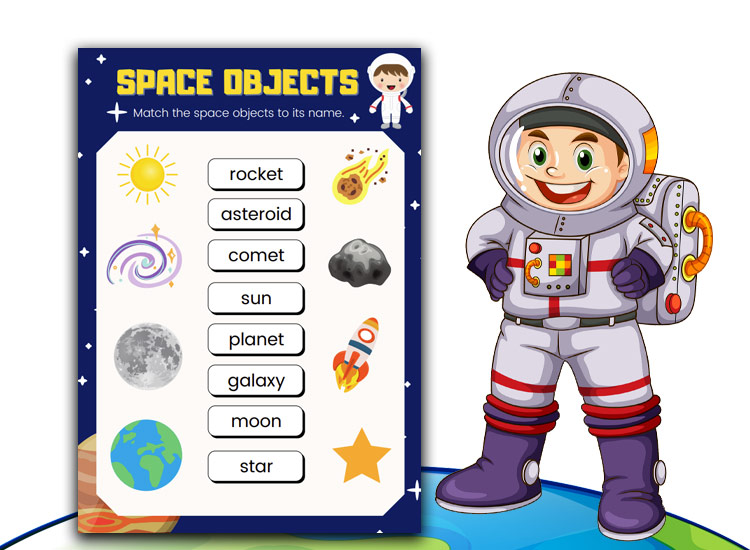 Lookout at the stars. How many patterns can you see? Can you spot any famous ones? At this point in the activity book, we have a well-known star pattern in the setting of a dot to dot. This is a great opportunity for your child to use their number and drawing skills. Dot to dots is a great tool to help children learn how to control a writing utensil effectively in their hands. This improves handwriting as they learn how much pressure they need to apply and how to direct the pen where they want it to go. They will also take great enjoyment in completing a dot-to-dot picture.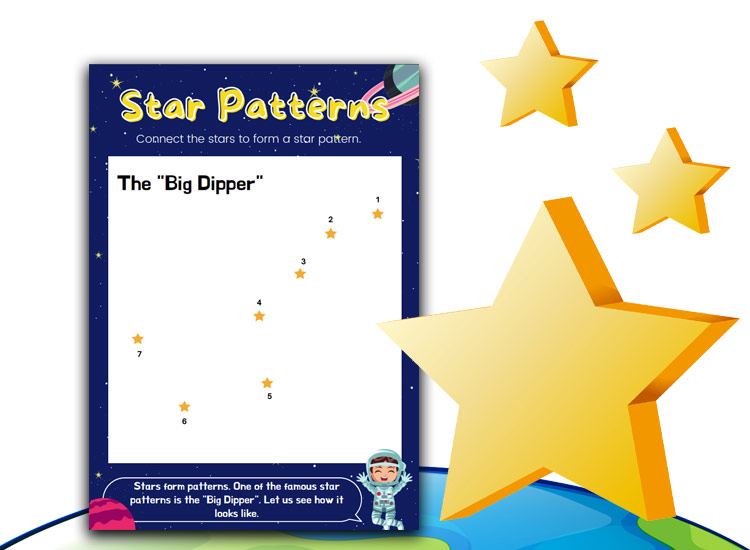 Having arrived back on Earth we are faced once more with the day and the night. Help your child to cut out the four pictures and paste them in the correct spots on the next page. Not only will this open up discussion about playtime and sleep time, your child will enjoy the process of cutting something out and sticking it in a new spot. This concept is full of fun and purpose as the young ones engage with the sticky texture of glue and paper, it also tunes hand-eye co0ordination and planning skills.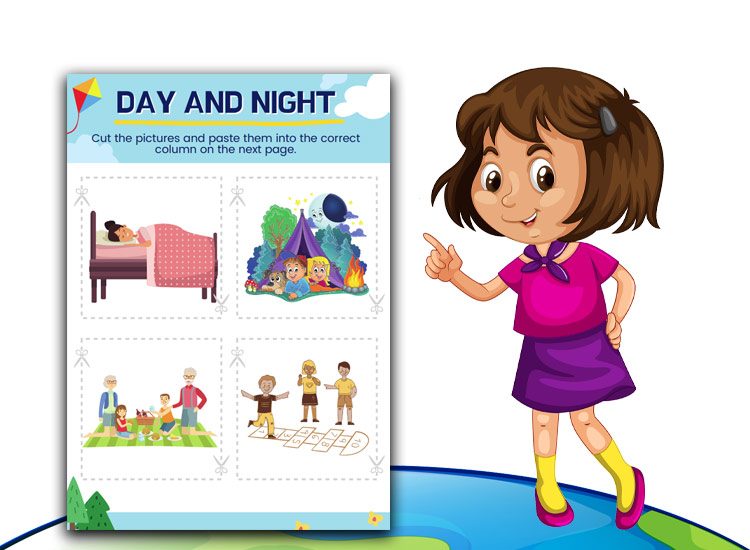 Every kid likes to colour, and since they have recently landed on the moon and seen the earth, they will have a rough idea of what colours to use to make the earth look pretty, right? All you need is a green crayon and a blue crayon. With these two crayons and some numbers to help, your child can enjoy this colour by numbers scene. In terms of helping your child develop to his/her fullest potential colour by numbers increases hand-eye co-ordination and encourages them to focus on the task at hand.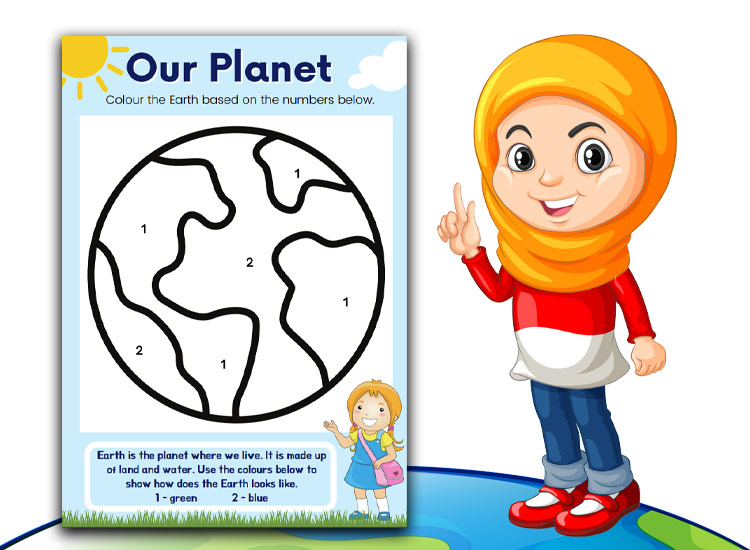 The Earth is in trouble and now it is your child's turn to save it in this fun section of the activity book. Here one needs to circle the pictures that show how to care for the earth. This is a great tool for teaching your young ones how important it is to take care of the planet. As they circle each picture, see if they can explain to you why that picture is good. Ask them why they didn't circle the bad ones. As you do this activity together with your young one you have the chance to see how much they have learned about taking care of their home planet, and a chance to instill in them values that they will keep forever.
Finally, our young ones have the chance to learn about our favorite talking subject. The weather. Here we see many icons depicting the weather and your young one must decide what the icon is showing and write it in the available box. Choices are provided in the boxes below the icons. This activity teaches an activity that we see as simple, reading the weather. It also opens up the discussion with your young ones about appropriate gear for each different weather condition.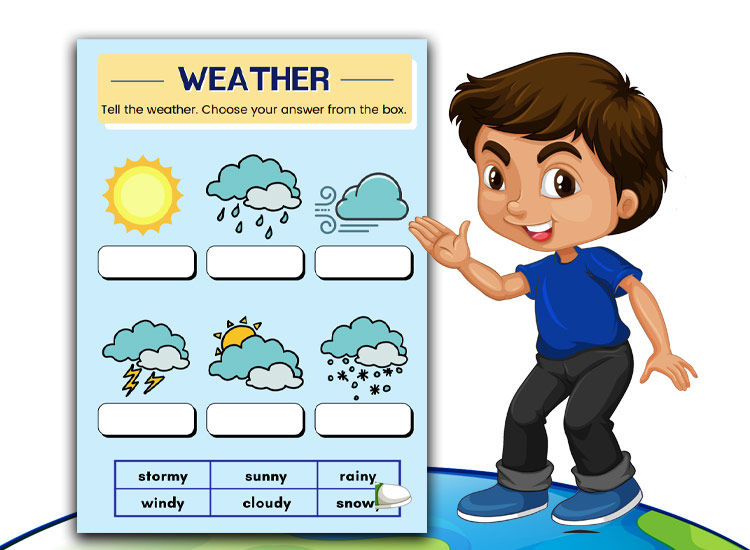 The Earth and Space activity book is a great indoor activity if the weather turns bad, or an excellent tool to take out on a picnic, or a camping trip to keep the little minds occupied.
If you had fun doing our space activity sheets, please check out our other free learning activities here