We all know that one of the important skills for early learning is letter recognition. A child is taught letters of the alphabet before they learn basic words. Are you looking for the best Fun Printable Activities for Kids to learn the English alphabet? How about JustFamilyFun's free printable English alphabet flashcards?
We have flashcards of letters A to Z in lower and upper case with images for your child to have fun whilst learning.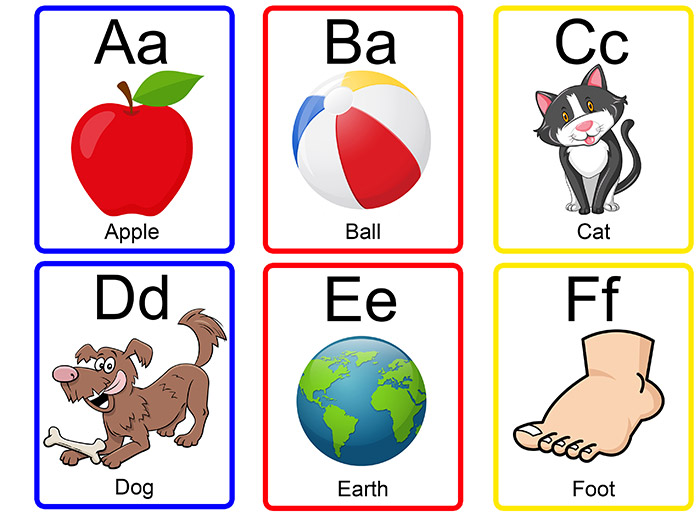 About JustFamilyFun's Printable A-Z Flashcards
Our flashcards are designed for young children to learn whilst having fun. These letter flashcards have clear photos and simple words. It is a great way to introduce letters, basic words, and phonic sounds. JustFamilyFun's ABC flashcards have both lowercase and uppercase alphabet/letters with pictures. These alphabet flashcards are perfect for learning English alphabets for young children. We have these amazing flashcards free for you to download, print and start the learning right away. See how to use our alphabet flashcards in the following section.

How to Use Alphabet Flashcards?
Visit JustFamilyFun's website and download the free printable English alphabet flashcards. Take a printout and cut out the individual letter cards.
Suggestion: To make the cards last longer, you could laminate the individual ABC flashcards.
Tips on Using the ABC Flashcards
We have some quick tips that will help you make the most of these flashcards and have fun with your child.
Get rid of distractions!
To make the most out of playing the flashcards with your kids, make sure the area you choose to play is free from any distractions. It is suggested you put away any toys and switch off any devices that could distract your child.
Play it short and frequent!
You can start playing these flashcards for 5–10-minute sessions and then slowly build up. However, if your kid loses interest, it is a good idea to stop for a longer period and carry on later. It is suggested to have short frequent sessions for young children.
Praise and encourage your child!
Being enthusiastic and encouraging as well as praising your child is very important to make them learn. Fun Printable Activities for Kids is the best way to learn things quicker and stay positive when they see you happy and proud of them.
Make sure your child is attentive!
Trying to teach a tired child can get frustrating. Make sure you use these flashcards you are your child is alert and awake.
Be repetitive!
It is important that you repeat a flashcard many times until each card is known to your child. After a few repetitions, your child will be able to identify the alphabet quickly and easily.
What are the Benefits of Using Alphabet Fla

shcards?
The flashcards are a fun and engaging way for your child to learn how the alphabet has a name, sounds, and is in words. Moreover, looking at the pictures on the flashcards can help your child learn better and have an eidetic memory of the alphabet.
Ready to Start Playing?
If you are ready to use flashcards with young children, visit the link to the free printable English alphabet flashcards and get started! We would love to hear from you! Please feel free to let us know how you and your family or students enjoy it.
PRINT FREE ENGLISH ALPHABET FLASHCARDS
Enjoyed using our flashcards? You might also like our fun colour puzzle game. check it out here.