Is your little one ready to start learning their numbers? Maybe, they need some extra support at home to reinforce what they've already learned? Or maybe they're ready to take the next step to basic arithmetic? These number flashcards 1-100 are a great solution to help your child's development.
These colorful flashcards are perfect, with the ability to learn subsets of numbers at a time. In addition to that, they are a tactile way to help develop your little one's memory.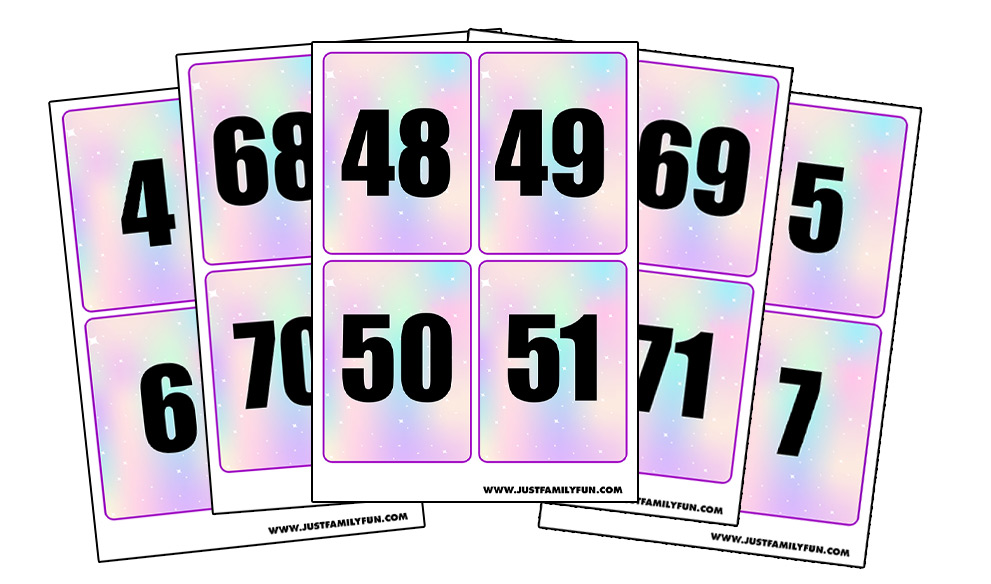 How to use your number flashcards 1-100
There are endless possibilities to help your child's learning with these printable numbers. Here are some of my best suggestions, however, there are more games you can develop to suit to suit the needs of your own child.
Recognition of Numbers 1-10
One of the very first, and most important, things for a child to learn is to recognise the first ten numbers. To help aid your child's learning, simply print these free number flashcards and present them one by one to your little one.
Make sure you show them the card, clearly, saying the name of the number, one by one, and asking your child to repeat the number. Once you believe your child has started to recognise the numbers for themselves, you can begin to present the cards and ask them which number it is. They may be nervous at first, so don't hesitate to help them out if they need it. 
Learn Numbers 1-100
Once they are ready, it is very easy to move your child on to learn the rest of the numbers in these free printable flashcards. Slowly but surely, you can add numbers, working on numbers 1-20, followed by 1-30, and so on. Using the same methods as learning numbers 1-10, your child will be able to recognise and name the numbers 1 to 100 in no time.
For now, make sure to focus just on the recognition of the numbers and don't worry too much about the sequence of the numbers. This will come in time.
Counting Exercises
Another great activity for your child to try is to start counting. Why not use these flashcards and ask your child to arrange numbers in order? As before, start the numbers 1-10. Start by counting out loud to your child, and then count them while placing the flashcards in order.
Once your child has started to recognise the order, why not ask them to put the numbers in the correct order themselves.
A final extension to this exercise is by placing the flashcards in an incorrect order and then ask your child to fix the order.
Learn Basic Arithmetic
Has your child already learned to recognise the numbers 1-100 and to count? Then these cards can also be used to help with basic arithmetic. If you wish, you could lay the numbers out in a 10 by 10 grid. By providing basic sums to your child, you can show them how adding and subtracting works. Try to get them to think of it as if they are moving forward squares on a board game.
For example, if the sum is 5+4, the child can start on card number five, count forward four, and then ask them to read the number they land on. In this instance, the child would read 9. It is a simple but fun game to help with your child's sums.
Learn Languages
Perhaps you are from a bilingual family or your child has mastered English numbers already. Why not take it one step further and introduce a second language into your routine. You can use the same activities as above, but this will help unlock a whole new part of your child's brain.
Top tips for making the most of your number cards
It is important to keep learning a positive experience for your child. Do this, by keeping it engaging and short. The last thing you want is for your little one to become bored.
Always encourage your child
There will always be things that come more naturally to some than others. Numbers may be hard for your little one, be patient and always encourage them.
It may take some time, but your child will get there. Keep at it, repeat exercises, little and often to get the most out of this resource. You will see progress in no time.
If you enjoyed these flashcards, make sure you check out our flashcards below.