Under The Sea Word Search – Free Puzzle
Teach your budding marine biologist all about sea creatures with this free printable under the sea word search. It makes the perfect resource for reinforcing vocabulary when completing the under-the-sea topic in the early years, Key Stage 1 and beyond.  
If you're a parent, word searches are a great way to keep small people entertained for 5 minutes while you cook dinner or when out in a restaurant.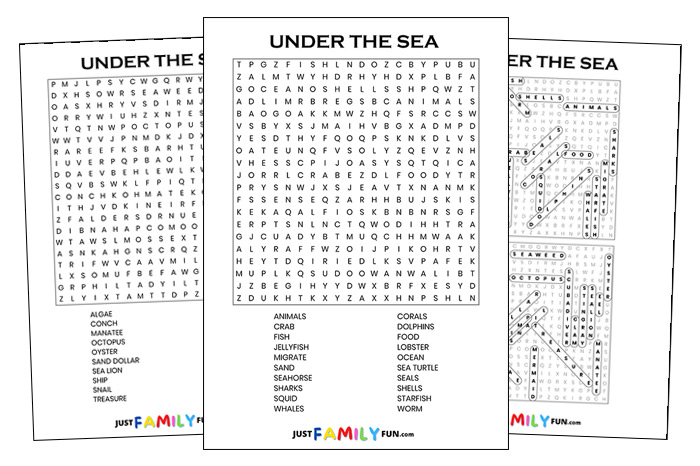 When you download the free pdf you get three sheets which includes
2 different word search puzzle games covering many of the things you would find in the sea
An answer sheet to check your answers against.
The benefits of This Under The Sea Word Search
Just like all of our word searches, this word search is great for helping children (and adults) learn. Word searches teach children to learn
how to spell the names of sea creatures and words you associate with the sea
solve problems
recognise patterns
how to work methodically / develop a strategy
introduce and review marine vocabulary
They're also great fun so children don't even realise they are learning these essential life skills.
What Can This Under The Sea Word Search Be Used For?
This under the sea word search can be used to entertain small people, as a fun activity when they have finished their class work or as homework.
They're great for keeping in your bag and pulling out when you need to occupy your small person.
In addition to being used for KS1 and EYFS under the sea topics, the word search makes the perfect activity to complete on World Ocean Day (June 8th) or when taking part in the Wildlife Trusts 30 days wild. 
How To Use This Wordsearch About Under the Sea
Once you've printed the word search out, pick the word at the top of the list to find. Next
Teach your child to guide their eyes backwards and forwards (or up and down) the lines of letters.
When they see the first letter in the word, scan around that letter for the next letter. If it isn't the word continue your search
If you find all the letters in the word, draw a line through the letters or make a circle around the word.
Cross the word you found from the list
Look for the next letter.
You can make it quicker to complete by looking for two or three words at the same time by committing several words to memory.