Schools out for the summer! It's time to go and have fun. Whether that is going out to explore new places, spend time with the family or try out our summer bingo game.
The sun is shining, the weather is warm and everyone just wants ice cream. Where else is better to take your kids for a free and fun day out? None of than THE BEACH! We all love sunbathing on the sand whilst watching your children have a competition of who can build the biggest sandcastles. However, it is the perfect destination to spot all those summer reminders like swimsuits, sun hat and palm trees.
At JustFamilyFun we have created the free perfect summer bingo printable that will keep your children entertained for hours whether you are at the beach or staying cool indoors. There are many ways to play this fun free printable but here is how we suggest playing it.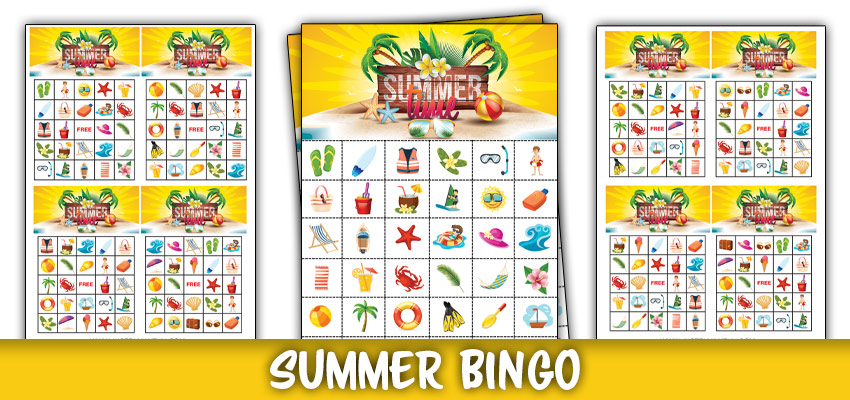 HOW TO PLAY SUMMER BINGO
DISTRIBUTE: Each player should a receive one of our Summer Time free bingo printable. Each card has been designed differently so no two cards are the same.
CALL: Cut up the dotted lines to separate the 36 summer themed pictures and shuffle them into a pile face down.
PICK IMAGE: Choose someone to be the caller. They will pick a picture at random. Then they can either choose to describe what the picture looks e.g if it is a deck chair they could say that 'it is usually a blue and white striped object that you seat in to sunbathe' OR if you have younger children playing it might be best for the caller to just say the object.
MARK: The player will then place their specially designed bingo counters on the image on their bingo card that matches what the bingo caller has said.
WINNING: Once a predetermined pattern is made on a card, the player with that card shouts "Bingo" as loud as they can
HOW TO DECIDE WHO WINS?
Different people play bingo in many ways, hence there are many different patterns that can determine the winner of the game. We have a few recommended patterns that are simple to follow
Blackout Bingo – All images must be covered with our JustFamilyFun Bingo counters to win the bingo.
Lines Bingo – Any images in a vertical (up and down), horizontal (left to right) or diagonal must be covered with out JustFamilyFun Bingo counters to win the bingo.
T's/U's Bingo – All images in the shape of a right-side up, upside down or sideways capital T or U must be covered with out JustFamilyFun Bingo counters to win the bingo.
If you had fun with this free printable Summer Bingo game, why not check out our other fun family games here!
We recommend to ensure keeping the game in its highest quality to laminate the cards, so that they will be more durable and are also able to be reused without constantly printing a new set over and over again.
If you had fun playing our summer bingo, why not try our birthday bingo game.
Stay safe,
Gavin