Printable Robot Craft Templates

In our era of technology the fascination, with robots has captivated people of all ages. If you're searching for a thrilling and educational way to involve children in a hands on crafting experience look no further than the realm of "Robot Craft." and build your own robot.
In this blog post we'll explore the world of creating robots delving into what this imaginative activity entails how to utilize the provided templates enjoyable activities to engage in with your robot creation and why this craft is a means to nurture your childs creativity.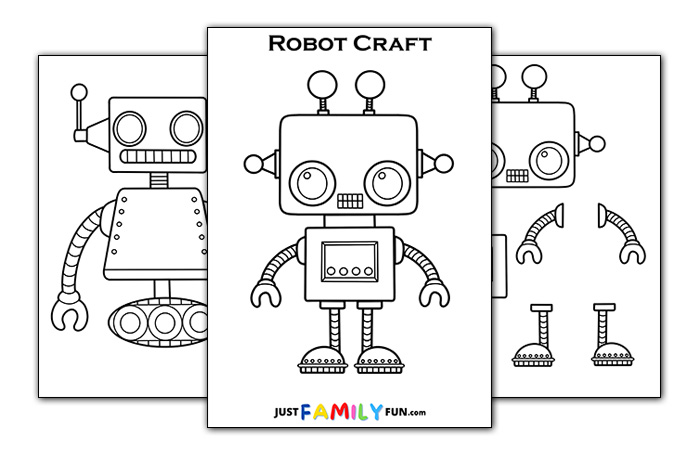 What's Included In Our Printable Robot Craft Templates
Robot Craft offers everything for a crafting adventure;
Creatively Designed Templates;

Carefully crafted templates that are meant to inspire and excite children as they assemble their one-of-a-kind robots.



Easy to Cut Pieces;

Designs that're kid friendly and make cutting out the parts a breeze ensuring frustration crafting.



Limitless Customization;

Each template piece serves as a canvas for personalization allowing for choices, in colors and additional details.



Engaging Robot Components;

From robot arms to faces the templates encompass all the vital elements needed for an endearing robot.Educational Opportunity; Kids can have a time while learning about shapes, spatial relationships and the joy of hands on creation. With Robot Craft there are possibilities just waiting to be explored.
How to Use The Robot Templates
Using the templates, for Robot Craft is a process that aims to maximize enjoyment and creativity. Follow these steps to embark on your robot crafting journey;
Download the Templates;

Simply click on the button located at the top of the page to download the Robot Craft templates. Make sure you have a printer ready so you can bring your paper robot to life.



Gather Materials;

Along with printing out the templates gather some scissors coloring materials like markers, crayons or colored pencils and glue. Having everything, in one place will make your crafting experience smooth and hassle free.



Coloring and Personalization;

Decide whether you want to color your templates or after cutting them out. Let your creative side shine as you give each part of your robot its vibrant personality.



Cutting with Care;

Under adult supervision carefully cut out each piece of the template. The templates are designed for cutting so that kids can actively participate in a manner.

Construct Your Robot;

Lay out the cut out pieces. Begin assembling your robot. Follow the provided instructions to attach the arms, legs and the quirky robot face.



Bring Your Robot to Life;

As you glue each piece in place witness your creation take form and come alive. Experience the satisfaction of crafting something with your hands.



Add Personalized Touches;

Remember to incorporate details or embellishments to make your robot truly unique. Let your creativity shine as you adorn your creation with elements.
Fun Activities To Try With Your Robots
Embark, on an Adventure Story;

Create an adventure tale where your robots become characters in a journey. Design. Challenges for them to overcome, igniting storytelling.
Puppet Show Extravaganza;

Transform your robots into stars of their puppet show. Craft paper puppets, for each robot. Let your childs storytelling skills take center stage.



Tea Party;

Why not host a tea party with a twist? Invite your friends and their imaginative creations to join you for a whimsical gathering.
Dance Party;

Turn up the music. Let your creations showcase their dance moves! You can even organize a dance-off. Put together a choreographed routine allowing everyones creativity to shine.
Olympics;

Create an Olympics exclusively for your creations! Set up challenges, like race jumps and balance tests using everyday household items.
Art Gallery;

Transform your space into an art gallery to proudly exhibit your creations. Design special invitations, give each creation a title. Let your child play the role of curator for the day.
Obstacle Course;

Get creative by constructing an obstacle course using items from around the house. Challenge your creations to navigate through the course promoting problem solving skills and inspiring creativity.
Science Chat;

Introduce children to concepts of robotics through engaging discussions. Talk about the functions of parts and how they relate to real life robotics in a way.
Photo Shoot;

Capture the personalities of your creations through a fun filled photoshoot! Experiment, with poses, backdrops and lighting techniques to truly bring them to life.
Family Playtime;

Enjoy some quality family time by engaging in a session where each member gets to create their unique addition or character.
Play Hide and Seek;

Hide your creations, in spots around the house and challenge your child to find them. This adds a twist to the game.



Embark on a Treasure Hunt;

Create a treasure hunt with clues and riddles using your creations as guides. Let your child enjoy an adventure while searching for treasures.



Journaling Fun;

Make a journal where your child can write stories draw pictures or jot down their thoughts and ideas about their mechanical friends.



Runway Fashion Show;

Get creative with craft supplies and design outfits and accessories for your friends. Host a runway show to flaunt your ensembles.



DIY Decorations;

Incorporate your creations into home decorations by hanging them from the ceiling creating a mobile or using them as party decor.
These activities not prolong the joy of crafting but foster imaginative play, creativity and exploration. The world of robots offers opportunities, for laughter, learning and unforgettable moments.
If you're looking for robot crafts you should definitely visit thiscraftfamily.com. They have a project that cleverly transforms toilet paper rolls into adorable robots. However if you'd rather immerse yourself in a world of family fun we also offer a range of captivating cut out characters. Just click here to begin your entertaining journey.