3 Printable Cupcake Outline Templates
If you have a little one who loves cupcakes they will love these mouthwatering cupcake outlines for colouring, crafting or decorating.
The cupcake outlines are simple to use. Simply download the black and white PDF file and print it off. Cut it out if you wish to use it as a stencil, template or art project.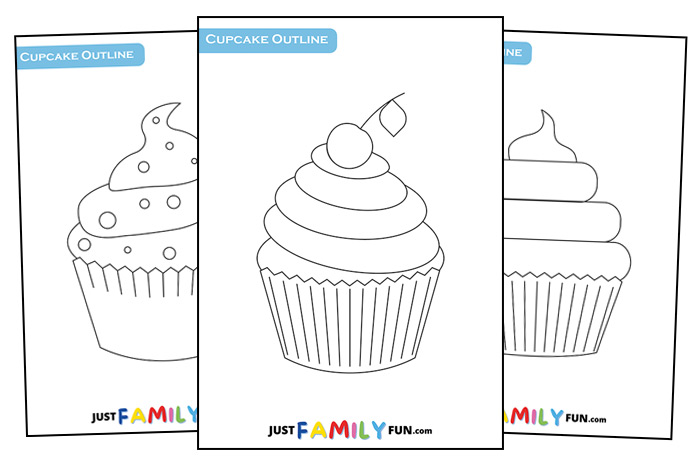 What's Included In Our Cupcake Outline Templates
Our cupcake outline package features 3 different cute designs. Each cupcake drawing has a black and white outline so they can be coloured in or used as a stencil or template. The designs include a cupcake case with the following toppings
icing swirled high on top
a cherry on top of the icing
icing with sprinkles sprinkled around
What Can Our Cupcake Outline Be Used For?
The cupcake outlines can be used in several ways including
simple colouring pages
art projects
templates or stencils
cut and paste activities
Print out your template of choice and cut it out. The children could simply colour the cupcake outline or even use a variety of different materials to create a 3D collage!  Glitter makes a great sprinkle effect.
Use card stock for cakes that are slightly stronger.
Make your cupcakes stand up by placing a strip of card on the back of the cake. Your little ones may like to make a whole plate of cupcakes.
Ask the children what name they would give their cupcake and what flavour it would be.
Make a selection of cupcakes using the instructions above. Display them nicely on a table or chair.
Shop play is an amazing way for kids to learn math and explore entrepreneurship. By using some small change or a play money set ask the children to buy and sell the cakes. This will give them the opportunity to give each other change and calculate totals. It also gives them a chance to explore budgeting – when they can afford to buy and select the correct amount of coins.
Celebrate National Cupcake Day
Little ones love a cupcake so why not make a fuss when it's national cupcake day? The date this day is celebrated depends on where you are in the world. In the USA they celebrate annually on December 15th.
In other countries, the national day of celebration is used as a way to fundraise. The Canadians fundraise for SPCAs, humane societies and rescue groups. In the UK we bake for dementia happens over a few days – the 25th April – 1st May.
Mark the occasion by getting children to colour or design their own cupcakes on paper.
Turn the craft session into a history lesson by telling the children a few facts about the cupcake's past.
It's thought that Amelia Simmons' 'American Cookery' in 1796 makes the first reference to small cakes being baked in small cups rather than a later cake.
The first reference to the word cupcake was in the 19th century by Eliza Leslie in her cookbook 'Receipts'.