Printable Bird Outline Templates
These bird outline templates from Just Family Fun make the perfect patterns to download and print for a range of arts and crafts, displays, stencils, scrapbook projects, or writing frames.
They make brilliant colouring pages for young children to reinforce fine motor skills and superb for older children to use as inspiration for independent writing.
Older children or adults might like to use the bird templates as printable bird sewing patterns or carving patterns.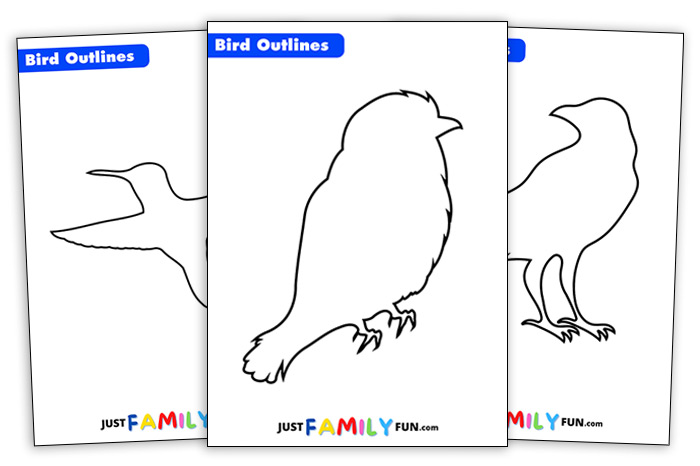 What's Included In Our Bird Outline Templates?
The free, downloadable, and printable PDF includes 9 different bird outlines, 7 of which are birds in flight to use for any craft, sewing, art, or educational activities you wish. There is one bird per A4 page in a strong black outline.
What Can Our Bird Outline Be Used For?
Birds outlines can be used for a huge variety of things including templates for crafts or patterns for sewing, carving or stencilling onto walls, clothes or cards.
The bird patterns make superb colouring sheets. Let your little ones make decisions about what amazing colours their bird should be. Let them practice their colouring skills and be creative. Use paints, crayons, felts tips, or coloured pencils.
Why not grab some craft feather. Ask your young one(s) to cover the birds in glue and stick the feathers all over the bird outline to make a beautiful bird.
To use the bird outlines as a stencil or template, simply print the bird of choice onto craft paper. Cut out the bird along the bold black line and you have a superb bird template to use for any craft activity you can think of.
You could use these superb templates and ideas to celebrate Bird Day. It's celebrated on May 4th in the USA and on January 5th around the world. Use these bird templates for crafting activities in the classroom or at home to mark the occasion. You could also simply use the bird outlines and patterns to celebrate spring or talk about migration.